Beautiful flesh tones as usual Ski. Can't wait to see them finished.
Looking swell! Will you paint the face of the pulling guy a more red, since he is applying a lot of force?
I'm not sure you'd actually see that Erwin, but a good point. I've been feathering in details the past few days, a little at a time. Imo, they always look weak until I get them matched to the figure, then more details get added.
Slowly but surely they are progressing, thanks, MH!
I did this on a 1:35 scale fig ( carrying a lot of luggage while wearing a fur coat) and it does show. Since these are a lot bigger, I think you will see it…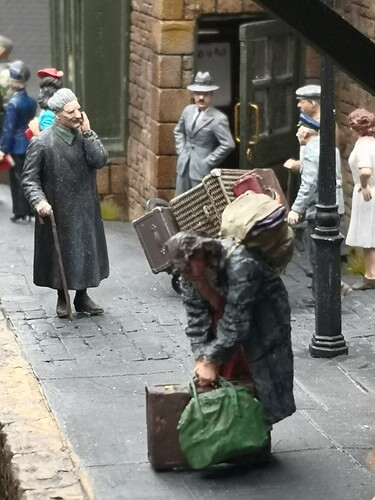 Roger that, I think I have added a more prominent shade of red to the lad's face. When I post you'll let me know what'cha think
It's not a lot, btw, but it is visible.
Yeah, I know. If I have to retake the picture again, I must remove the casing and locomotive from the diorama… This picture was taken when I finished the dio a few years back…
Don't forget white knuckles either…
Feathering in the Details
Once the basic facial work has been done and the oils set up for a day or two, I go back over each face and add in more defined highlights and shadows. As you can see from the three faces, they are each in a different phase of this process. Number three just might get another oven cleaner bath, he's looking pretty shabby, again, what a bummer.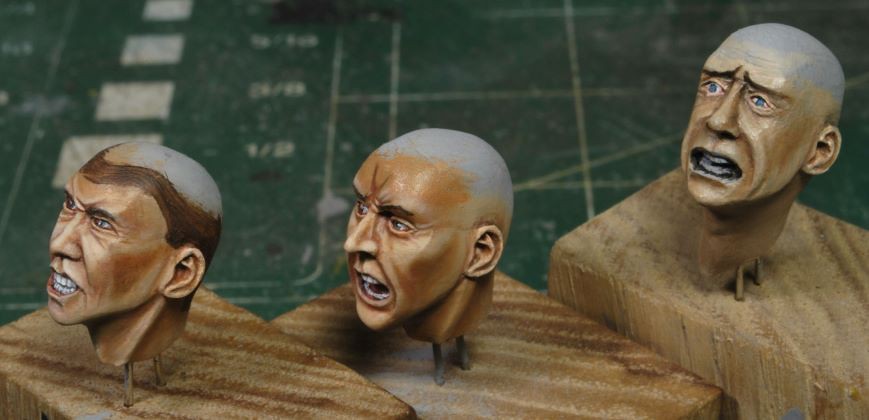 Using a very minute amount of paint I apply in the desired areas and then feather it in using a damp brush. The feathering brush is barely damp at all. We just need the oils to feather into the surrounding areas for a smooth transition. If too much paint is added the work area may become out of cinque with the rest of the face and then it's a fight to bring it back in without total distortion of the desired tones.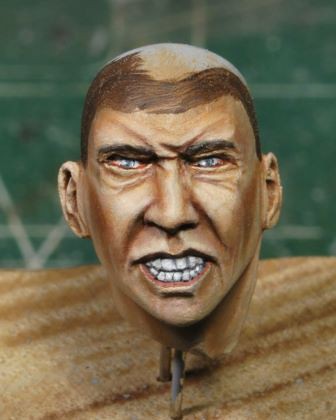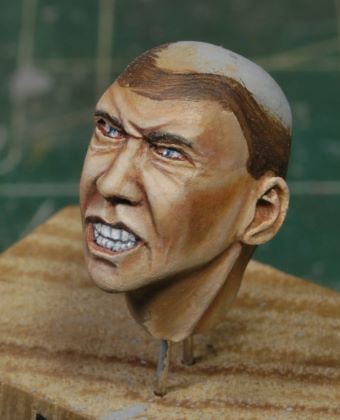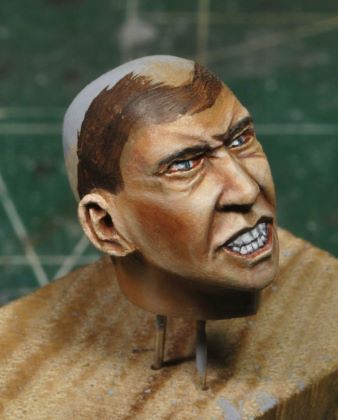 No names for these guys yet, but I'm working on it. This face above has a bit more red on the cheeks than is necessary and will be toned down slightly. There's still quite a bit to do to just this face alone, but much of the fine tuning will be done in a few days.
More to follow soon and thanks for watchin. Cheers, Ski.
Paleness of the guy clinging on for his life is a good thing, be to me now he looks more like a corpse…
He's getting another bath, for sure!
A Little More Detail
Adding a few more minute details it appears the number two figure is pretty close. I added the helmet and took care of the leather work and buckles/clips. I also added in the 5 o'clock shadows. Number one will be touched up a little more before his helmet is attached, then off to work Number three.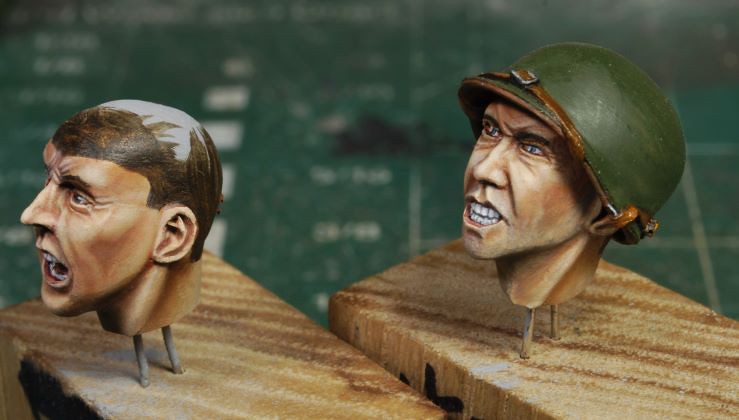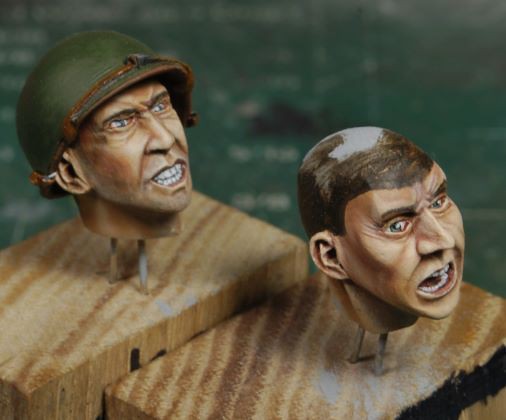 More to follow soon and thanks for watchin. Cheers, Ski.
P.S. We now have names for these guys; #1 is Walt, #2 is Bruce, and #3 is Luke.
O hmy ,you even give them individual teeth…
I can only imagine how difficult it was for Steve to sculpt those in.