Patrick,
Thanks for the offer, but the paint scheme isn't the one that I was interested in. It was this one: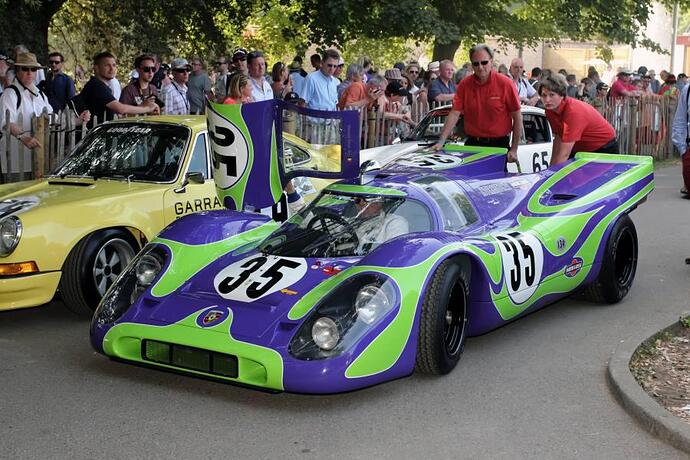 joel
Interestingly, the original "hippy" scheme was on a Langcheck (917 LH - chassis 43) at 1970 Le Mans run by Martini Racing. They continued to use the scheme through 1970 on the chassis 21, a K. It was used at Watkins Glen in a CanAm race by van Lennep in no.35 for Martini as shown in Joel's picture. It was changed to yellow/red combo after that and continued to be used during 1970.
cheers
Michael
Joel - can you use the decals to cut masks and paint the colors you like ? It looks like the pattern is the same.
Michael,
You're 100% correct that the Martini team used this paint scheme starting with the Long Tail 917 and later it was also used on a K at Watkins Glen. A race that I unfortunately missed.
As for Richard's idea of of using the decal sheet to create a pattern for masks, would work, but honestly, that version has several other 917s ahead of it on my "hit" list. There's the Martini winning LeMans 1971 car that Fujimi does make a kit of with a full engine/transaxle that I still haven't ordered, but the car I really want hasn't be kitted as yet in plastic, and that's the infamous Pink Pig.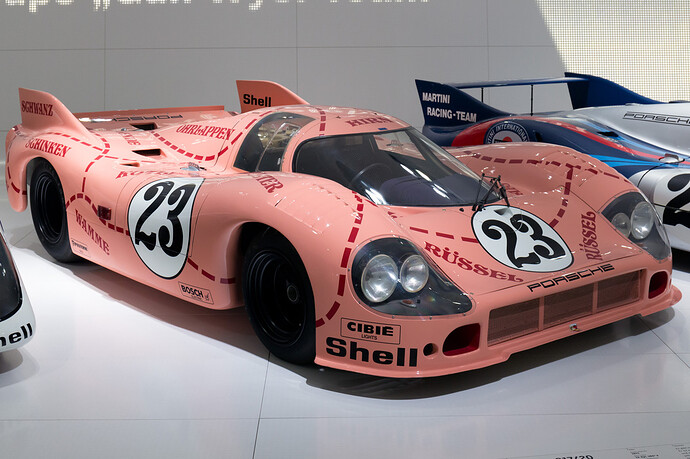 The body has been widened and lengthened as a kind of combination of a K & LM for the max performance and handling at LeMans.
joel
I thought had already built that '71 Martini Porsche a couple of years ago, maybe I have it confused with another of your excellent builds. I built the Pink Pig of course back in 2020 and I am surprised nobody has done it 1/24 scale since it such an iconic car.
cheers
Michael
Michael,
I'll gladly take a resin body and adapt one of the Fujimi kits as I really want a Pink Pig.
joel
It's a shame then this one is out of stock
Saves you having to weigh up whether it's worth spending $250.
cheers
Michael
Michael,
Just checked as soon as I saw you post. It's out of stock. What else is new. But I'm going to check around and see if I can find it at Hiroboy to start with.
joel