Great! I had seen someone do a 3D print conversion recently so I wonder if the 3D model was sold. More expensive now as a full kit but we've been needing this for a while.
High tech from 1969 …
50 years later the results are available almost in real time …
Aha! The Brits used this on a FV 432 - so in theory it may be able to combine this with the Takom kit; 'not too sure about the actual fittings/mods to do this but it must at least be within the bounds of possibility. Perhaps a Brit Ninja (certainly not me) will come up with something?
Hi!
The Brits used this a long time ago. As far as I know it was phased out 1975 for Cymbeline mortar locating radar. From its appearance, Cymbeline looks like Green Archer, but is a different system. However the Danish army used Green Archer. The UK used it on a 4 wheel trailer, a version on FV432 (FV436) did not enter service. FV436 came with Cymbeline. The swedish army also used it on a trailer, maybe the same trailer than the UK had in service.
Andreas
Warning Thread Hijack: There are some interesting radar/surveillance assets which we're probably unlikely to see in model form anytime soon - although of course PSM have just pleasantly surprised us all.
Consider the No 9 Radar "Robert" mounted on a Saracen:
I remember seeing these at the School of Artillery in the mid 60s and later in use with 94 Locating Regiment RA in Celle, FRG.
and whatever happened to ZB 298: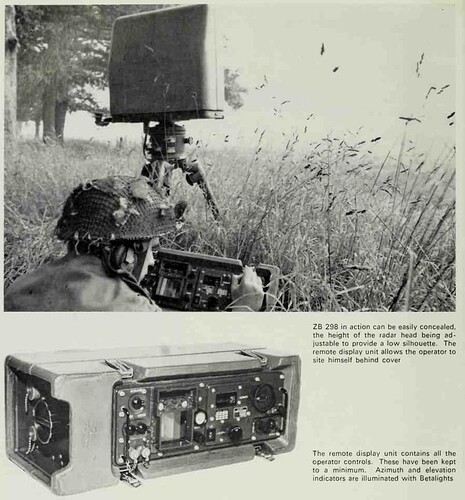 (Images filched from the www although the top one was from Armorama some years ago)
I recall the ZB 298 being advertised as almost the answer to everything in the early 70s; I believe it saw some use in other NATO countries but am not sure which ones, or indeed, how long it was in service. I do recall images of it being mounted on CVR(W).
In 1:35 the ZB 298 should be easy enough to scratch assuming one can find decent source images (I can't but probably haven't tried hard enough). I must just add I'm not in a tearing hurry to model a ZB 298 - I've more than enough projects to tackle/complete.
I wonder what the price will be … because the model is awaited …
My personal GUESS based on the size and complexity in comparison with his other complete kits would be at least 140 to 150 Euros, maybe higher …
It is not enough …

Start saving …

I will sell a kidney!