This is a 9.5 x 13 book with 306 pages and 300 beautiful illustrations. The photos are wonderfully clear and the drawings range from simple line drawings to gorgeous hand colored drawings from the late 1800's to the early 1900's. The book covers the early railroads until post WW2. The prints and drawings cover all aspects of the railroad from engines to freight cars to stations to yard layouts and include drawings of a ship used by the Peruvian railway. Most of the book is about British railroads with some mention of those of other counties. There are seven chapters
1: Two Centuries of Locomotion
2: The Railway Passenger
3: Freight on the Railways
4: Railway Workers
5: The Railway Workshop
6: Railways at War
7: Building the Railways
Plus a glossary and an index
Some poor photos of a sampling of the wonderful illustrations in the book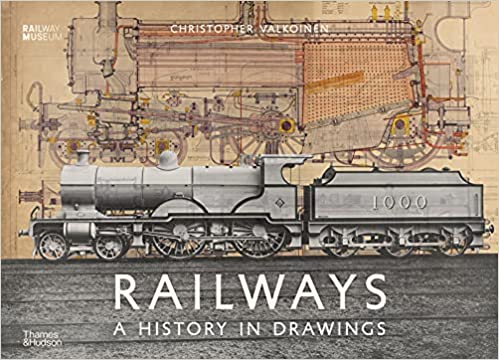 I highly recomend this book.
I got the copy I read from my local library but it's available from Amazon for less than $50 and I plan on buying my own copy