Looking for above figures suitable for Desert Storm time frame. Thanks.
These guys would work too.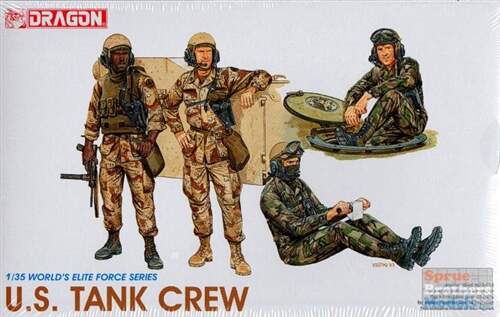 Basically any set in BDUs/DCUs with CVC helmets will fit the bill.
Where did you get them? I checked their website and they were listed as out of stock. thanks
Make sure they have jump wings
My "go to" for a lot of stuff the last few years along with sprue brothers: BNA model world. They're in Australia
It depends. Jump wings wouldn't be seen if they were wearing body armor or MOPP suits or outer wear like wet weather gear though. We only wore them on our duty uniform, field jackets things like that. If they were wearing just BDUs or DCUs yes.
Wow they look great. I forgot about the verlinden figures. That Sheridan looks awesome!
Could guys have been Panama?
Rich
That's what thought. The crew figs with 82nd unit patches caught my eye. What kit did you use ? You did an excellent job on it, one of the best I've seen.
Another couple of questions if you don't mind: was it the 73rd armor regiment, and I assume they made the drop into Panama? Thanks…
Yes it was 3rd battalion, 73rd Armored during Operation Just Cause.
Here is an article stating that the unit was reactivated in 2016 as A Company, 4th Battalion, 68th Armor Regiment equipped with LAV-25A2's.
https://www.fayobserver.com/news/20181026/fort-bragg-ceremony-marks-return-of-68th-armor-regiment
The M551 Sheridan is RFM's offering. It comes with decals for the track you see in the pictures. Only thing is that you have to fix the barrel or get an aftermarket barrel. The driver figure is the driver from the Dragon set along with the one holding the M16A1. The TC is Verlinden. All three heads are Verlinden. The boom mics on the CVC's come from Royal Models.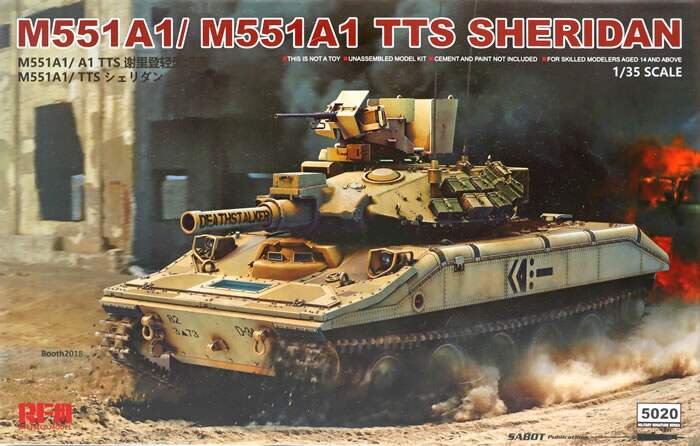 Some M551s were pre positioned in Panama in the build up prior to Just Cause. Some of those accompanied 4/6 Inf during their assault on the Commandancia before the drop started. 10 were heavy dropped into one of the airfields seized by the Rangers. I want to say that one had chute failure and burned in, and another landed in swamp next to the runway and was so deeply mired that it could not be recovered and was demo'ed in place after being stripped of salvageable gear.
Yes I heard they tried to lift it out with a chinook ? That true ?
I don't know, but it would make sense. I don't know if 193rd Brigade had M88s in Panama, although a Mech Infantry Battalion at that time was supposed to have a few. I also do not know if 3/6 or 4/6 took their M88s down there when deployed from Ft Polk. 3/6 went initially, and 4/6 relieved them later and took part in Just Cause.
I'm pretty sure that this is the Sheridan that burned in with the chute malfunction.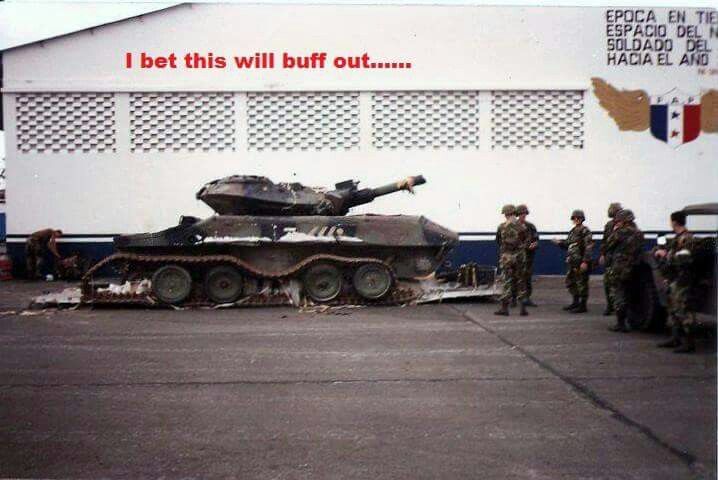 Looks like an easy fix…a little Tamiya putty and some sheet styrene LOL !!!
Thanks for all the info guys…
So armorsmith , have you decided what figures use?