Hi Folks,
Since I'm using mostly lacquer paint these days thought it time to put this stuff to good use and help others. This is a KitMaker Network only offer! Please don't offer less, the funds go to a great cause in helping dismembered seniors stay mobile.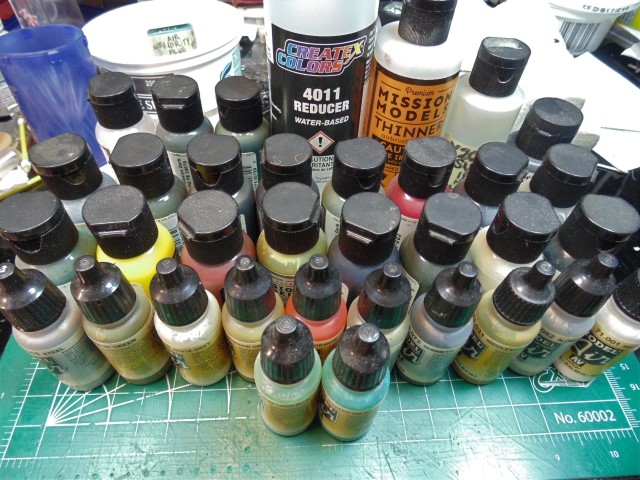 Here's the list;
VALLEJO MODEL AIR
Flanker light blue
Emerald cockpit green
Steel
Bronze green
White grey
Interior green
Orange
Bright brass
Gunmetal
Middlestone
Aluminum
White
INCLUDED ARE, Brush cleaner, Liquid Mask, Surface Primer (USN L. Ghost Grey), Black Wash. Approximately $70CDN value. (Some are unused, more are mostly full and a few are half to low)
MISSION MODEL PAINT
Raf dark green
Rlm 04 yellow
Red oxide primer
Yellow zinc chromate
black
raf dark earth quantity 2
insignia white
panzer grey
intermediate blue
tire black
gloss sea blue
Russian dark olive II
Red
USN/USMC sea blue
Light gull grey
Russian dark green
Russian dark olive faded
INCLUDED ARE, Semi Gloss Clear Coat, unopen bottle of Createx reducer, 1/3 bottle MMP thinner, ¼ bottle X20A sub and 5ml rescue orange-red. (Only the insignia white is at 40% full. The rest have been barely used or unopened)
Approximately $175CDN value. Total value just under $250.
BONUS!!! One 1/72 Sherman Firefly and One 1/72 Panther Ausf. G UNBUILT!!!
Buyer pays shipping from Canadian Postal Code T5N 3R2
I'd like to get around 100 for all this to pay for wheelchair parts. Will make sure the box is well packed but not oversized to keep the shipping cost low. Please send a PM and thanks for the support Guys and Gals.