Model: 35754 Scale: 1/35
---
This is partial text from the full article (usually with photos) at
https://armorama.com/news/soon-on-sale-always-the-first-air-assault-troops-of-the-armed-forces-of-ukraine
Never any Russian figures…
Why would a Ukrainian company release a set like that at this time?
Because it's super timely and they have a vested interest in those troops being victorious. I would imagine there are Russian companies making Russian troop minis, but their market is limited.
My question was directed at Lee asking about why ICM doesn't have any Russian figures. ICM has released Russian figures in the past. This set is timely and makes sense for ICM to release.
True Lee, I managed to get one set of these Russians about a week before the invasion started and now regret not getting more as the poses and detail on the figures are awesome! Cheaper than Live Resin if you are looking for a large diorama.
Unfortunately I cant find them anywhere now……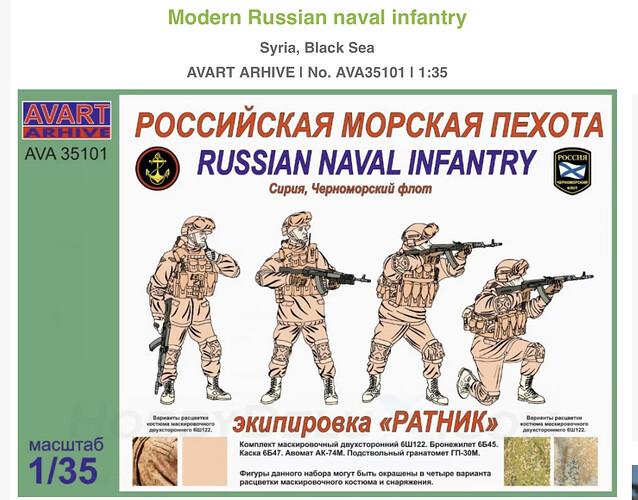 Lee, you can always use these as Russian SF anyway, just a couple of subtle changes needed, helmet patch, white tape for the Russian delineation, don't use the Malyuk rifles….