Specific Trick for rolling HEMMT & MRAP Suspension Coil Springs:
(Oshkosh TAK-4 Springs)
For ages I would try to bend/roll larger coil springs for use in the Oshkosh ~ HEMTT and MRAP suspensions. I would always try and roll a single wire into a spring shape (using plastic coated wire) and then try to expand (stretch) the coil out for a more realistic coil spacing. This always failed to produce a uniform realistic looking spring.
Then I hit upon a trick for creating the uniformity required: Roll two wires together at the same time so one acts as a uniform spacer for the other.
When finished, the two coils are easily separated and then have the desired shape, uniform coil spacing and look of the real thing.
.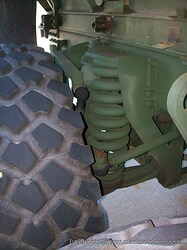 (This new thread approximately duplicates a single post that appeared in the "Wire Bending" thread but with additional information and explaination.)