Hello builders,
Back in 2017 I built this diorama and called it done, but was not at all satisfied with the final pictures. The build was posted on the old site.
The problem I had was that because of the nature of the layout, it was very difficult to get any decent overall images. I like to take outdoor photos - the colors and textures (and errors!) really stand out.
What I don't like is having unwanted objects in the background - drives me crazy. So, for another project I began experimenting with graphically "cutting out" unwanted objects in the background and then "dropping" the image over a backdrop of my choice. Along the way, I thought about this project.
Unhappily, I'm not a graphics or computer expert, so this has been quite an adventure. OK, enough rambling, how about some pictures?
For some context, the WIP images above illustrate my challenge - the building, is really more of a ruin - which means you can see right through it.
So my final pictures all looked like closeups - not because I wanted them that close, but I didn't want the background to get in the way:
You can see the project, which is supposed to be in Northern Syria - but, there or anywhere else the background trees made it next to impossible to get any decent pictures of the overall project. As such, I never felt that good about calling it done.
So, I found the old images and went to work. The experiment started with using some indoor images I took of the project when it was done. Because as they were taken against a white wall, they were relatively easy to "cut out":
The pic above isn't too elaborate or of the final project, but, I like it - others received a more complex background: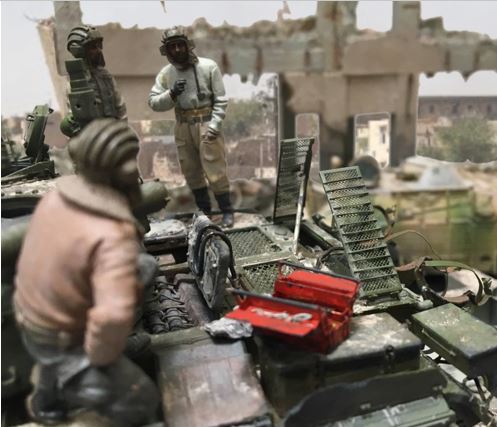 With this success, I went through the outdoor photos and picked a few to try and do the same:
I think the picture above reflects the intent of the build, and although it is a 2017 photo, it sure looks better without trees/dogs/buildings/real people in the background!
For the two above, I laid a greyscale/transparent box over the image to try and get the picture and backdrop to blend a bit better. Limited success - interesting to see tho.
The following, like the first, are just outdoor pics - no filter:
So there you have it! This might sound ridiculous, but I feel better now calling this one done (again!)
Thanks for having a look
Cheers
Nick