Some time ago I started a build log on the old site for Tamiya's 1/12 Honda RC 166.
The build never got started for various reasons and I am getting the urge to start again .
I also mentioned in said blog that I have never completed a model motorcycle - a few starts but never finished one . I found this Yamaha kit buried deep in the stash - one of my uncompleted starts .
I remember working on this kit in our first home . We had no children at the time and our eldest is now 34 so it was that long ago at least . Scalemates lists this release as 1984 so that's about right .
I had built several sub assemblies and had them ready for paint and it seems that's as far as it got.
Now it's time to rectify my non completion record .
This will give me some feel for these kits before diving in on the RC 166 - a considerable investment as I bought all the accessories as well.
So here are a few pics - not a build log really .
I've got the chassis / engine , swing arm , forks and wheels /brakes done and in paint . Body work painted in first color - white with yellow to follow .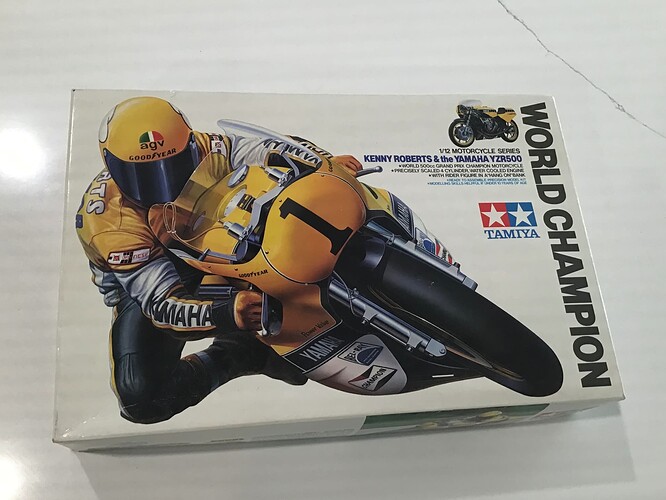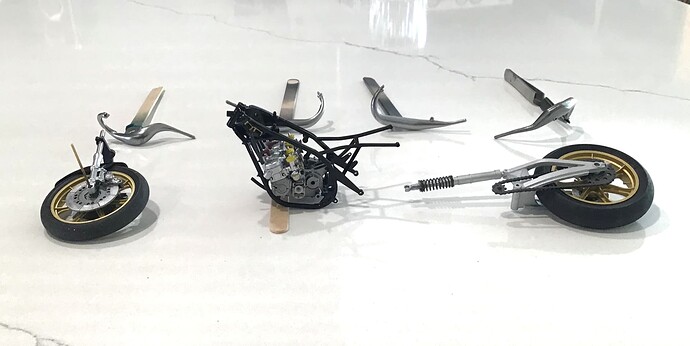 Thanks for looking - more to come.