Hi folks, I have a question I'm hoping to get some help with.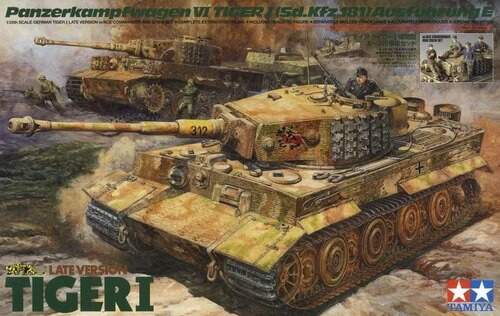 I picked up the old and venerable Tamiya Tiger I Late production kit (in its newest boxing, #25109 with the Tamiya Tank Aces Crew) out of nostalgia as it was one of the first kits I ever airbrushed. I want to build one again and hopefully do a better job than my first attempt. I even got some PE grilles for it.
My question is: what particular Tigers can I realistically build out of it? Are there any list of possible fixes/improvements that can be done on the kit that exists out there? I tried looking at David Byden's excellent Tiger1.info website but he doesn't have a lot to say on the late production Tamiya Tigers. This boxing (#25401) has a few new decals but I'm not sure how accurate the kit is for those - for example, Michael Wittman's command tiger is an option and I know you need befelhswagen equipment for it. I have Dragon's Tiger I Mid production kit and I see I can use some extra parts from that kit to fix some issues (like the missing bottom track holders on the turret).
Thank you!