Would a Tiger that early in its deployment have had mesh screens?
Ken
I really like the detail on that scratch built jerry can rack.
Hi Matthew great job so far, just wondering about those pesky fenders though. I realise there's a foreshortening issue when questioning angles etc but are you sure the front two fenders are rising towards the front at the correct angle? Looks way too steep to my old eyes, here's the nearest I could find to a side-on view of 123;
The red line continues the line of the rear fenders forwards, the yellow line's the front fender-line. The blue-line measurement at A (hull top to yellow line) is six times the measurement B (yellow line to red line) – if that's the same as your Tiger then I shall apologise for interrupting and quietly shuffle back to my foxhole. Here's my old attempt at the same kit way back, also with PE fenders – not claiming I'm 100% right either but…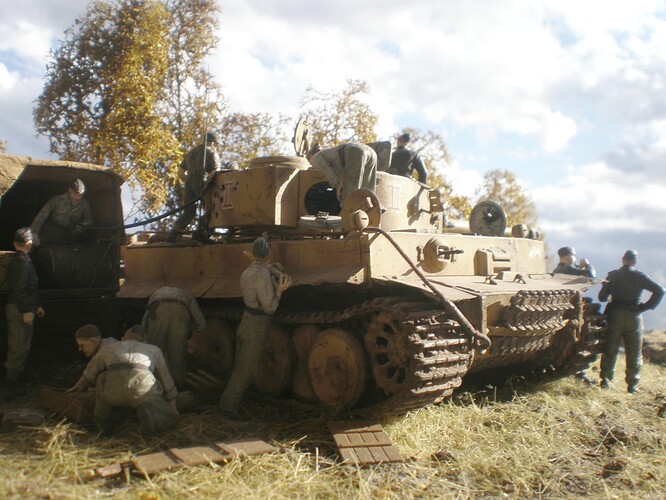 Every Tiger that went into service had the mesh screens, as far as I know. There are photos of them on "Leningrad" Tigers.
David
That's actually a different "123" - but with the same type of side skirting.
Regarding the angles, these things were attached to welded mounts, and the mounts were aligned by a man in the factory drawing a chalk line, so they're not exactly the same. You can find ones where there's almost no bend.
I made careful drawings of "average" ones in my side skirt page.
David
@Dioramartin Yes… Those pesky fenders… The ones in the box are incorrect, as pointed out by D Bryden. I bought the Aber PE fenders for the RFM Afika Tiger early, which are nice, but… I suspect the RFM tiger hull is a mm longer than the Academy kit I'm building. What does this mean? I could have had the fender with a less violent bend, but then they would have stuck out at either rear or front. The violent bend was the trade off for having the correct fenders.
I tell myself this was within factory (and armoured troop) tolerance.
Thanks David I didn't realise it was that low-tech
Fair enough Matthew, at least I learned something new - sorry to intrude & as promised I have now relocated to my protective position

Hello!
I managed to prime and paint this weekend. Still a lot to do. Here are a few pictures…
Cheers!
Matthew
More slight progress to report. Desaturated green camo applied (barely visible in the photos below). Klear applied. Pin wash done. Gentle chipping done. Star decals applied (the "3" has silvered slightly despite dozens of applications of micro sol…)
Next up oil dot filter, paint pioneer tools, weather lower hull, add running gear and tracks…
Here are a few photos…
Cheers
Matthew
Teeny bit more progress…
I've printed my own "Tetra" fire extinguisher decals. Print is so small, but you can just make out the brand name… Annoying how magenta leaks out of a black and white decal…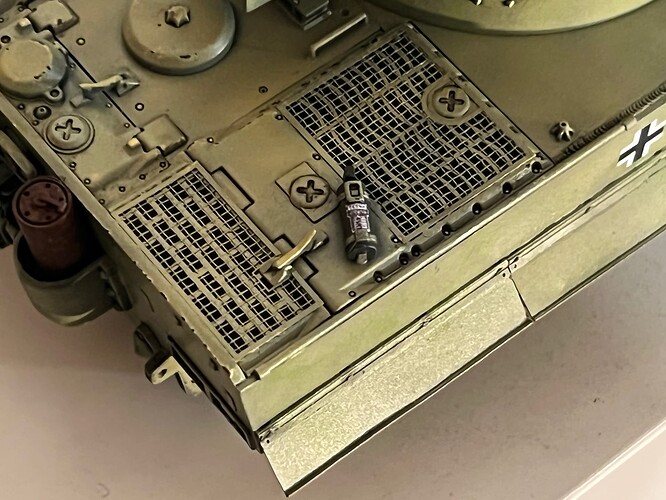 I fixed the idler wheel issue. The swing arm thingy is too short/nonexistent in the Academy kit, so I fashioned my own from plastic strip using the Dragon part as a template.
I've applied a little dusty dry mud to the lower hull, before installing the running gear.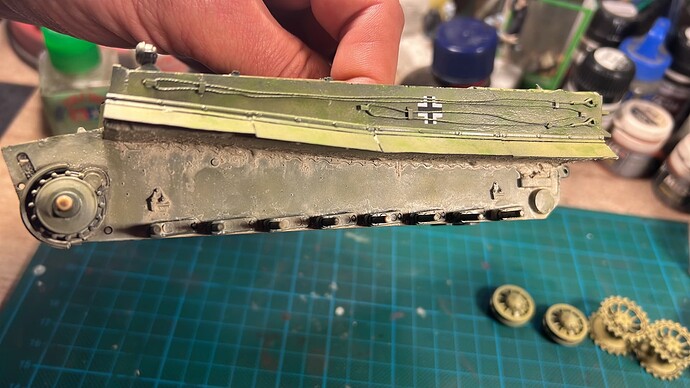 Still quite a lot to do…
Cheers
Matthew
Greetings!
Finally finished Tiger 123, and got round to taking photos. Hope you enjoy!
If I did it again I'd increase the contrast between the camo green and the dunkelgelb.
I really enjoyed this project, and am happy to have made something presentable out of a halfbuilt model that has been in storage for a few years.
Now, on to the next project.
Cheers
Matthew
Very nicely done! A++
It's very satisfying to complete a project from storage, especially when the model turns out well like yours!