There aren't many entries yet for the Cold War category, so I'll share a build I did last year for the Hot 1950s in the Cold War Campaign on Aeroscale https://aeroscale.kitmaker.net/modules.php?op=modload&name=SquawkBox&file=index&req=viewtopic&topic_id=272624&page=1 .
To me, nothing says "Cold War" like one of the hottest planes of its time, the North American F-86 Sabre jet!
The 1/144 model is covered in engraved detail – all of it a little heavy, but it should look ok under paint.
---
Trumpeter's F-86 goes together well except for the fit of the windscreen – which is terrible! However, with some miniscule shimming, trimming, and polishing it is still useable.
I'll have to trim it yet more to get the sliding portion to fit properly against it…
---
Trumpeter's F-86 kit interior is actually surprisingly nice with a stick, seat, and instrument panel. Unfortunately, the ADF antenna that sits behind the cockpit is attached to the fuselage; on the real aircraft this is part of the canopy assembly, so it pretty much forces the modeler to do the kit with the canopy closed unless you want to do some scratchbuilding. Trumpeter also omitted the cockpit side consoles. I decided to go conservative on this one and just leave it closed up!
The Sabre is a simple paint job: bare metal silver overall, for which I used Tamiya Bare-Metal Silver (AS-12) rattle-can spray.
The only variations were the panels around the gun openings, which I masked off and sprayed with darker Model Master Stainless Steel Buffing Metalizer spray.
Maybe I should have been a little bolder – the bare metal looks good, but with the masks removed the contrast between the two shades is barely noticeable!
---
One of the better aspects of Trumpeter's F-86F is the extensive markings sheet provided.
As always, Trumpeter's decals performed flawlessly!
The one reservation I had about them was the color of the yellow bands. Though reasonable, they seem more lemon-yellow than the orange-yellow seen in most contemporary photographs. Still, I found a few pics that appear to show a yellower shade, so who knows… perhaps there was some variation?
Anyway, I thought Trumpeter's bands matched these pretty well.
---
Speed brakes.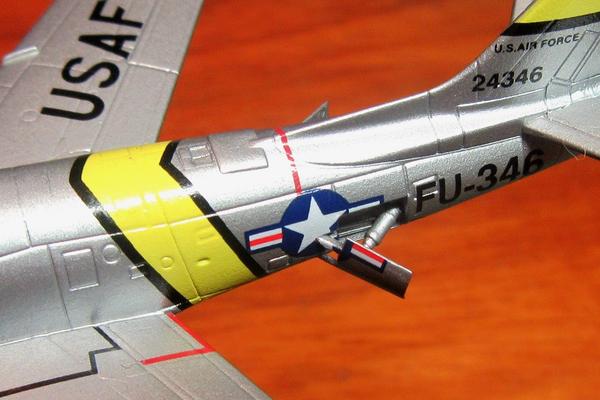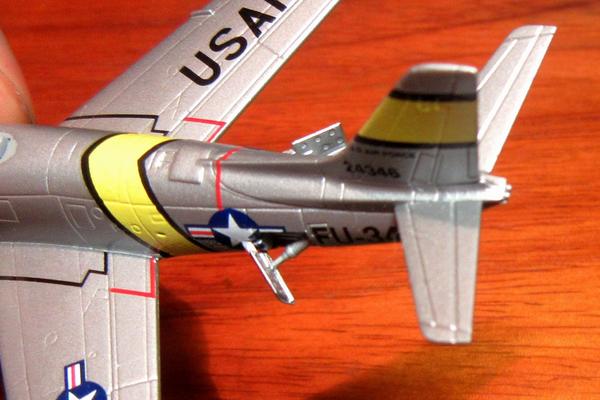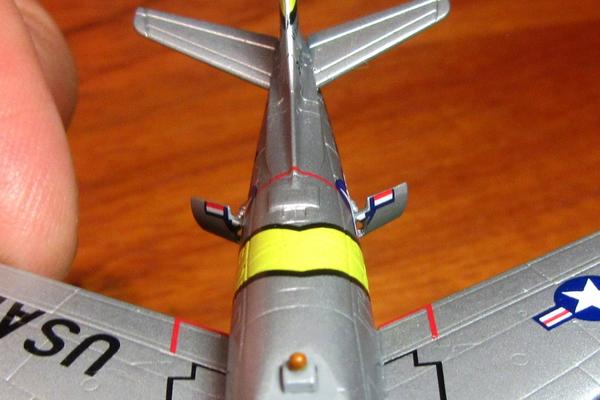 I appreciate how Trumpeter provided pre-cut national markings with perfect fit to the fuselage and brakes.
---
Ejection seat, canopy, and 200 gallon Misawa wing tanks added.
---
By the way, although hard to see when closed up under the canopy, Trumpeter provided a surprisingly good cockpit with a stick, instrument panel, and a very nice ejection seat (I added only the tape seatbelts).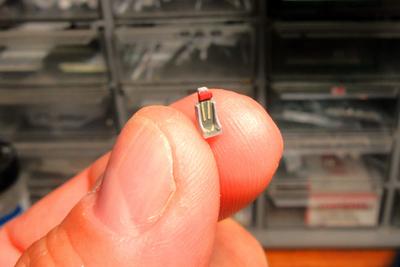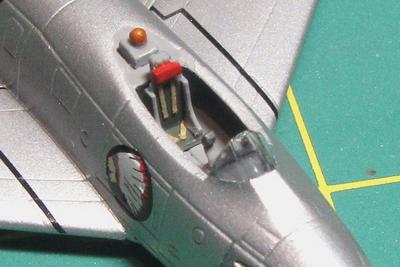 ---
With the installation of the landing gear, the little Sabre is done!