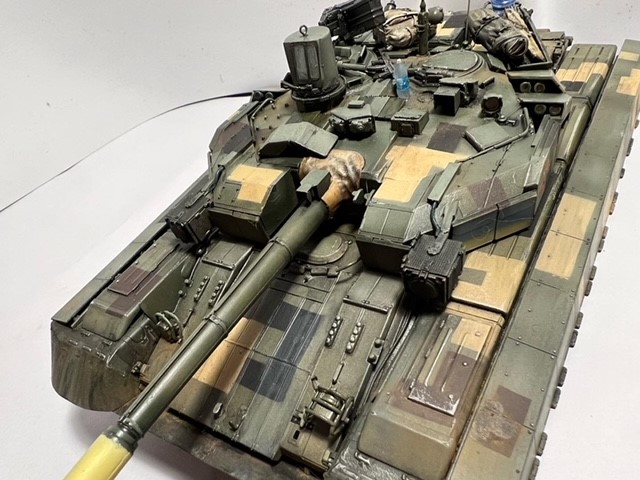 Calling (almost) finished on another of the really gorgeous Trumpeter kits I've been building recently.
This is the latest version of the indigenously-produced T-84 Oplot tank from Ukraine. The Oplot-M or T-84BM has been exported to Thailand and at least one has been photographed fighting in the war in Ukraine.
It's a beautiful kit, just as nice as the T-72B3 I built before it in fact and a genuine joy to build. Trumpeter aren't always fun and games but when they are on form they are absolutely excellent and this kit very much falls into this category.
The idea was, because of the diorama i am building where it sits alongside a captured Russian T-72B3 in a semi urban maintanance depot area in Donetsk, that it should look very different to the captured T-72. They look very similar to the eye and I wanted to highlight the difference which is why I took some artistic liberties with the Oplot build. These included using NATO Green as a base layer which is sort of an oblique nod west for this tank and also I made the digital blocks a little bigger than they are in real life. They are about 40% larger than they should be but they provide a bit of much-needed colour in my opinion. The T-72 is a grim, ugly dark Orc-from-Mordor sort of very dark 4BO green with a slight bluey tint to it so the contrast looks good as the Oplot colours are warmer and more vivid. It is sort of a "warm/good vs cold/bad" comparison in terms of colour. I also added the Ukrainian national emblem decal which the tanks in the war do not have, I believe it is ceremonial only. I put them on to highlight the nationality of the tank vs the captured one sat alongside. The Dio is going to some Ukrainian friends of mine who live in Kyiv and they are very patriotic people so I figured it would be better to have them on there even though in real life the Oplots that are fighting don't have them. It is just relatable visual interest rather than realism if that makes sense.
The weathering on the Oplot is a bit more dynamic as well. I wanted to create a "battle hardened warrior" with lots of stowage and mud and dust if that makes sense. Not too much mud and I tried out a new way of doing paint chipping/wear which came out very nicely in fact. Stowage was some ValueGear and PanzerArt resin bits I had in the spares box.
Build time was over 70 hours so quite a lengthy build but I'm pleased with the result. It's my first time trying digital camo and as you can see, it came out okay-ish but not amazing. Lessons learned, I will do it better next time. Avoiding overspray by masking on such a busy, weird shaped model is difficult. I used a mix of tape and liquid mask. As always I used a black primer coat but instead of using white as the pre-shading colour on top of the black as a two tone primer layer as I normally would (and did on the T-72) I experimented with using a mix of gold lightened with some flesh highlights. The hope was that it would provide preshade tonal variation but make the base colours a bit warmer than the T-72. I was quite happy with the effect. Its "warmer" which is what I was going for.
Highlights were NATO green base colour lightened with flesh highlights again to make it warmer. I didn't add highlights to the digital blocks but in hindsight maybe I should have. All paints were Vallejo Model Air apart from the last brush highlights which was Vallejo Model Colour Feldgrau.
Dust passes were VMA Dust, two passes of MiG Ammo Sinai Grey and one of Tamiya Buff after a clear coat.
I deliberately let the second Sinai Grey pass and the Tamiya buff dry on the tip of the brush for a minute or two and pushed the pressure up to 30 so it very finely spatters. I think this a much more realistic, much smaller/finer mud splatter than flicking it on with a paintbrush. Its so fine you cant really see it unless you really look.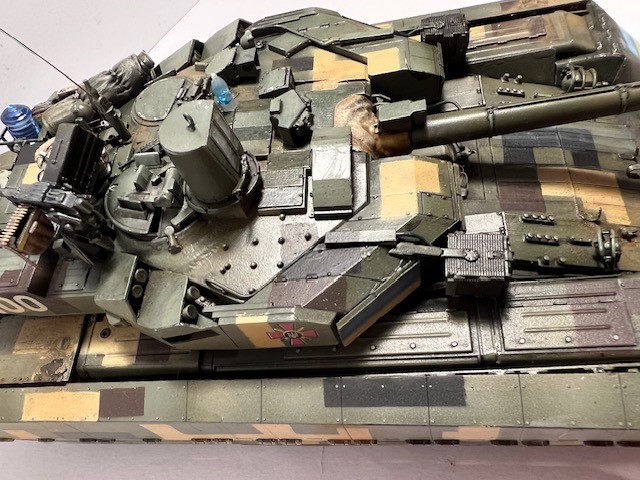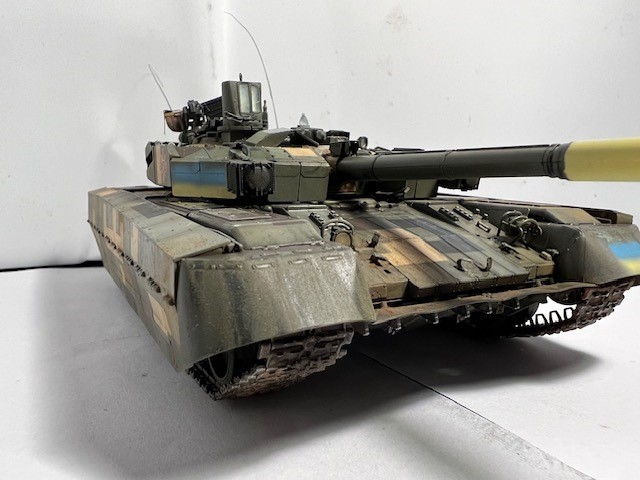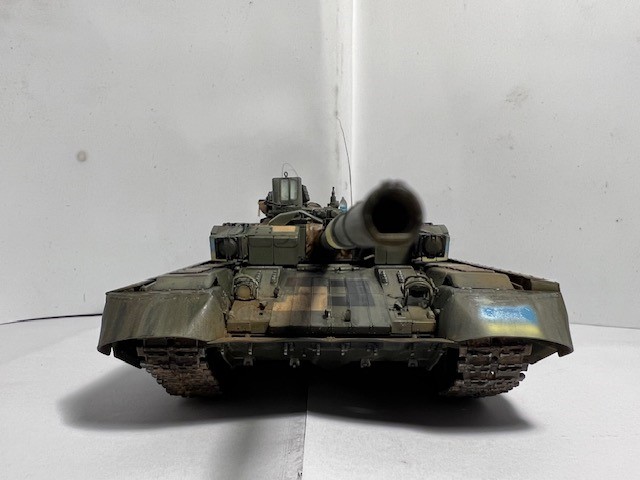 It is pretty much finished now. It just needs a flat coat on the turret and some camo netting over the gun-barrel (which is why I wasn't that bothered about the seam on the bore extractor) and some crew which are done but need some tidying up and their own flat coat.
You might also be able to see some MiG Engine Oil effects and three different raw pigments on there. Streaking and dust washes were MiG Brushers softened with enamel thinner.
Is it over-weathered? Do you like the bigger digital blocks or do they look too big?
Let me know what you think.