Thanks, me too
Hi All, I started with the paints, some advances, and the end of the cabin of the truck, I think will put a soldier inside it.
Show the new steps:

The target
Regards, Omar
Looks real good, Omar!
What brand and color paint did you use?
Cheers,
Hi Joe, I used acrilic paint of Meg (MC-285), Khaki Drab

Regards
Well, I have assembled all the model, the base paint is completed. I put a soldier into the cab, the next steps will be to do shadows, lights and give it dirt.
Their opinions will be welcome…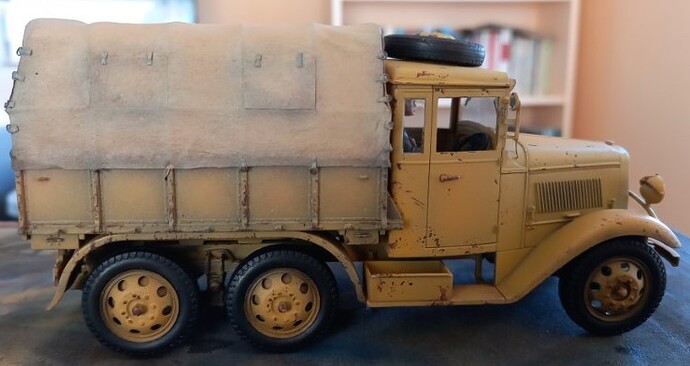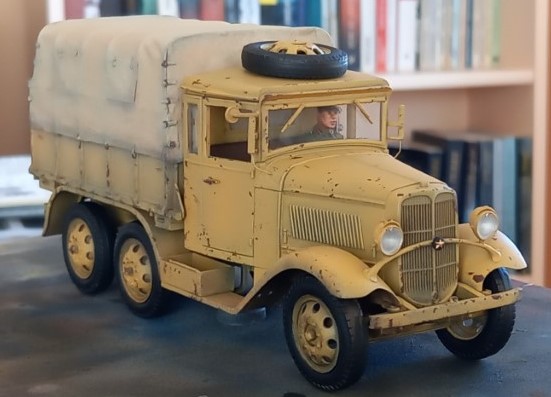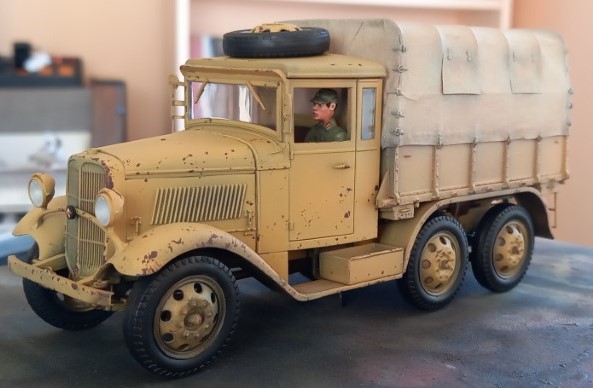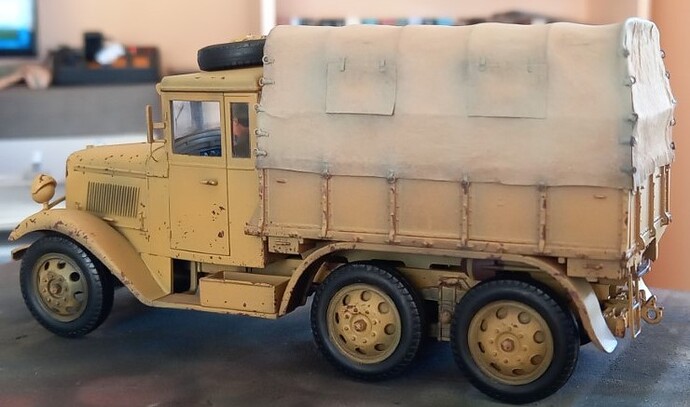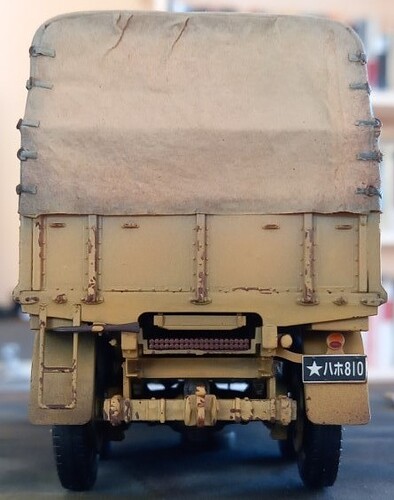 Regards, Omar
The step of the day, the oils on the model…
Regards, Omar
EXCELLENT job on the painting and weathering!
Cheers,
An impressive build and pain job, that canvas top is the icing on this plastic cake. Good idea adding the figure too!
~ Eddy

Thanks my friends, by your comments, The models still is not over, I will try to do most real that I can.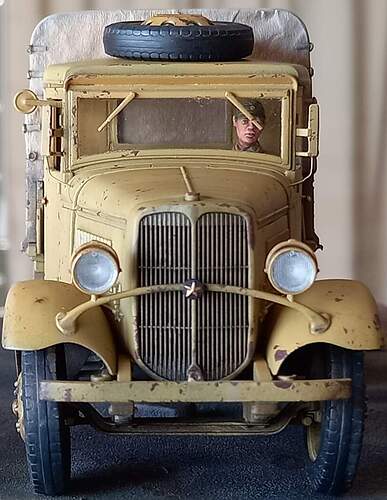 Regards
End the Type 94 Isuzu, I will put it in one base, now show you how I finished my model, I hope you like it, yours opinion will be welcome.
Regards, Omar
Very nice indeed!

Thankful for the comment, greetings Omar
Omar,
What material did you use to create the canvas cover? This looks to scale and the texture is spot on!
~ Eddy

Hi Eddy
I used paper tisue, with a solution of water with cola. you put the solution in the plate, and the paper in it, then you pick up thr paper and put it, on the structure of the cargo box. You leave to dry it, and then cut the paper in the rigth position. And it will be finished.
Regards, Omar
Thanks Omar,
I need to add this technique to my skill base so I will note it and give it my best effort. Good excuse to have a refreshing drink on the side too! Again thanks so much for the information it is much appreciated.
~ Eddy

Sure Eddy, nothing better than having a few drinks, to analyze the process,

Hi my friends, finally I end my target, the Type 94 Isuzu of the IJA was ended, was put it in its base, I hope you like it, yours opinionsof my job will bewelcome.
A truck it has been in theater of Malasia, was a truck of 1 st regmient of the XXV japanese army in the year of1941.
The pictures of model:

Regards, Omar
Very nice Omar - rare to see Japanese subjects , particularly soft skins . Thanks for sharing.
Richard
Richard
Thanks by your comments, I glad yoj like it.
Regards, Omar
Omar that's an absolute thing of beauty! You should be very proud. I second all the comments about the tarp, I'm going to need to experiment some now.