Stunning- loving these new releases from RP!
Looks nice sharp detailing… It's probably just me but are the hounds front legs a bit short ?
Hmm. Not so much a bust, but a 'I couldn't be bothered doing the legs".
The torso is too high to be kneeling, and too short to stand. Maybe the dog's on a box?
It's different and fun, but it's not good.
Detailing aside, you're right. It is a strange set up…with the dog jumping by his side and so close, it's hard to envisage how it could be set or displayed…
And does every SF Operator have to have a Grizzly Adams beard nowadays …
I have this bust from Young Miniatures.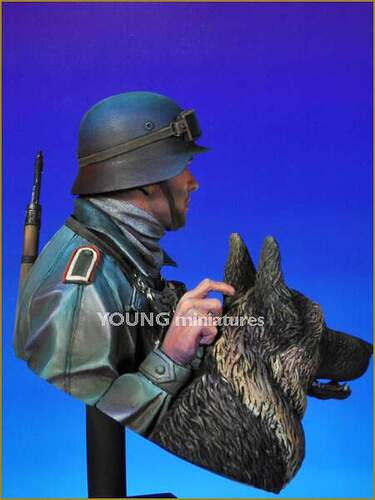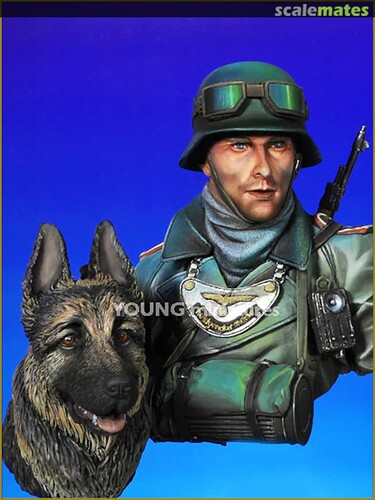 In the bare resin the hand on the back of the dogs neck is very odd- seems to be just floating there. I can see what you mean in the RP models bust- I would be wondering how to mount it so it all sits just right- a similar conundrum with the Young Miniatures figure.
In terms of modern SOF busts in the 1/12 scale there is not much to choose from so anything is welcome IMHO.
I find the whole thing odd.
Why not give him legs to complete it?
And who eats barbecue wearing tactical gloves? Even these guys know that's a cool guy faux paus: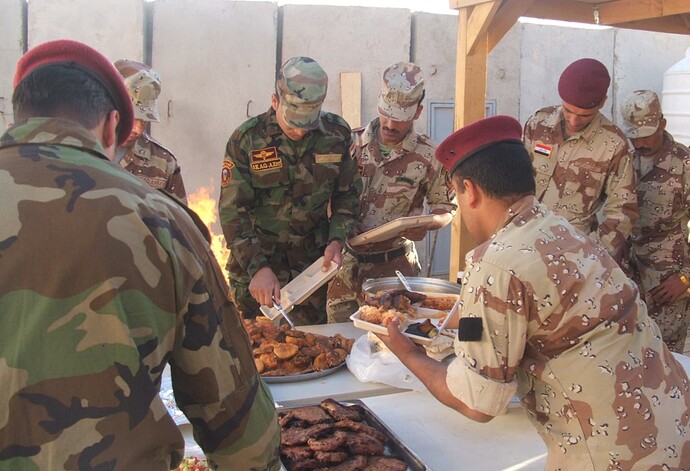 What SF guy in his right mind gets completely kitted up for a barbecue?
Everyone knows flop flops are far more appropriate.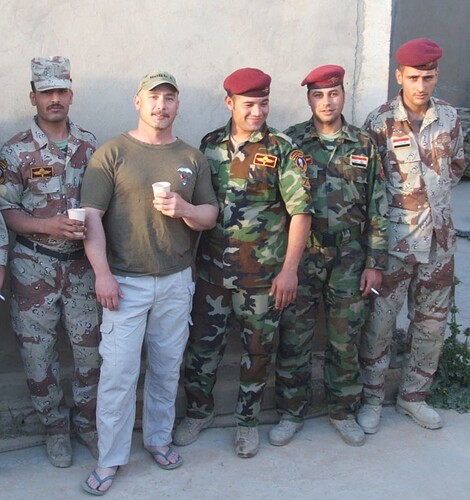 Grateful Dead T-shirt optional: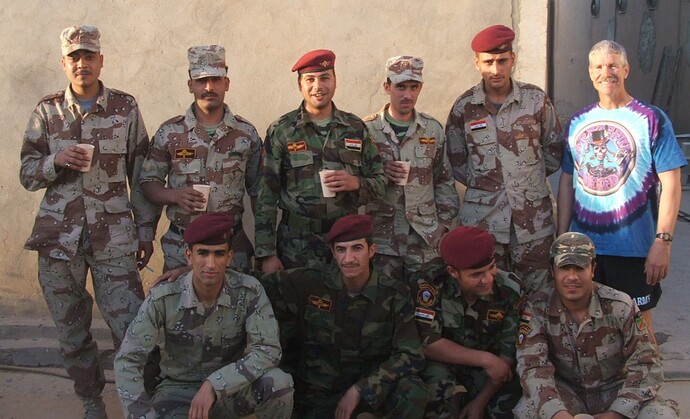 Everything about the bust is really cool until someone said the truth, and I have to agree…it needs legs…and @Mousemuffins nailed it.
So, OK, then, there are modern US SOF 1/12 figures out there (Airborne Miniatures) so one can buy just the legs and glue them on.
But @Mousemuffins said it accurately…
"the torso is too high to be kneeling and too short to stand. Maybe the dog's on a box?"
So the idea of gluing on legs won't work because the dog will be too short—unless it is a puppy jumping up or on a box. And one takes the risk that the legs will match the width of the torso and one has to create putty for the stomach and perhaps a belt. That takes some veteran modeling skills and that is the risk if one wants to add legs of some kind.
I know what modelers say, "If you don't have anything good to say, then don't say it and keep it to yourself." I'm all for keeping quiet on criticism, but I'm sure it will sell out anyway at 150 units, so no real harm done.
The issue I find here is…are there any bust plinth with a rod that high to mount this bust? Most bust plinth rods aren't that tall, so one will need to custom insert a tall rod, and the that looks somewhat odd like a head on a spear. Thus, yes, the figure should have legs and some full resin figures do cost over $100 USD. If the goal was to keep the costs down, then the concept kind of flopped.
I have to agree, while awesome in many regards, I'm going to have to pass on this one as too complicated to display for my tastes on a plinth or with another vendor's legs.
I buy brass rod from eBay- you can get it cut to whatever diameter and length you need- very handy for busts. That said I do agree this would take a bit of working out to mount right. What would do is get a wide plinth and mount the figure so the dogs paws were on the plinth surface.
The Airborne Miniatures busts are absolute gems too- but with the legs they are really big- I mostly do busts in 1/12 so having legs makes them seem huge to me!
@Karl187 I see what you mean now as Planetfigure has a YouTube video showing the proper plinth setup by RPModels. I was thinking of the angled bust plinth, not the flat base ones. With a flat base, the dog's rear legs will rest on the wood surface instead of hanging in mid-air with the normal triangular plinth and rod. Thanks.