Preface
Enjoy this new walk down memory lane/history lesson. If you have insights or corrections, please post them. In my first review of
Valiant Miniatures
I gave a lot of history and background before the review. This time I'll start with the review and end with the history and background.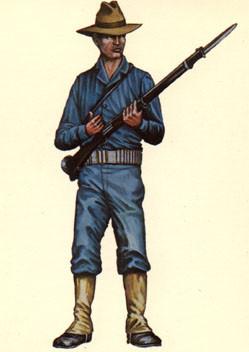 USMC China Boxer Rebellion 1900
My first Valiant Miniatures figure was assembled and painted in July, 1976. Back then Valiant Miniatures packaged their models in a clear plastic bag closed with a red card label. Now they are in a bubble pack on a cardboard backing. No color or black-and-white paper showing a photograph of the completed figure was included with this model.
This model is cast in four parts: the right arm; left arm; rest of the body; .30 Krag–Jørgensen rifle.
Some metal figures have a rough surface. This one does, too. I hit it with a gray auto body spray-paint that fills scratches.
The subject is dressed in a campaign hat, a simple shirt, pants, and boots with leggings. He wears a web cartridge belt, canteen and a steel cup, and bayonet scabbard. He is armed with a .30 Krag–Jørgensen.
Detail
Facial detail is acceptable although eye detail is slight. The belt shows buckle detail and the bulges for rifle rounds. The figure sculptor even included the USMC emblem on the hat, and lacing on the leggings.
Assembly
The arms fit the body without trouble, but the rifle does not fit into the hands very well but that could be modeler error. Valiant Miniatures sculpted the left hand to hold the stock while the right hand holds the bolt handle. Regardless, the hands do not line up with the rifle. I may remove the rifle and drill out the hands a little so the rifle may set as desired.
Conclusion
Nowadays, injection-molded and resin figures have generally eclipsed cast metal figures. "Back in the day" these metal figures were the only models of certain subjects available, and many may still be the only ones. Aside from the limited facial detail and bulkiness of the bayonet, this model has good detail. Casting is good with minor mold seam lines nor flash. The amount of detail of the equipment is good. I will hold judgment on the rifle/hands fit until I work on it a bit.
This model is a nice single figure representing a "China Marine" during the Boxer Rebellion.
I did not explore where to buy these models. Valiant sells these on their site and an eBay page; several years ago Squadron sold Valiant figures, and I stumbled upon another big online figure store with the product. (I don't recall who.)
Introduction, Metal Figures
Fifty years ago there were not very many model plastic figures available. Those that were available were often no better than today's soft plastic toys offered bagged by the dozens in grocery store aisles. While there were some injection figure companies – Airfix, Almark and Historex being a few – before the age of resin figures if you wanted accurate, authentic model figures, you had to look to metal castings. Those were often pewter, metal combinations and, occasionally, good ol' toxic lead!
Valiant Miniatures was a metal figure company that filled the void of decent specialized figures. Other big names in the business were:
Almark (Also made styrene figures.)
Bugle and Guidon
Cavalier Miniatures
Imrie/Risley Miniatures
Monogram Merite
Old Guard
Squadron/Rubin Miniatures
Vallance Miniatures
Valiant Miniatures
Valiant Miniatures are highly regarded cast metal historical figures. Back in the 1970s when The Squadron Shop published their quarterly magazine-catalogue
The Squadron
, an anxiously awaited highlight were new figures by Valiant Miniatures.
Valiant Miniatures started making casting metal 54mm figures in 1968. Valiant figures were prominent in model magazines, both as the primary subject as well as parts of a diorama. Valiant Miniatures showed up in many Shep Paine dioramas, including several of his famous diorama brochures included in Monogram kits.
I do not know how many figures V.M. cast although their website shows 373 models under the Valiant Miniatures series of 54mm figures. Furthermore, the site shows hundreds of other models in other series. The V.M. website catalogs these series in many scales (including 28mm and 1/1200):
32mm Fantasy Figs
AE Bounty
AE WWII
Americans
British
Germans
Japanese
Russians
Clan War
Crab Clan
Crane Clan
Dragon Clan
Lion Clan
Naga Clan
Nezumi Hero
Phoenix Clan
Scorpion Clan
Shadowland Horde
Toturi's Army
Unaligned
Unicorn Clan
Yoritomo's Allies
Fighting Sail
Kobolds Ate My Baby!
Model Plane Landing Gear
1/48 Scale Helicopter
1/72 Scale Jet
1/72 Scale Prop
1/144 Scale Jet
1/144 Scale Prop
1/24 Scale Prop
1/32 Scale Jet
1/32 Scale Prop
1/35 Scale Helicopter
1/48 Scale Jet
1/48 Scale Prop
Ramming Speed
Spanish Main
StarDate 3000
Alien
Federation
Other
Valiant Miniatures
Model Plane Landing Gear once listed 665 (!) sets – I have a couple of sets and they are impressive.!
Valiant makes a wide range of interesting subjects; with 373 figures and figure sets in dozens of subjects, I am not going to list each one but I do offer this sample of what I think are interesting:
Bugle-Major, Highland Lt. Inf. - 1896
Doc Holiday
Highland Light Inf., India - 1935
Lutzow's Reitende Jager - 1813
Maj. Pechkoff, French Foreign Leg. - 1925
Piper - 51st Sikhs
Viet Cong
USN - 1920's - w/B.A.R.
Vandals
Visigoths
WW2 Australian Vickers Machine-gun Team
Wyatt Earp
V.M. made a large range of Vietnam subjects:
Montagnard Tribesman - Vietnam
Republic of Korea Marine, 1970
US Air Force Crew Chief - Present
US Air Force Pilot - Present
US Army Grenadier, Vietnam
US Army Helicopter Pilot
US General Officer
US Helicopter Scout Pilot - Vietnam
US Marine, Vietnam
US Spec. Forces Off., Dress Uniform - Vietnam
US Spec. Forces Sgt. - Vietnam
US Special Forces Sergeant
US Tank Commander - Vietnam
USA Infantryman - Vietnam
Vietnamese Fighter Pilot
All of the above are on the Valiant website although all are not listed together as a series.
Valiant who?
I do not know what happened nor when, yet today this company is named Valiant Enterprises Ltd. (Today there is another Valiant Miniatures in England, which makes plastic 1/72 figure sets.) I also do not know how long V.M. cast figures although they do catalog US Pilot - "Desert Storm" - 1991.