It is a special work for me: A vignette from the movie Indiana Jones and the Temple of Doom, released in 1984, second film in the series (the first was released in 1981). Special for two reasons: I remember the first film, when I was 10 years old, everyone talked about the same, so I, my brother and my cousins went to the cinema, but they wouldn't let me in, because I didn't have the minimum age ( yes, there was this …) that was 13 years old.
That was a frustration for me. When the second movie came, then I could watch it. I must remind the younger ones that VCRs were something for the most affluent. The second reason, I saw a report on a Brazilian TV show showing how the film's special effects were made, especially the cave scenes, and I was amazed by that and I remember saying: I'm still going to do something like this. Dream come true, of course within my limitations.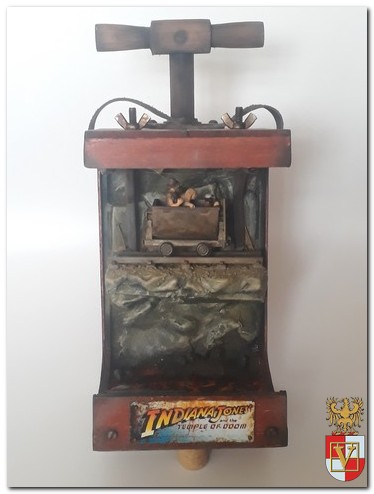 The basic idea here was to make a part of the mine, with the Indiana, the girl and the boy inside the wagon. With two levels, the trail and the volcanic lava. Initially the vignette was going to be like an old wooden box, then I thought of a box of TNT and finally it was a box of TNT detonator, a theme close to the film. I also like to work the dios externally. I did a search for images and dimensions of the wagon of the period and made some adaptations to make it look better on the scene.
Then I used styrene and the remains of plastic parts to make the wagon.