A diorama just for fun. I seldom build anything other than historical reality (at least that's my intent.) But in this case…
In the last days of the war, an American patrol stumbles onto a well-hidden, German production facility housed in a disused railroad tunnel, deep in the Bavarian woods.
They're astounded to find one of Hitler's newest Wunderwaffe (wonder weapons), almost ready for deployment. It's a frightening sight!
"What in the hell is that?" one of them asks, astounded.
"I don't know, but I'm glad we didn't have to fight one of them." Replied the other.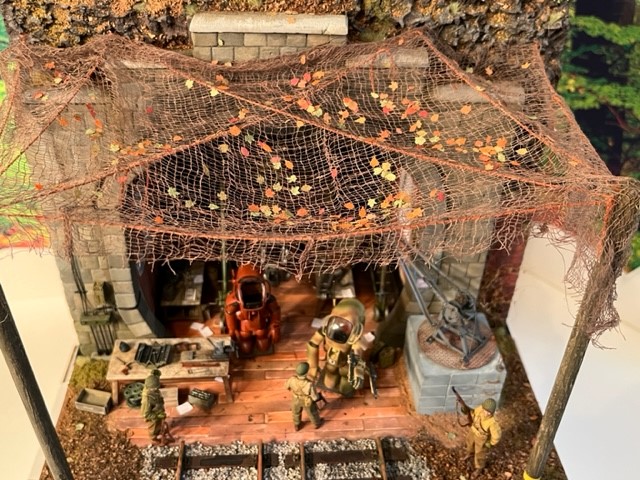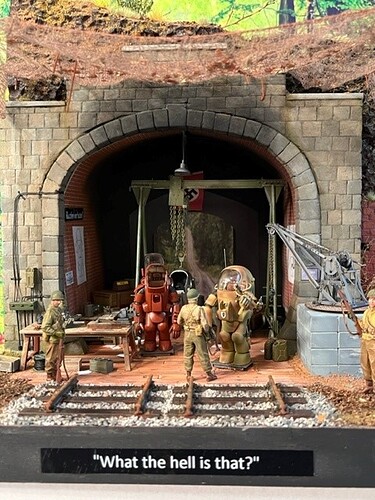 It's a Sd. Kfz. 421, also known as the 'EisenRitter' (Iron Knight), also known as a 'Kugelfest Landser' (bullet-proof infantryman)
The Knights (3 of them) are from Hasegawa's 'Maschinen Krieger' Sci-Fi product line. I stumbled across one of the kits at ModelZona, a few years ago, and it sat in my stash until I finally dreamed up a diorama concept where I could put it to use.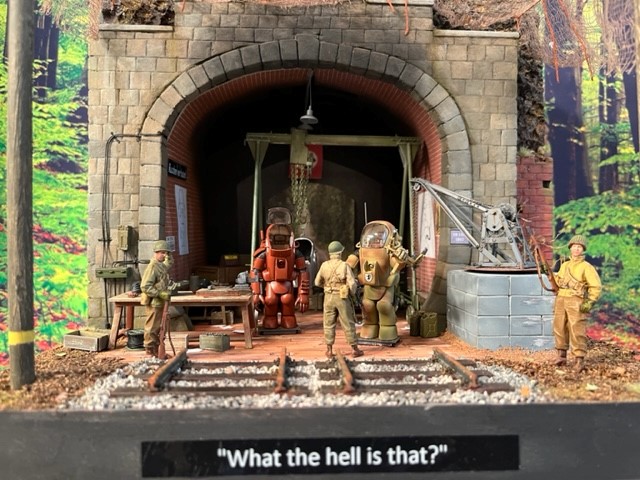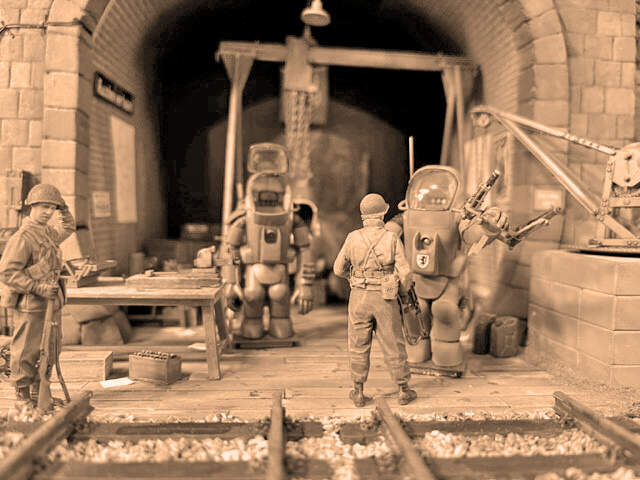 I always like to PhotoShop-convert to Black and White images - close to real period photos to see how 'real' I can make my dioramas look.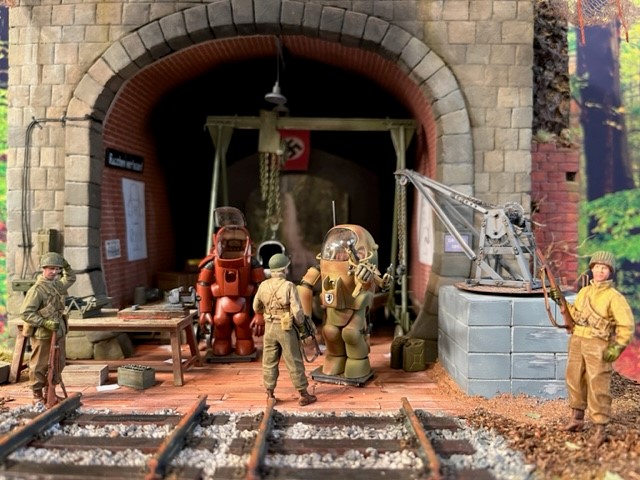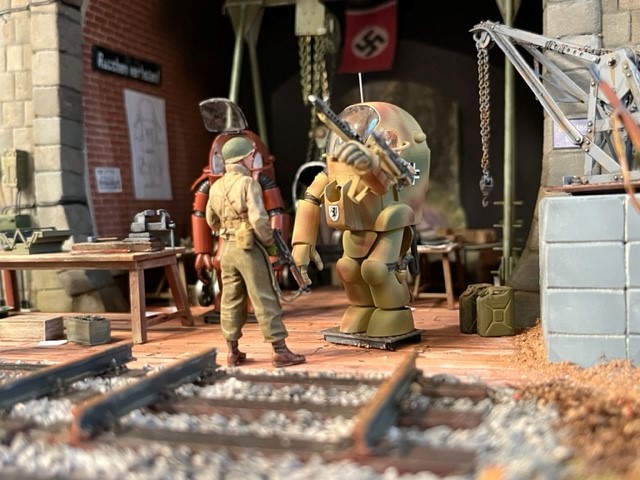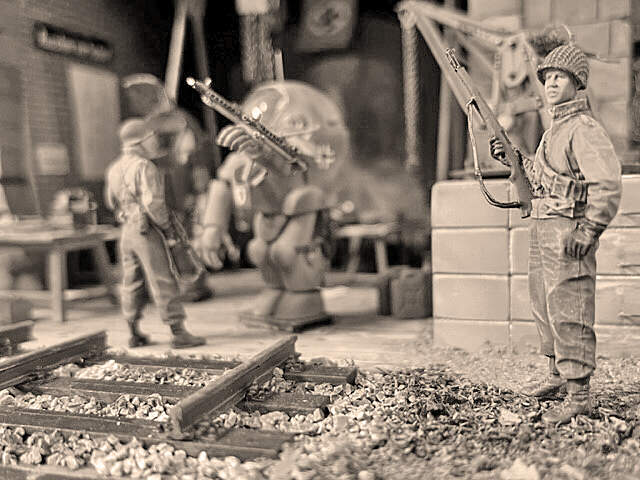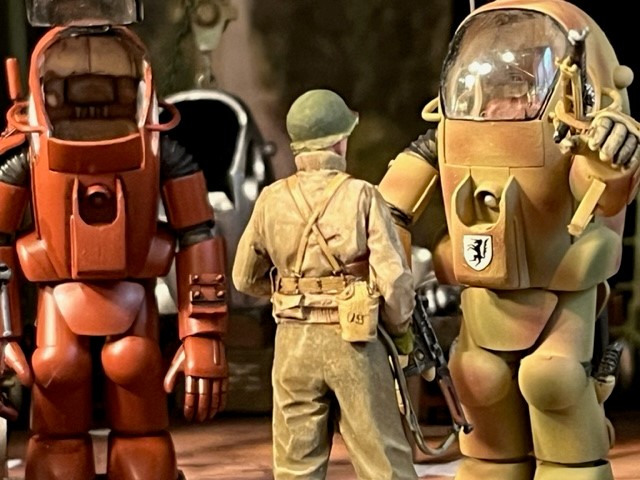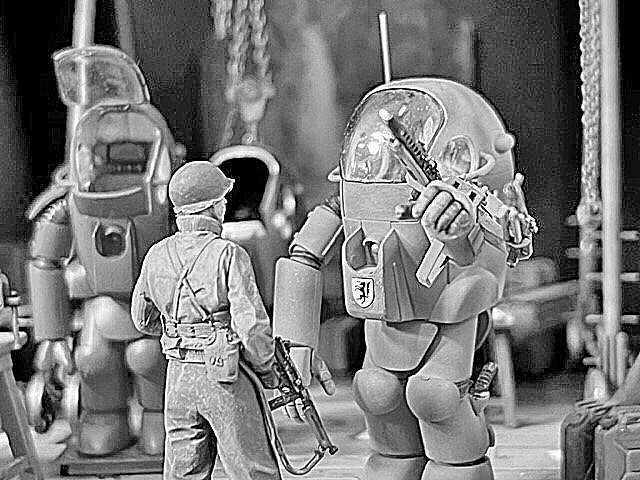 Constructing the railroad tunnel was a lot of fun. I followed the methods provided by the 'Marklinofsweden' on YouTube channel – those train guys have a lot of experience building groundwork!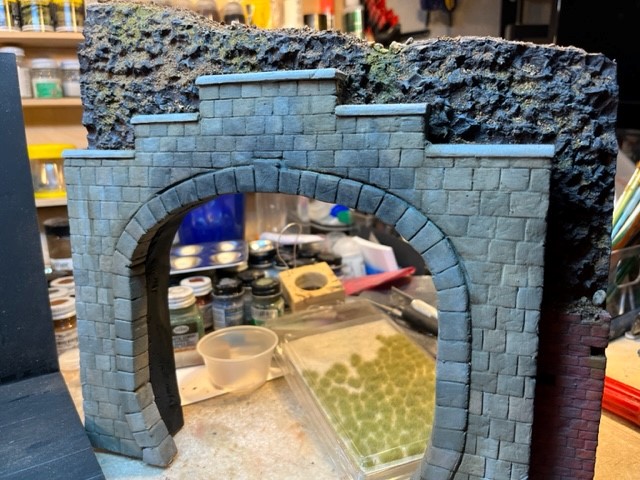 It's all insulation foamboard, layered vertically front to back. The interior is 'bricked' using a Tamiya sheet. The crane base is more Lego blocks.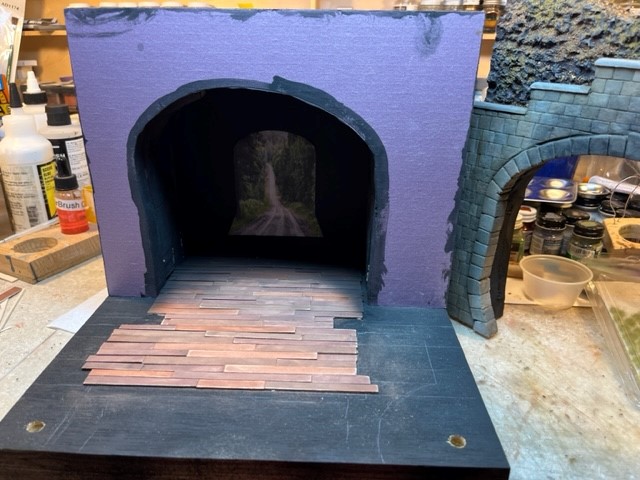 As always, I wanted to keep the base to under 30cm in any dimension. I barely succeeded.
All of the manufacturing gear is from various MiniArt and Tamiya kits. (Bless the MiniArt guys, and their poor beleaguered country.)
The US figures are Alpine with Hornet heads used to provide that astounded ('holy sh.t!') look.
I use the excellent Hornet heads often. But this time I had a problem with them. I bought a set of faces with a frightened or surprised expression to use on the soldiers. They're all bald – helmetless. When I searched through my collection of American helmets, from various manufactures, all of them looked too small to fit the heads – or the heads were too big for the helmets. They just didn't look right, no matter how I cut, shaved or hollowed either the heads or the helmets.
Has anyone else had the same problem? Can you suggest a manufacturer who sells US or German helmets that fit the bald Hornet heads? I wonder if some of their head sets are better suited for 54mm figures, who are closer to 1/32 scale.
As a result, I'm not as pleased with the facial expressions on those two troopers looking back at the viewer, as I'd hoped to be.
In any case, I think it makes for an interesting and entertaining, 'what-if' story.
Thanks for your feedback, Ralph.