Brass wire and profanity got me though my Konig build also. Hang in there, it doesn't get much better.
Mark
Looking good Rory…

So after some time at the paint desk I have something that resembles a ship.
Instructions called for Dark Ghost Grey for the horizontal surfaces but a test showed it was way to light compared to the few aerial photos I could find of late war german capital ships. After digging through the paint stash I found a grey that looked kinda right so I threw it on and it looked pretty good. I made masks with my circular cutter and sprayed the air recognition marks on the turrets.


Still lots to do. Boats, deck fittings, ladders, railings and the mast tops but after getting delayed at the hull stage she is building up quickly.
Looks excellent, Rory! Were the reddish brown deck sections linoleum or similar material on the real ship? I like the result, what color/brand of paint did you use if you don't mind me asking.
Marty
From what I can gather it was a linoleum. I am using Vallejo Red Leather (70.818). I did a lot of reading through forums etc and the consensus seemed to be that its pretty accurate.
Hi Rory,
Very nice work, I have been following along quietly in the background.
Cheers, Si
In todays adventures of building small things…
Working on the various bits and pieces scattered across the ship. Looks like the rear anchor is fully exposed so I felt I had to have a chain attached.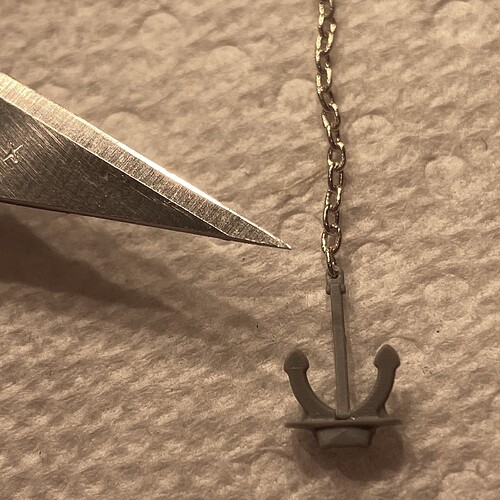 The shackle does not have a hole in it so drilled that out with my smallest bit. Then had to cut open the chain and thread it in. Actually went pretty well.
Rory,
just as Si - so far following quiet, as I hope to find a little more time here I try to become more active.
Very nice work, good job overcoming quite a few obstacles with the kit. It's somehow astonishing how small and, well, simple structured the bridge and superstructure is as compared to WW II units, or even RN units from similar times.
Your Koenig looks great so far, looking forward to your progress!
Cheers
Jan
Nice that you were able to make the adjustment without anything going wrong. My luck I would have broken the end off the anchor.
Mark
Looking good Rory!
Quick, clean and efficient progress…
As the Dark Lord of the Sith would say: "Impressive. Most impressive "
We have come to one of the parts of a build I enjoy the most. When sprue trees start to empty and I start to throw them away
I painted some of the gubbins and applied to them to the deck.
Looks way better with anchors and chains attached.
Ladders, rangefinders, winches are now installed. Also installed the rafts on the sides of the turrets. Hard to see but I painted them a slightly different grey to add some colour variation to the ship.
Currently working on the ships boats. They are built and have been sent to the paint shop. After that will come railings and finally the top masts.
Having a serious internal debate on if this will finally be the first ship I attempt to rig though looking at the rigging diagram its a tad daunting. May go for a more 'representative' look than they whole lot.
Ooh yeah! That's one of my favourite parts too-the satisfaction of knowing you've done it!
Always go the representative look: you'll go out of your mind trying to be 100% accurate; not to mention anyone examining the model won't know either way
I agree. The build is looking mighty fine.
Mark
Another first for me with this kit. Building my own masts. The plastic parts were so soft and flimsy they were unusable. So I had to make my own.
Its not exact but its close enough and I am happy for a first effort.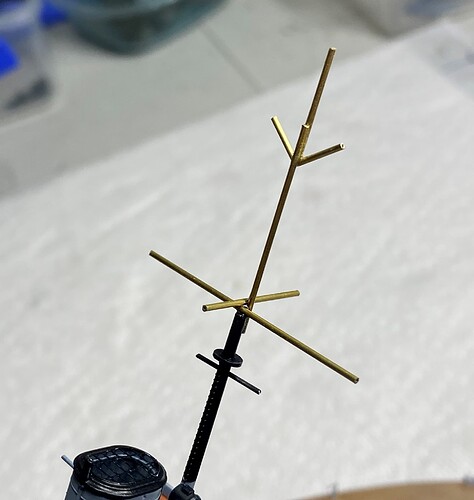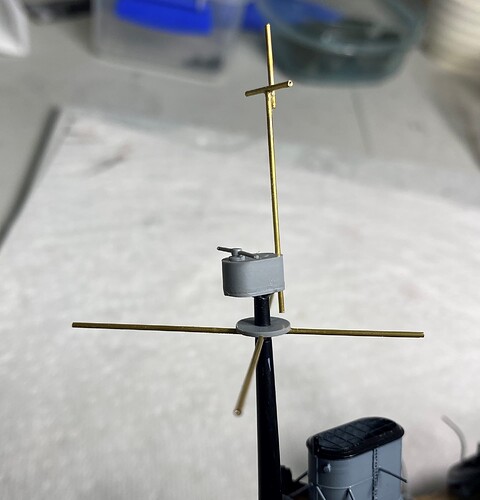 Also painted and installed the majority of the ships boats.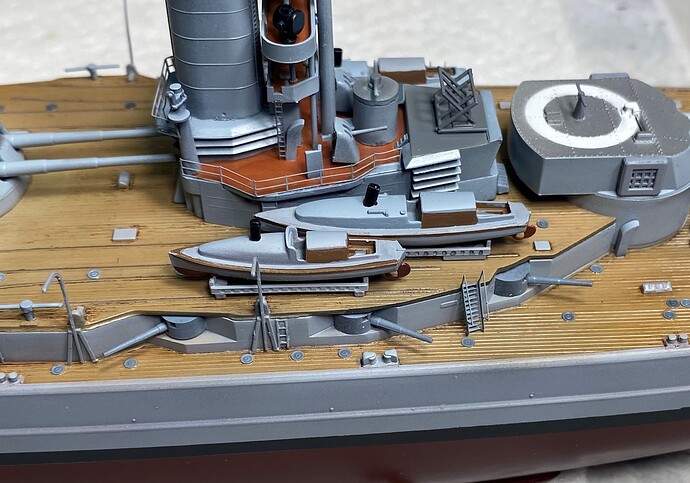 I am getting really close to this being built. I am down to the derricks, railings, bow and stern flag posts and the screws and possibly rigging. I also need to source a proper base for her.
Nice work with the brass, those masts look fine.
Mark
Only see this now, Rory. Beautiful work!
Been a productive day. Dericks installed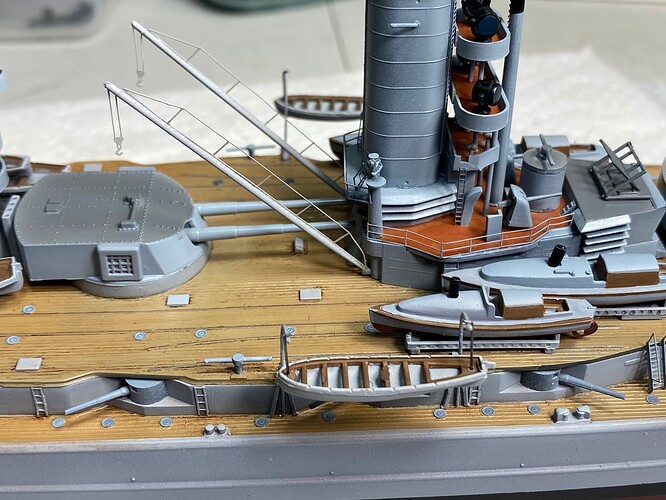 Boats attached to the davits. Used stiff wire for this as I wanted some rigidity to these.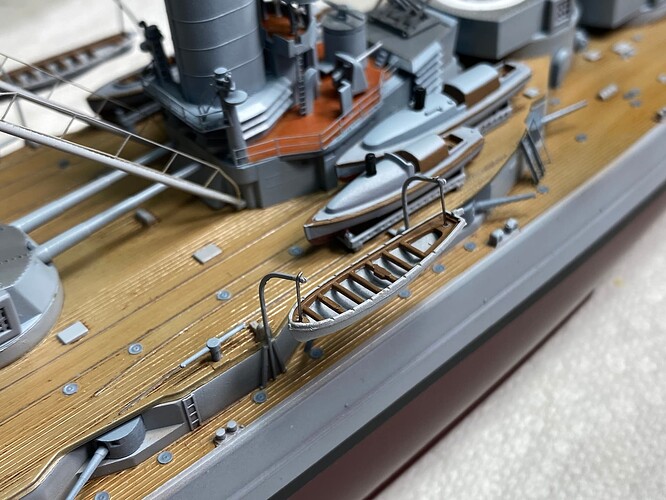 Top masts painted. I am going to go back and do some lightening just so the top isn't a black void.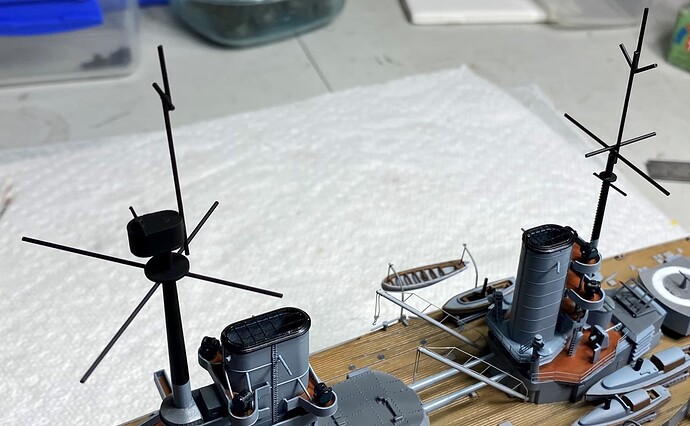 I also built my base as well as painted the screws so those and the rudders are ready to install once the base is dry.
Unfortunately that is where we are going to have to stay for a while. I wont do the railing until the rigging is done and when I went to put the rigging on I discovered the rigging I bought is way to fine. I bought it years ago and got the 'Superfine' Its almost invisible and just not appropriate. I have ordered some different line but will have to wait for USPS to work its magic.
Beautiful work so far Mate. Watching with interest…Cheers markl
Really nice paint work you have done with this build, sharp lines and smooth covering. You are doing an excellent job assembling this kit.
Mark
Rory,
great stuff, very nice progress!
Fine job on the masts - how did you do them, CA gluing or by soldering? I will be up for this, too, as I will have to scratch build those masts for Gneisenau, and like you I have never done this before…
Cheers
Jan