Hi folks,
I have recently purchased this 1/10 scale figure of John Matrix who was the character that Arnold Schwarzenegger played in the film Commando.
Now this isn't my first jaunt into the world of 3D printed items but it is a bit of a learning curve for me. I have bought other items and it has been a mixed bag of results as to the quality of the print.
There will know doubt be people who have other opinions of 3D printing and this is my own experiences that I am expressing and no one else's.
what I have found out is that resin printers seem to give a better produced end product where as filament printers tend to leave striations as well as stepping issues on curved surfaces.
below is a picture of the figure I intend to build and I must add that figures are not my strong point.
what you can't see in this picture is that the figure is hollow on the inside, not just the torso and main trunk of the body but also most of 5he arms. this decrease in weight should in theory make postage cheaper.
Another interesting feature is that as the figure is produced in liquid resin the supports are created for each part as it is printed and they are considerable thinner than the solid casting blocks found on the old style Verlinden figures.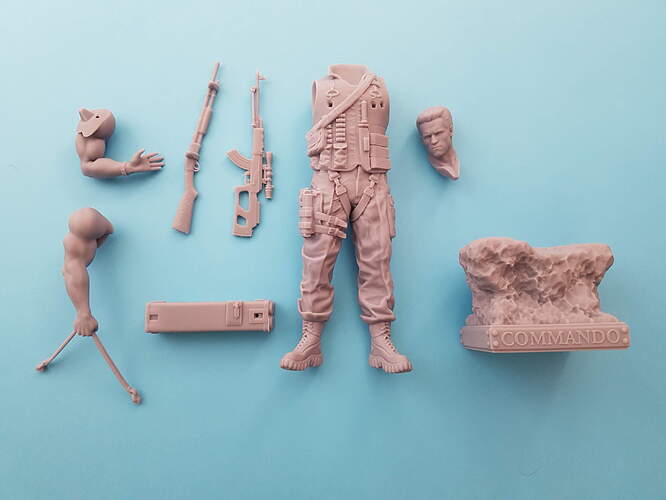 filament printed kits are very hard to clean up and in the past I have had to use my industrial belt sander in the garage to make a dent on them. I shall in due course let you all know how I get on with the clean up of the small support marks that are on some parts of the figure but I am confident I won't have rmto use a belt sander on this one