Hello gents,
This is a project I've wondered about doing for a while, and of all things, watching off road recoveries on Youtube was the catalyst to go for it.
First up, you can see the difference between the two trucks below:
How about this bad boy!?! what a rig! On the left is a Pioneer, which is a 6x4, and on the right, an Explorer, which is a 6x6!! Awesome!! Making it more interesting, the front end on both is a three (really a 2 link) link set up, with a central axle pivot - wow…
And on the really weird side, the rear - well, it took a guy a while to figure out what is going on back there. While the rear is a tandem, it is powered by a central differential and drive axles - but instead of connecting directly to wheels, the axles plug into what is essentially a long planetary gearbox/walking beam, which has two outputs, one for each rear wheel - and the whole thing pivots on the primary drive axle - wow again!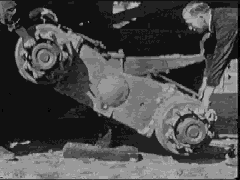 Evidently this concept is novel enough that someone made the GIF above - a bit silly, but you get the point! It's very cool!
Not to be out done, the front end is pretty unique too:
How about that?! yep - it looks a lot like a three link, but, it is in fact…a two link setup! Wow. There is the central pivot you see above, and behind it a a "V" or acutely shaped "U" tube attached to the inside of the axle, that projects toward the center of the truck, with another central pivot - again - wow…
And why think about this now? well, watching off road recoveries in Utah:
My two case studies - As you can see, they are both, or were at some point, square body Chevies - but don't be fooled - they are both highly modified and remarkably capable off road trucks.
This made a guy think - what if a Scammell Pioneer, were a 6x6? what might its off road capability be? At this point, I didn't know there is a Scammell Explorer, which is indeed 6x6 - alas - no kit, so, instead a project!
Back to the two Chevies:
A key difference between the two is the truck on the left uses front leaf springs, and the truck on the right, four links (orange arrows). Something else to note (yellow arrows) the truck on the left has shocks mounted behind the axle, to allow spring rotation, while on the right, struts are mounted directly above the axle.
My conversion will be closer to the four link setup - but, I don't know if it may become a three link? It is unlikely I'll try the two link.
And here we are today:
Over the weekend I got after making my version of the Cummins L10. This part - well, the donor kit doesn't look much like the real deal, so I did some heavy modification, and well, the top of the engine, it's wrong. I can live with that because it will have a hood over it. But - it will not have side panels and the engine will visible!
Like this, where a guy did this engine swap:
What a beauty!

This though, is an actual Explorer, with a Cummins L10, but no intercooler - which I want - which of course served as my motivation to make mine left hand drive - I couldn't make room for the turbo and crossovers otherwise.
OK, enough intro - I'll get after it -
Cheers
Nick