Yes, more info please on how you constructed that front bonnet.
Cast? Carved? Built up?
Gentlemen,
Thank you for your nice comments.
The front end is carved and sanded from a block of CibaTool.
This is a very dense composite material that is very easy to carve, sand and saw.
I have used this for a number of models.
I also made a Dodge WK60, this became a master model for Resicast.

Another model I made with this material is my Chevrolet 1 1/2 ton panel truck.
Again this is a Italery chassis with front of the cabin.
Everything behind the cabin is again carved and sanded out of Cibatool plates.

All the best
Leon
Thanks
I have found some pictures made while I was building them.
I had to scan them because it was pre digital times then.
The brown collour material is the Cibatool, the crème collour is filler.
It took a lot of sanding, filling, and sanding again
Hope you like them.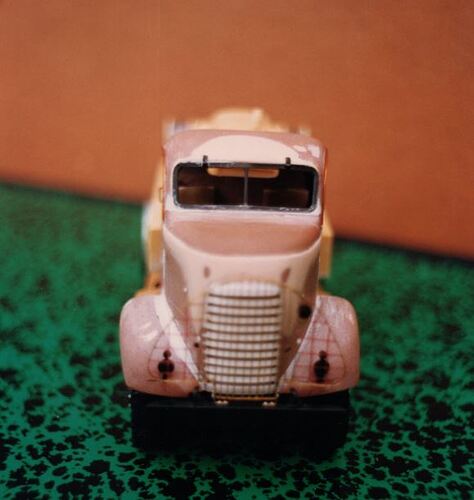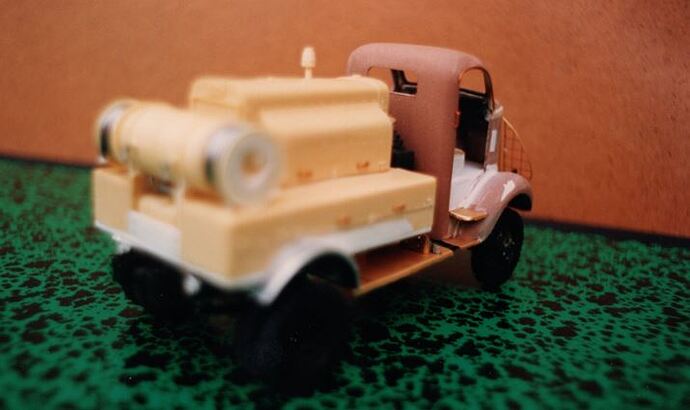 All the best
Leon
An interesting thread. I would love to start a collection of 1/35 trucks but where to start?
A year or two ago I photographed many WW2 trucks that had been used in the timber industry.
Here's one that maybe a challenge.
Here is one example, many best to break it down by country
I think you could share the photos in one thread called Allied Trucks in civilian use for example, players choice on the naming.
Well that truck's been rode hard and put away wet! Certainly a challenge to pull off…
Well my order of the new front mounted Darley Water Pump has now been shipped from Shapeways in Smyrna, TN via UPS.
I have tried to track it. Interestingly UPS decided to fly my package directly over my house in Kentucky on its' way from Smyrna,TN to their sorting center in Edgewood, NY???
At which point they transferred it to the US Postal Service in Long Island City, NY and now say once in the hands of the US Postal Service they are no longer able to track it???
This appears to me to be the absolute height of stupidity and inefficiency especially given that UPS has a major hub located in Louisville, KY. just 86 miles away.
Further I feel sure the package would have moved far more quickly if SW or UPS would have simply handed it directly to the USPS as they run a semi truck directly every few days between Smyrna, TN and Lexington, KY.
Just here sharing this idiocracy with the group.
Yeah, SW in the States gets a lot of well-deserved flak about its crazy shipping! Nothing beats a "one size fits nobody" system…
Darley Water Pump arrived today from Shapeways. (A day earliy for my birthday.)
The print is beautiful. Very delicate but very well done.
At work now but photos to follow this evening!
Always enjoyed the soft skins a military uses. Moving Boots, beans and bullets is how wars are won. Plus it opens up a whole new world of possibilities like Gun Trucks, Tank Haulers and loads of "Jeep-like" vehicles. Everything from any era. I especially like the 'Shop & Comms' mods.
Again, the Darley water pump printed beautifully!
It is really so small it was somewhat hard to photograph.
I tried photographing it in its original natural translucent plastic state but the detail just did not show up. So what you see here has been sprayed with Tamiya (Rattle Can) gray primer to give it better contrast.
In the process now of giving the pump its' final OD paint work.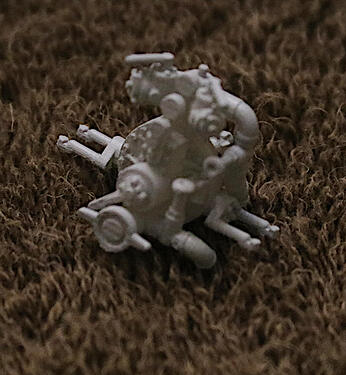 This final shot is the rear view of the pump.
---
Kudos Tom for your fine craftsmanship here!
---
Wow that really pops with paint on it! By the way it's not just the gauges and hoses that come in a wide variety - the same applied to the front bumper modifications. Some (like your pic) have the bumper "dropped" under the frame, others have it turned upside-down to place the open square upwards (for access to the brass cover on the hydrant inlet), and still others have keyholes in the bumper face. Makes for a lot of fun modelling!
Well the bumper with the retangular cut out is actually just the winch bumper turned up side down.
I was highly impressed by the "keyhole" bumper but would be hesitant to ever try and model that one. Also the one in my photo was the first time i had ever seen a reenforced scalloped curved cut out like that.
The wrecker version of the LWB CCKW as seen just this past weekend (Oct. 1-2, 2022) at the Bowman Field Annual Air Show in Louisville, Kentucky.
The most original and complete US vehicle I think I have ever seen, AND with Banjo Differentials!
All photos by the author ~ All Rights Reserved
---
---
And a few more photos from the Bowman Fest Air Show thrown in for good measure:
That truck is great! With the Tamiya kit as a base (wood bed, open cab), their gun ring set, my banjo axles and banana bar, and the wrecker set (I think somebody did offer it in resin?) you'd have a neat little project.
Tom, someone offered it in resin. Wish I had picked it up when I could have back then. Went with the resin dump body instead.
That was Real Model's kit 35096,"GMC CCKW 353 & Wrecker Set" - maybe still available somewhere online?