It will be worth the wait
And so the decals are on as well! I'll be away skiing for a few days over the New Year so this one will not be finished before that but it will be a flying start for a much better modelling year 2022!
@litespeed Mustangs have arrived. They were indeed worth the wait

! Sadly, I HAVE to go skiing (I tried to simulate a broken leg but neither wife nor daughters bought it) so can't start them until a few days into the new year.

Magnus
Magnus, I've been absent from your builds and must apologise as your trio are great, beautiful builds all three but if I had to pick a favourite I think personally the E-4 just takes the top spot.
Now I'm along for the ride with the new Legion Condor.
Oh just a word of warning, Hannants has some of these 109's on special offer at £8.99 each!
Magnus, you're really building a reputation as the Master Builder of 109's! Fantastic work!
Enjoy the skiing!!!
Fantastic builds Magnus. You sure pack in a lot of detail.
@Littorio I'm glad you like them
! With four of the Special Hobby kits AND a double-boxing of the same kit from Eduard, I think I leave the Hannant's offer well alone

! I also know that I won't be able to resist any new boxings either so I better not buy more of the ones I already have, I wonder if the next one they release will be North Africa or Galland themed?
@Russelle Thanks! I finally have found my calling in life

!
@HGBARNES Thanks! The kits are really super in that aspect, they are really world class for the time being when it comes to detail!
I'm temporarily doing something completely different for the time being, I promise to come back to this one soon though!

Magnus
"…come back to this one soon…" - in this case "soon" is a bit less than three months
!
I've been doing a bit of work every now and then on this one, a wash really popped the details and some weathering added to it as well.
I got tiny white speckles in the paint when I gave it the first coat of RLM 02, I'm not sure where they came from but a badly cleaned airbrush is a prime suspect… Anyway, I tried to overpaint them but didn't get the paint to match that well, I kind of like the effect of bleached paint so I went over the rest of the panels as well. Sometimes even I am lucky
!
Magnus
Personally its one of my favourite colour schemes for the Bf 109 E. Such subtle weathering Magnus, it looks excellent from the photos
@litespeed I was a bit worried about doing this fairly monochrome scheme when starting it, I've never been that confident that I can make something interesting out of it. In this case I had a lot of help in at least three ways:
The surface detail is so nice that you just have to do a light wash in order to get the model to look a lot more exciting.

The relatively light colour is a lot easier than for instance a dark blue Wildcat or Hellcat.

The fact that I, due to bad airbrush cleaning standards, managed to spread a multitude of tiny little white dots all over the model that I had to touch up. With a paint that I didn't manage to match to the base coat .
Actually, the major contributor was 3). Isn't it satisfying to know that negligence and coincidence are the two dominant parts in the recipe for success?
The canopy is just wedged in place, I'll substitute it with a vac-form (that I thought I had
). The canopy is by far the weakest part in these kits, even if they are clear they are a lot thicker than what is desirable and I can't understand why considering the quality of the rest of the kit. I have a Rob Taurus canopy on back order, I don't know the quality of these but they do seem to be the only ones generally available for the time being.
So, the Evil Trio has now expanded into an Evil Quartet!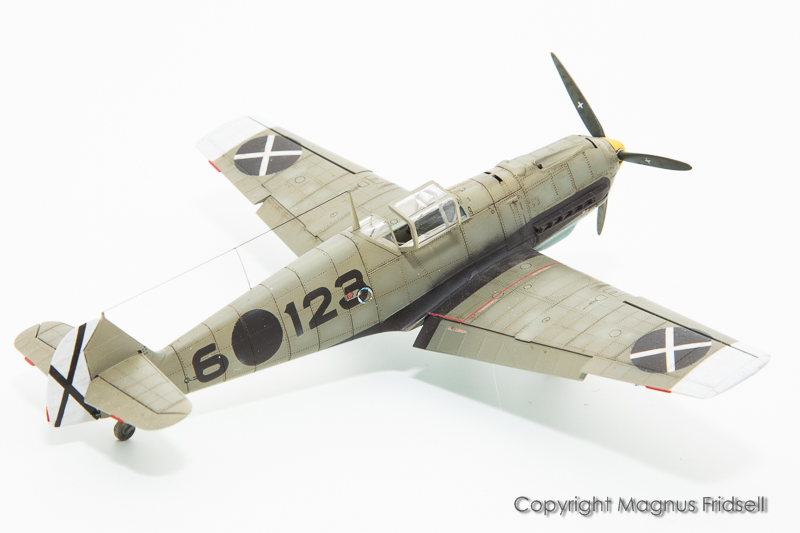 It has now joined the trio in the collection!
Magnus
Happy accidents Magnus. Really pleased it worked out in the end
Sorry, I can't help myself…


We're on our way towards an evil quintet!
Magnus
I can't wait to see this build.
Nice
Just checking the marking options on the PDF instructions as I was curious about the 'snow' part of the title. Particularly as three of the marking options are dressed for the desert. Noticed the subject of the boxart was based at Mariupol, Ukraine…
@phil2015 Stay tuned
!
@litespeed I'll go for a very traditional North Africa machine. And regarding the title, it could be a sign of literary ambitions, "Braving sand" doesn't feel like a good tag line, you need something more and that could very well be the reason for the snow
!
Magnus
It's becoming a bit of a 109 farm over there

@Russelle It must be something with the climate, they really thrive here
!
I've managed to do a bit during the week…


…plan is to get the fuselage glued tonight!
Magnus
Nice. Do you know whether the landing gear doors fit in the landing gear door openings? If you wanted to do a wheels up depiction?
@phil2015 I haven't tried since I'm not a wheels-up guy but I see no reason why they shouldn't! I have an Eduard boxing of these that I can use for a test fit. Stay tuned
Magnus
@phil2015 I've tested the gear doors: they fit fine in a closed position so go ahead, do a flyer
!
Not really a killer update tonight but it is built, masked and ready for a coat of primer!
I have tried, in a very un-Magnus way, to learn something from the earlier four kits I've built and the major thing is to built as much as possible before painting, that's the reason for the landing gear! I have also broken off the tail wheel, this makes it five out of five…
Magnus
I really enjoyed that series, although as you correctly point out, the narrative was fomulaeic.
But you're right, they seemed to rely almost exclusively on 3D scans and photographic evidence to feed their CAD - which is all very well if the subject matter is 'right'.
I think it slightly disengenuous to say that the senior management weren't modellers - it was made clear on several occasions that the CEO had been building kits since a boy. But, although he had a good eye for detail, he, like most of us (I suspect) wouldn't have a clue if the finished article was 100% accurate. It wasn't clear from the series whether the designers were using other sources of reference material.
I hope they make another series.