Thanks I may switch out the helmet still. Depends how stuck it is !
J
Thanks bud. I am aware. I am concentrating on overall poses right now.
J
Left guy got an Alpine head and Dragon boots plus shaved down to just overcoat. Right guy got re-posed and added the fingers to his left hand so he is ready for the big boom. I must straighten the ramrod though.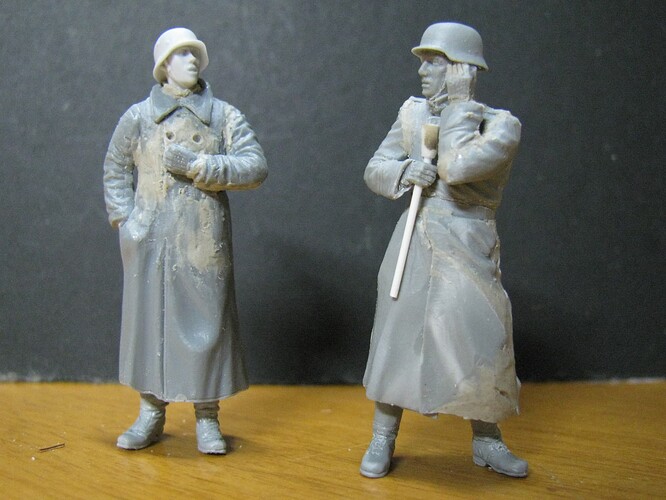 Nice to see them with the putty still visible- you've certainly altered them well!
That is some very neat and clean surgery. Looks amazing with how they have totally changed.
They do look very different, but in a natural way. Great job!
Thanks John,
Glad you liked it,
J
Whats wrong with PBR? A silo on a hot day is great!
Sadly I don't drink now…
Looking good! Can't wait to see the paint!
Me too. I called Early Scheib this afternoon and he's on his way.
J
I'm not even going to wait till you paint it … Brilliant
Thanks John ! You can at least wait till he pulls the lanyard !
The Miniart guys look pretty good right from the box. Just clean up and under cutting and addition of Alpine heads. Need the tiniest bit of putty and then paint.

I like how the G.I.s headgear is coming along. Not the typical overly thick appearance seen on so many figures.
The GI wearing the long coat… is that a raincoat or wool overcoat? I looks like the raincoat due to the single breasted buttons.
Outstanding as usual Jerry!
Of course. Lots of undercutting all over as well.
J