Okay, not sure what got into me, but I've all of a sudden found myself very interested in British armor since building up the bronco archer.
I'm placing an order at Andy's Hobby HQ and plan to add the A9 cruiser Mk II, an early crusader MkII (one of my all time favourite tanks), and for good measure I want to add a challenger 2 as my stash is severely lacking in modern armor.
I am going to add RFM challenger 2. I really want to do it in a BATUS scheme, as I grew up very close o suffield. First question, I want to make sure this is a BATUS scheme. It sure looks like batus camo, but the schem isn't labelled in the instructions.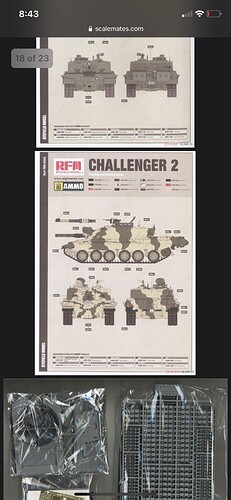 Question 2, what's a good reference to add for batus vehicles?
Question 3, if it is a batus scheme what is good for the colors? Nato green and something else for the sand?