Erik, this is amazing work
Thanks man! And it's really fun to work with it.
As usual, everything is incredibly well done and those plastic kits are good to have. I have used them as references to my wooden windows
Thanks Micke!
So, I think the house is ready for priming, painting and weathering! Cheers
Lovely neat work Erik. The new mini balcony on the upper window looks very good and I've definitely seen a few of those in Northern Italy. With the roof being plastic, will it be easy to make damaged areas on it ? Does it need damage ? Was the drain pipe and guttering from the miniart kit like you said ?
Hello Erik ! I also think it's ready for painting.
I remember that when I built model railroad in 1:87 and made plastered houses, I spread chincilla sand in the wet color. this was 10 years ago and Swedish environment but it might work / Micke
Thanks guys. Yes, gutters are from the Miniart kit. Roof: I will just adjust some of the roof tiles, no damages. I think that will be easy work:)
Looking very… no… edtremely good… as usual!!
Thanks guys!
Well, some details is still to do, but to 95% it's ready:)
I am really pleased with the outcome. Cheers
Reference with figure.
The lower floor seems to be a bit low, but that doesn't matter because the building is on a hill.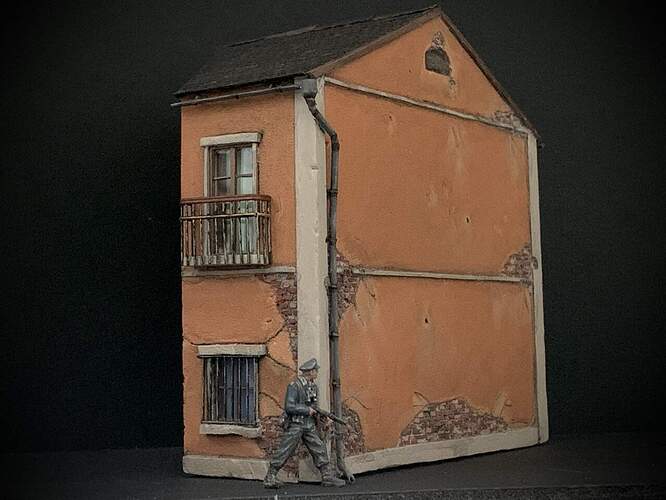 Amazing work Erik, beatiful, just beautiful
That is very very realistic once again!
Thanks a lot guys:)
Yesterday night when I stopped working and took the pictures I was satisfied.
Today I have decided to not stop working with the house. I want to go one level further…stay tuned.
That looks ultra-real. Very dynamic.
More work on the house …,. You are not helping my blood pressure Erik lol …
Seriously, the work you have done so far and the painting and weathering is just superb
Thanks guys:)
Ok, now I am satisfied. After I placed it on the diorama some small adjustments will be made of course.
Pictures:
/Erik
Erik! Fantastic! You definitely do not need to do more on the house .It's perfect
Thanks Micke! I actually kept working for a while again……
Well, now it's ready, just the base left… like start all over again:)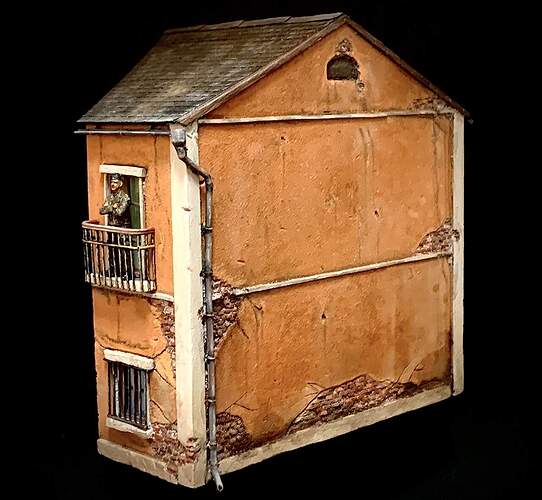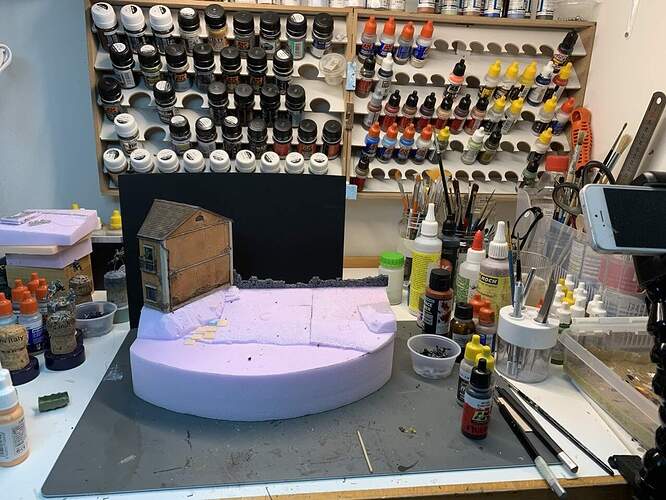 Hi, I am warming up in the left corner. I little piece of a rock is done. I have a good feeling for the rest:)
Have a nice weekend!
Hi, painting and weathering of the wagon. I also painted the base black.