SEPTEMBER 30 UPDATE
Both chassis undersides are simply outstanding. Great decision for a little much needed artistic license. The end results speak for themselves. - Joel
Like Joel said, great work on the underpans. Funny how one kit had sink marks in the mufflers and the other didn't. - David
Great work D. Definitely a good choice, with some tonal variety. - Jesper
Thanks for the feedback guys, I'm really grateful for the support and glad you are enjoying the work here.
Just a quick note on the kit parts here, even though the fit has been generally quite good, I'm still dealing with a bit of flash and some significant mould seams on the smaller parts. Here is a "before and after" shot of the same part from both kits.

On to the next few steps (18 to 22) which completes the underside.
Firstly, it must be at least 10 years since I used a heated screwdriver to fit a part to keep the steering operational!

Another quick note, part numbers 50 and 51 are reversed in the instructions (Step 21).

Once again, I decided to go against the colour call-outs (silver instead of black) and add some more bling to the underside on a few parts. The underside assembly is now complete on both kits, just some touch-ups, detail paint and weathering to do, then on to the interior.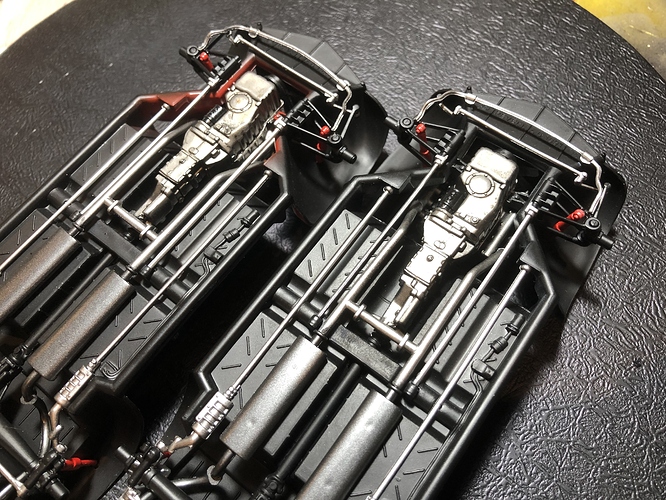 Cheers, D