That's great Ryan!
I will love to see it being built here!
Cheers,
Angel
Is this going to be a formal campaign?
No Dan, that won't be a campaign.
I've planned my build since last December and I'll start building on November 4th, the day Robert passed away.
Other takers will start when they're ready to.
Cheers,
Angel
A couple of days to go, so I dug the Citroen out of the stash. A couple of reasons I chose this one. Firstly the inspirational build Robert did on his Citroen (as per photo above). Secondly I have never built a 1/48th scale military vehicle. Speedy's was a larger scale of course, but Robert was always stretching his skills and trying new things and built across genre's, so me doing a quarter scale build is putting my toe in unchartered waters just like Speedy had done at one time or another.
I picked up a second hand etch fret at some stage and will be dressing up the base kit with extra detail.
See you back here in a few days…
Choosing to build your first 1/48th scale model as a homage to Robert is a great emphasis on his versatility in themes, genre's and scales- well done, Peter!
Counting the days till I open the box of the Einheitsanhänger 5t. by Das Werk.
Cheers,
Angel
The day is tomorrow Angel… 14.10pm.
I'll look forward to seeing the progress.
We'll be having a service at the temple where we bid Robert Jan farewell last year.
It's good to know that there's people around the world remembering him in many different ways.
Many thanks to all you,
Luc
Thanks Luc!
It will be 07.10 tomorrow where I live and I'll open the box a bit earlier- I'll be away from home at the right time.
Robert Jan told me once, that next time he comes to Europe, he'll visit me in Bulgaria and we'll go to see some museums and we'll have some rakia drinks together.
Tomorrow is the day when we (me, Kalin @ktmero4 and some other modelling buddies) have our regular weekly meeting here in Sofia and I will have a glass of rakia served for Robert on the table.
Cheers,
Angel
I'll do the same and cheers to Robert and all of you Angel…!
Hello Angel,
I checked Robert's Modeling Room…
He did some work on it: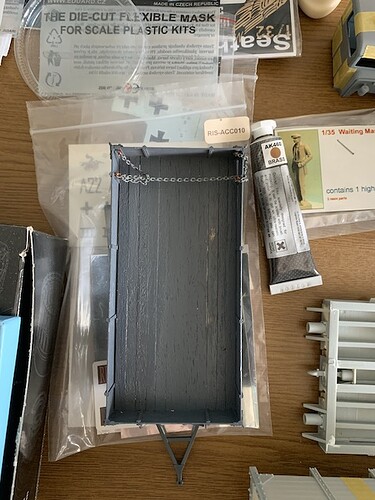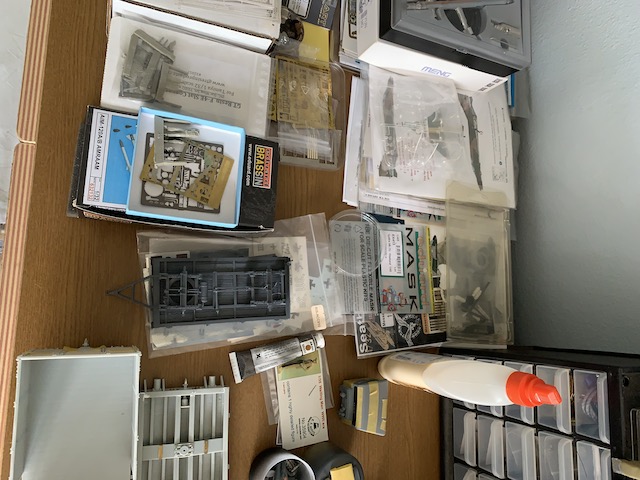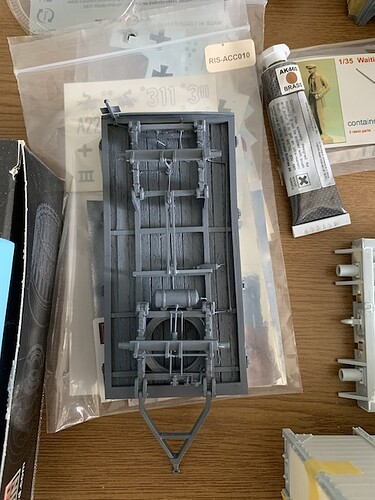 I'm assuming the cargo would have gone into it.
Couldn't find the box though.
Cheers,
Luc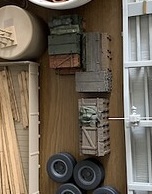 Possibly these boxes?
Thanks for the pictures, Luc!
All the parts, bits and subassemblies seem to wait patiently for Robert to come and sit at the modelling desk…very sad and very moving.
Robert bought and started building the resin kit of Bolddivision(that's the painted trailer).
AMOF he liked it so much, that he ordered a second one(and my guess is the unpainted load bed, full with wooden planks that sits to the left of the cargo belongs to that one).
I couldn't get my hands on the resin kit, it went OOP very quick, but then Das Werk announced an Einheitsanhaenger 5t. in cooperation with Bolddivision, so I bought this one.
The picture of trailer's underside reminds me of another discussion we had on the old site- about the Standbremse…
Here is the old thread, worth seeing
https://archive.armorama.com/forums/275542/index.htm
Cheers,
Angel
I just finished this kit an used his build's underside for ideas as the Das Werk kit is a bit basic on the bottom.
Thank you for posting the pictures Luc. Very sad indeed.
I spent a few enjoyable hours on the Citroen last night. The basic kit is all bur assembled and I am starting on the etch.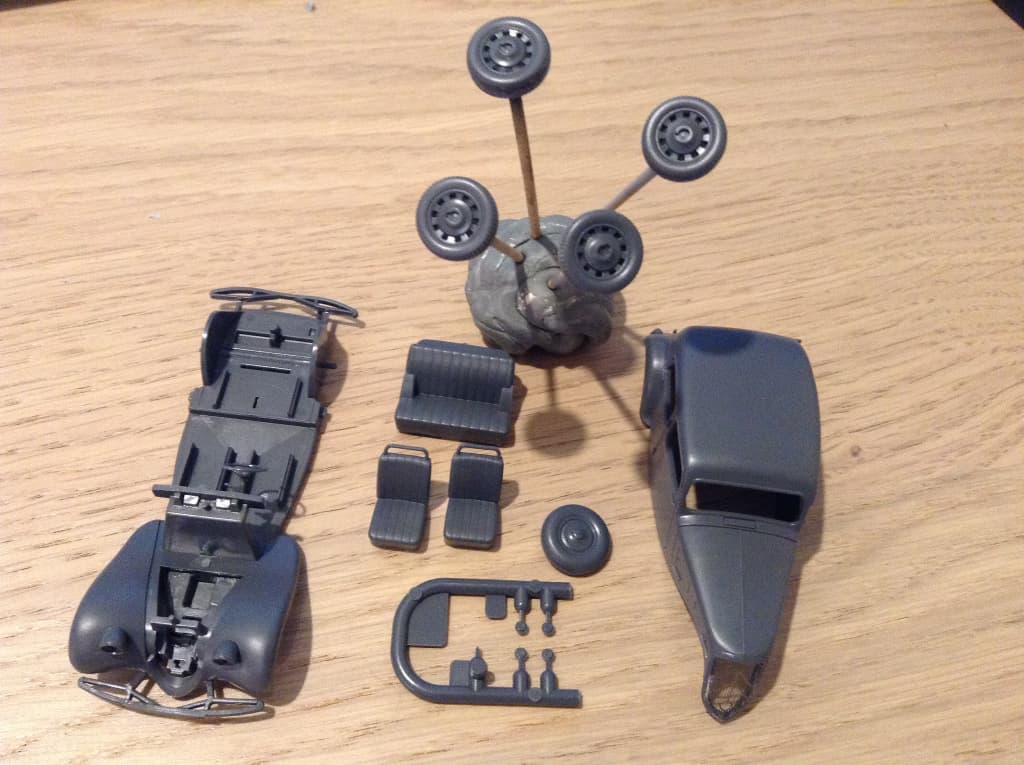 I cut away the solid kit grill and added the Eduard one. I'll need to scratchbuild some mechanicals to go in there now. Also added the etch part that fits under the dash up to the firewall. Tamiya don't actually supply anything for that.

The join around the front fenders is excellent. Well most of the fit is excellent - except that for some reason Tamiya did not mould the full inner guard for the rear fenders. Kind of like their see through sponsons on their tanks. You can see the gap clearly here.

I made sure the seat was not intended to hide the gap, but no, it does not. I'll have to make a section to insert and fill it as no way I can accept a less than perfect job for this build.
I hope Speedy J approves…
I can just hear RJ cursing the poor broadband reception up there, I'm sure he's re-routing his opinions via all of us


Did Tamiya include any foot pedals? They seems to leave those off many kits.
Here are the parts and instructions for Hellers 1/8 scale kit of the Traction Avant:
Maybe there is some useful information in there somewhere …
I've never seen any foot petals in any kit I have ever built.
Seems to be available as aftermarket though …
Edit: Typo corrected so this post has no become obsolete


, maybe they wanted to be stylish too. Shouldn't put people in boxes. Coffee and autocorrect are not friends this morning.
Autocorrect only works if the typo doesn't turn the typed word into another valid word


I usually turn it off, I don't want it to scramble my text behind my back