Some great builds there Don, especially like the weathering,

. Hopefully, as Ryan touched upon, it might inspire me to finish off my Italeri Staghound,
.
G

.
Love those trucks Don ! Great job on them
yes … get to it

Here we have IBG's Otter Light Reconnaissance Car.
The Otter was a Canadian designed and built vehicle based on the Chevy C15 CMP Truck chassis. Similar to the British built Humber LRC, approx 1700 were manufactured during the war at GM Canada's Oshawa plant (shout out to @DennisatAutoloader).
Armed with a Boys AT rifle and a Bren in a turret mount they were too lightly armed and under powered for front line recce duties. Most went on to equip Royal Canadian Engineer bridging companies for scouting or with RCASC units as convoy escorts.
This vehicle is marked as serving with 2 Pl, 11 Field Coy, RCE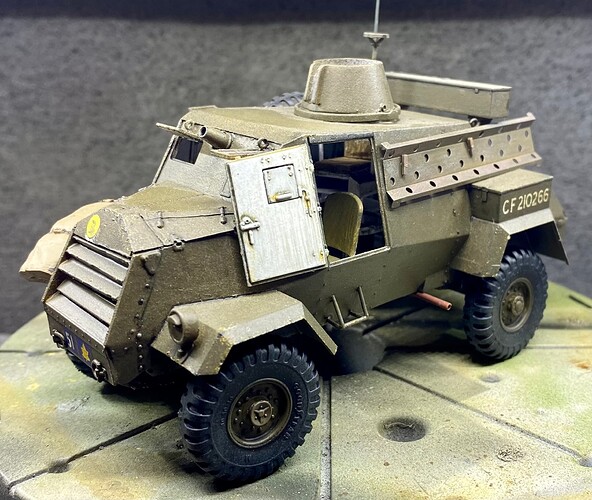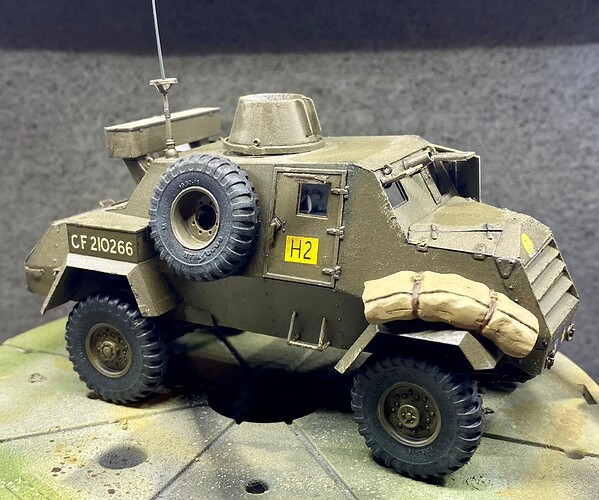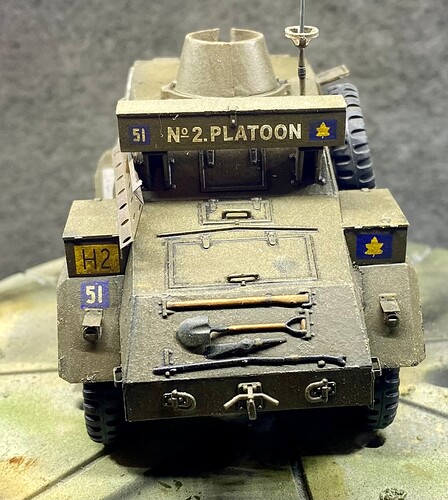 Would you look at that, my family used to work at that plant! Excellent model @Canmedic , you make the Oshawa lads proud!
Thats a excellent selection of builds Don!
Could you possibly like Canadian vehicals?
There might be a theme yes. Shelf space is limited so I need to be choosy.
But just to prove all of you wrong…
ROK K9 Thunder (Academy)
Lebanese AMX-13/75 (Takom)

JGSDF Komatsu LAV (Tamiya)
So there @Panzer_modeler
Like has been said before, you've got some nice looking models!!
Just think the left front wheel of the Japanese model could with a little bit of dust in the tirepattern…
And you have a nice desert/tarmac looking painting base…
Thanks Bert,
The dust on that LAV was done with pigments and got mostly obliterated by the flat clear I put on afterwards. Lesson learned, pigments go on last.
Nah that Komatsu is actually a TAPV with a bodykit. Think you can fool us @Canmedic ?
The fact that it's right side up and not on fire proves this statement to be false.
Last of the oddballs
Braille scale SdKfz 251/ 8 from Italeri
Sadly the tarp cracked and the tracks on this were a bit of a bugger.
And now back to our regularly scheduled programming.
Not quite braille scale Tamiya Dingo. Ordered it without checking the scale. Beautiful kit though, especially the detail on the figures.
Shown dressed up as being with 9th Armoured Regiment (BC Dragoons), 5th Canadian Armoured Division.
You may now put away your magnifiers.
Moving onto the post war shelf, a pair of M113s.
The first, a M113A1 belonging to 3 Mechanized Commando, 4th Canadian Mechanized Brigade Group.
3 Mech Cdo was established to provide a rapidly deployable, air mobile (but not airborne) force to augment the Canadian Airborne Regiment. Shown here on deployment to Cyprus as part of UNFICYP during the Turkish invasion crisis in 1974.
Base kit is the Tamiya ACAV
Second we have an A2 model converted to Tow Under Armour.
These vehicles were deployed to support UNPROFOR during the conflict in Bosnia in 1992.
Base is the Tamiya M113A2 "Desert Version" with an ancient Verlinden TUA conversion set.
Both models use the kit rubber band tracks which are not correct for Canadian vehicles. I've got a soft spot for these things and have two more in the stash with correct tracks.
And last but not least (that I haven't posted somewhere else on here anyway) is the AVGP Cougar.
Based on the Swiss MOWAG, the AVGP project was a product of 1970s era Canadian defence procurement wizardry. The idea was to develop a family of light armoured vehicles that could serve to train reserve units at home. This being Canada they were almost immediately pressed into service on front line operations.
The Cougar variant, originally intended as a "trainer" for armoured regiments, was armed with the 76mm turret pinched off the CVRT Scorpion. It was deployed as a FSV along side the 25mm armed Grizzly APC variant.
AVGPs served with Canada's UN contingent in the Balkans through the 1990s with the last vehicles being retired in 2005. Many were sold on to various African and South American nations.
Kit is Trumpeter's "Improved Version" which models the Cougar without its original amphibious package. Yes I know I stuck that tarp bundle right in front of the drivers vision blocks…
This site and it's members have really lit a fire under me to dive back into modelling and have seriously enhanced my skills game. I'm now finally comfortable enough with my builds that maybe they'll also serve as an inspiration to others.
I'll continue to update this thread as other projects come along that might not get full build logs elsewhere. Thank you to everyone that has taken the time to like or comment. The feedback is greatly appreciated.
Those are some great looking builds!
That M113 from the 4th Mech Group is especially slick! Looking forward to even more updates.
Thanks buddy. My next 1…2…3……6 builds are all slated for various campaigns coming up this year. As such, I may or may not add them to the list depending.
Neither of my 113s I have stashed are earmarked for anything though, so we'll see if/when I get around to them.
The campaign builds once complete should be added as they would be part of your motor pool at that point.