Fantastic looking M113's- really nicely finished.
I think at this point, every Canadian modeller has made one of those Trumpeter AVGPs!
I was talking with Paul from Trackjam models a while ago. He's apparently working on a corrected 1m turret for the Grizzly.
Impressive builds and especially the weathering.
Cheers,
Ralph
I really like your 1/48th Tamiya Dingo Don,

. Every time I see that kit it tempts me to venture into that scale…so far I've managed to resist, but for how long,


.
G

Thanks G!
I'm in the same boat tbh and shelf space may be the ultimate dictator.
The other concern is that 1:48 armour is just a gateway drug to <shudder> aircraft and before you know it you're sanding off rivets and using 400m of surgical thread to rig biplanes.
Friends don't like friends rig biplanes.
Shelf space is why I started playing at Braille Scale Don, but so tempted by 1/48th, though never to the extent of planes, my skills are too lacking, I can't hide my mistakes with stowage and dirt as easily on a plane,

.
G,

Can always make them crash into lots of mud/dirt…

That's all they'd be good for Bert,
, just not sure I could model dirt deep enough,

.
G,

casually puts away bare metal foil
Oh yeah, haha, you're a real card @Canmedic . Us armour modellers would never touch those disgusting wingy things

(anybody here know where I can find some resin exhausts for a CF-104? Asking for a friend)
Hobby Boss T34, four to choose from, all excellent and they have full interiors! I built Bandai 1:48th back in the 70's, they had basic interiors too…
Regards,
M
Next model to be moved out of the pile of shame is an M109.
Canada operated various marks between 1968-2005. The base kit is Kinetics M109A2. It is far from perfect either as a kit or in terms of build accuracy (especially the tracks as Canada used the same Diehl type as the Germans). The vehicle is basically unmarked as I don't have the appropriate decals or stencils. I did get the C/S on the sides but then promptly hid them under camo nets.
Build was inspired by this picture.
Thanks to @ArtyG37B and @taylorrl for help with the paint job.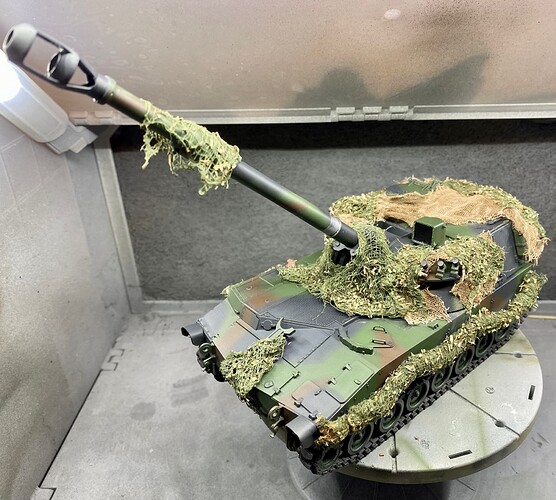 Fantastic finish!! Love it!!
Just wondering, you asked about a mapleleaf on the turret…

decided to go with half a tree

That is a great looking 109 Don. Paint and finish are lovely and the cam net is the icing on the cake. Super work
Nice job on the camo Don- but the camo net really makes it for me as it is very realistic. What sort of material did you use for it?
Thanks Karl!
The brown hessian material is a "triangular" bandage out of my first aid kit that I painted. Next time I'd make it darker. The green netting is from Wee Friends. I wanted to see if a commercial product was any better than the gauze bandage I had been using, but it's not so different to justify the price. The leaves are dried oregano stuck on with dilute PVA
Thanks for explaining that Don
!
As I mentioned with my Cougar, the AVGP project was an effort to procure and deploy a family of cost effective light armoured vehicles to enhance training fidelity amount armoured and mechanized troops, specifically within the Primary Reserve.
The Husky was the ARV/Fitter variant, operated by the Royal Canadian Electrical and Mechanical Engineers. It's equipped with a 4.5t crane boom, it's capable of supporting field maintenance on the APC and FSV vehicles including pulling power packs. The vehicles were initially all equipped with amphibious gear, including twin screws for propulsion. This capability was later removed during midlife refits, with the screw housings being replaced with stowage boxes.
This is the Trumpeter kit with only some minor scratch work. Painted with Tamiya and AK-RC and weathered primarily with oils.