Following my other topic on getting some inspiration for a Challenger 1 used in the Balkans https://forums.kitmaker.net/t/challenger-1-inspiration-requested/20336/25 and having received quite some goodies in the meantime, I just started the build.
The feedback from @Johnnych01 and others were of great help already and also I will "steal" some ideas from @rfbaer build of his Cr1
My Challenger 1 will be a wagon as used during IFOR or SFOR without the additional armour being painted in the black/green camouflage. Details like fuel tanks and correct layout of baskets will depend on the final Cr1.
Next to some very nice goodies like the sets from SMM, I will be using Masterclub's metal tracks, additional seperate tow cables and the decals sets from Echelon and Star.
Any suggestions during the build would be most welcome as I am by no means an expert on the Cr1 but learning about the vehicles is a big part of the fun.
Enough "talk" here are some first very early stage pics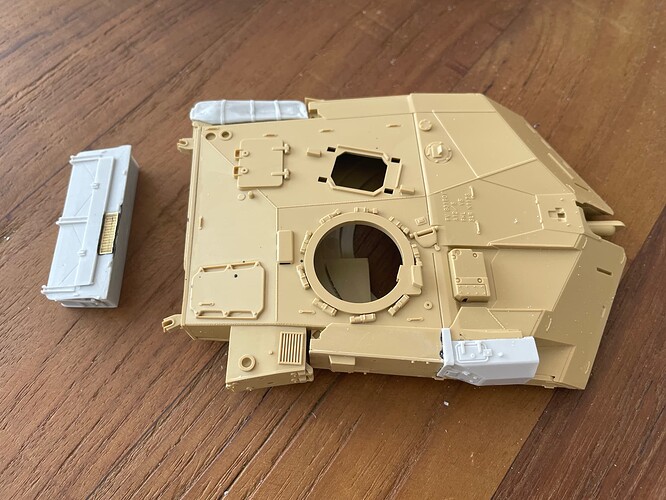 Edit: I got a question which sets I used so I will add them here and will complement it if something is added.
Tamiya 35154 Challenger 1
Masterclub 35220 Cr 1 tracks
SMM 3546D Cr 1 detail set large
SMM 3546E Cr 1 detail set small
SMM 3546F Cr 1 sideskirts
FC Model Trend 35700 Cr 1 lights
FC Model Trend 35856 Modern AFV antennas