Hi All.
This project is turning out to be a difficult one. I'd love to hear your opinions.
It's become one of those dioramas that's taken so long, and had so many components (kits, base, figures, etc.) that I've almost lost interest.
It all started with ICM's Sd.Kfz 247 Ausf, B kit. It looked cool and I wanted to star it in a diorama.
After much thought, and a search through my stash, I came up with a plan.
A command conference, between a couple of officers, the senior having arrived in his command car. I'd include a Panther (you can never have too many Panthers) as a secondary component.
I pictured a Spring 1944 scene. I assume that a few of the 247s were still around at that time, well worn, but still used by senior commanders. I decided to do muddy and heavily washed-out winter camouflage on the 247. That was 'Plan A'.
Based on assorted videos articles and books, I figured I could use the hair-spray technique coupled with washable white paint. To get the look I wanted.
Well, I'm not happy with the result. I've had success with the hair-spray technique for worn-paint exposing the underlying primer coat many times in the past, but this time, far too much of the white came off. No idea why.
And I couldn't seem to get the washable white to work as I wanted, either.
Meanwhile the rest of the diorama progressed along, just fine.
I pulled out a couple of old figures that, with replacement heads, looked really good. On the senior officer in the jacket, I used Citadel's new Contrast paint to achieve the worn leather look.
I decided to place them on the back deck of a tank, and as a Panther lover I pulled one of those out and put it together.
I had the laser-cut building in my stash so I put that together for a background. Where better to hide a Panther and a conference?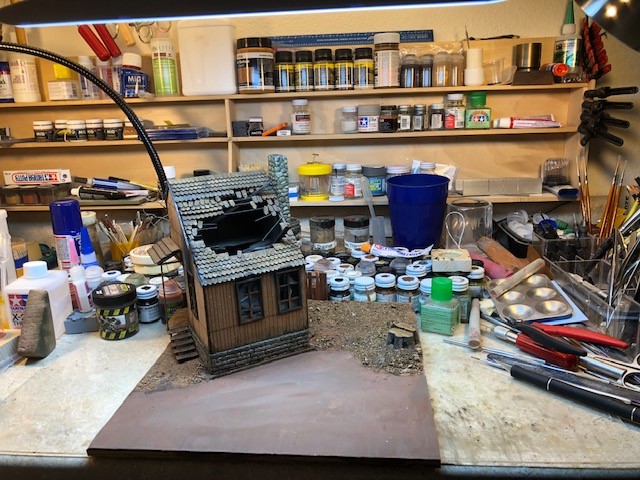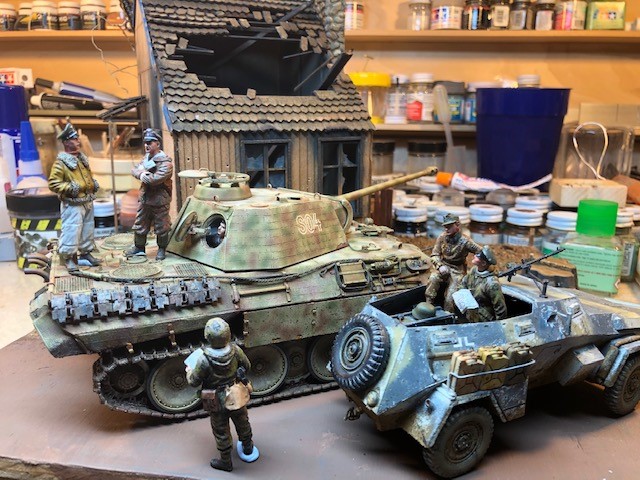 Here's where I started to get nervous. It was all coming together, except
for the original star of the show!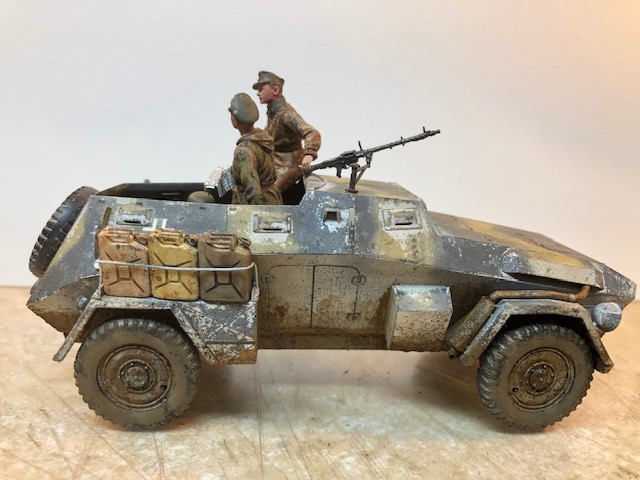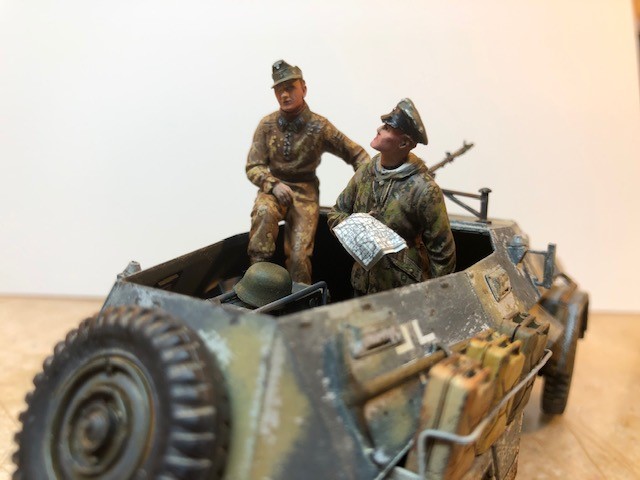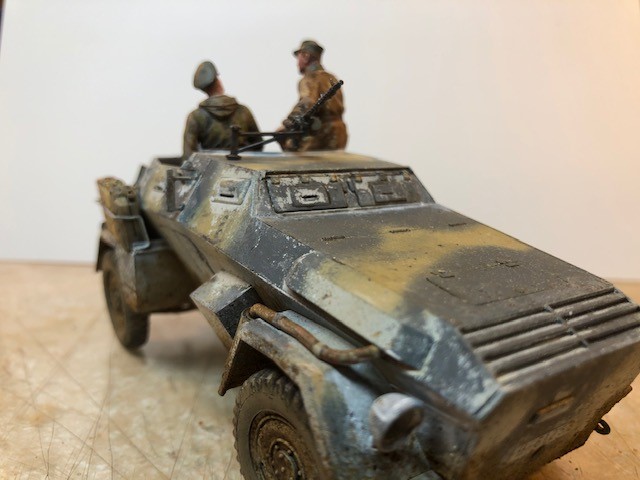 The faded winter camo just doesn't look right to me. What do you think?
Unhappy, I came up with 'Plan B' – The commander arrived in a Schwimmwagen, with an escort, in a second Schwimmwagen. It can be fun to build two identical kits, just to work on making them look unique.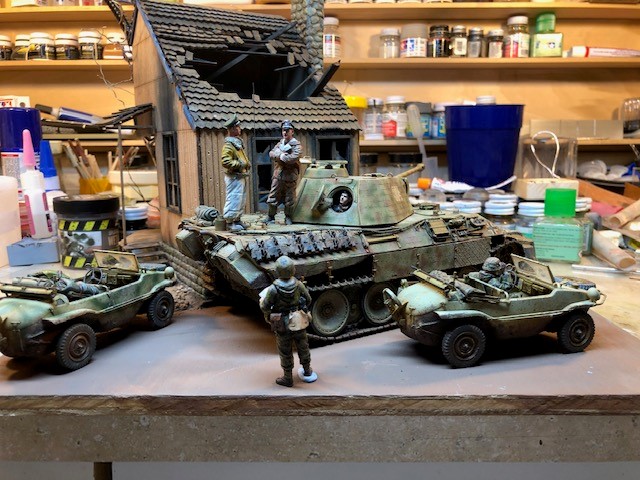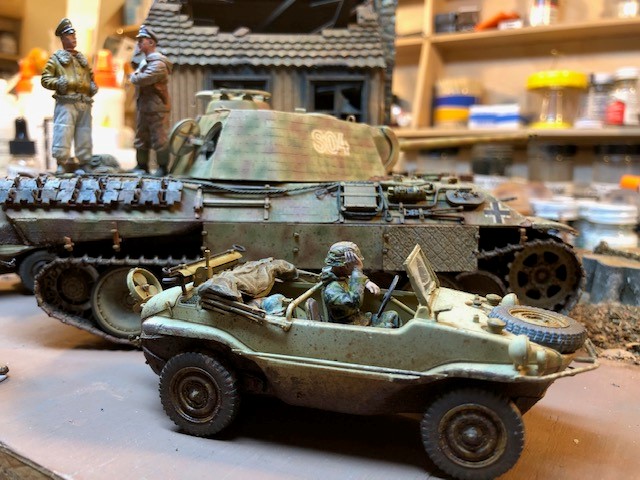 So that's the background for this project. I still have a lot of work to do on the vehicles and the base. And a lot of mud to add. I'll post updates as I finish it up.
Now the big question:. Which way should I take this diorama? Use the 247 or the pair of Schwimmwagens as the transport for the commander?
Should I rework the 247? How would you suggest I improve its finish to achieve that washed out winter camo look?
Thanks, Ralph (Bravo36)
BTW: See you at the IPMS Nationals in Las Vegas – I hope.
Details:
The 247 is the ICM kit. I found it fiddly and the instructions poor. But as a unique vehicle it was OK.
The Panther is an excellent kit from Das Werk/Takom, with Meng Zimmerit decals. I still miss the old Cavalier Zim panels. Much better than decals, PE or putty (IMHO).
The command figures are from Warriors - I love the guy in the leather Jacket!
The rest of the figures are from assorted Dragon sets (If I remember correctly)
The two Schwimmwagens are from Tamiya.
The building is from some Chinese company (I think) that I stumbled across on Amazon. It's no longer available. It's pretty good, but the instructions were literally illegible. It came complete and pristine – I added all the fire damage.