Well, imagine my surprise that this new layout has gone live already! I've been reading the previous posts on this matter, but I don't recall seeing an actual go-live date. I hope I can find the way to link back to the old blog, and that it's not lost forever!
One thing though, that I like about this new format, is that we're supposed to be able to paste photos directly to our post - I'm hoping it works for this post!
So, in today's installment, I want to point out a little something about where to glue the cringles to the bottom of the mainsail. When I was preparing the mainsail with its cringles, I found myself more or less guessing as to where the cringles went. So, in looking at the instruction sheet, I was counting over the vertical seams in the sail, to see where the cringles should be installed. All fine and dandy, right? Not quite! It wasn't until I got the mainsail partially attached, that I looked at my model, and thought to myself, those 3 blocks on the top of the mainyard - what exactly do they do? That's when I went back and looked at the instruction sheet, and saw that the buntlines went through those blocks. Here's a picture of the instruction sheet, and the buntline blocks: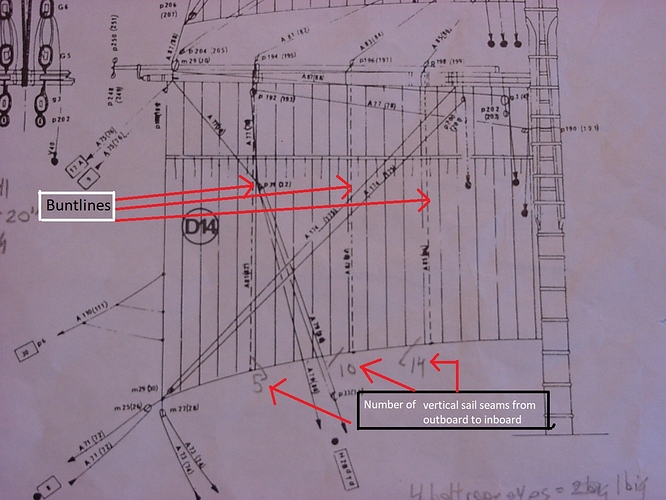 The buntline blocks: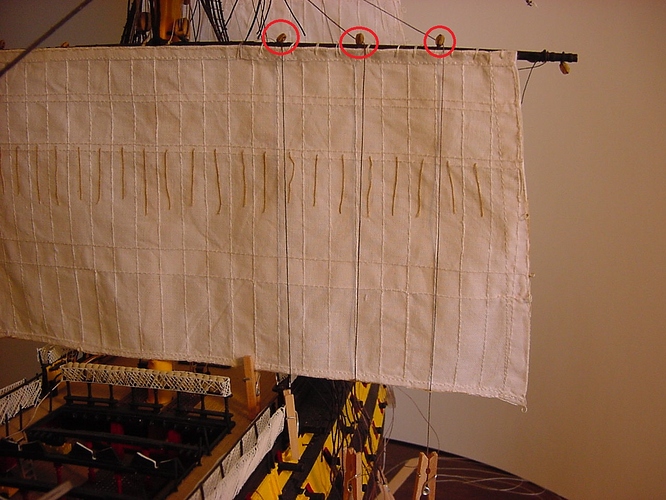 So lastly, here's a pic of the mainsail, with the the buntlines semi-installed. As you can see in the image, the clothespin on the left marks where I had originally placed the cringle, and the black thread shows where the innermost buntline will lay. So, not that big of a deal, just have to re-install that particular cringle about an inch or so to the right, and things should be good. Have to do the same thing on the other side of the sail.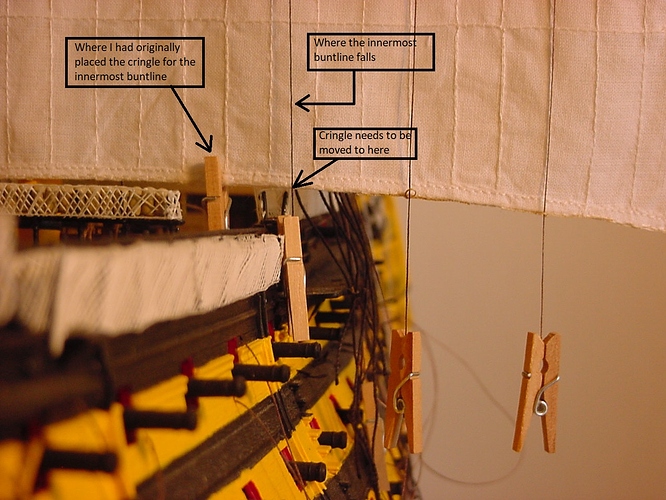 I hope everyone's Sunday has been great; the weather here has been very cooperative, and will remain so the rest of the week.
Cheers,
Tim