Fiddly is good , right Gavin ? LOL
Keep at it !
Hi ya all!! The bike is finished and I'm stoked!
All that's left is the base/case to house it.
Thanks for watching!

That looks fabulous. It really looks the part and if you took some photos outside on the tarmac I am sure it would pass for it.
cheers
Michael
Great job Gavin ! Glad you posted this - thanks for sharing. As Michael said , some outdoor photos might be very convincing.
Cheers- Richard
That looks awesome, super neat work and amazing paint job all round. Love it !!
Cheers, D
The Ducati is officially finished, mounted and boxed!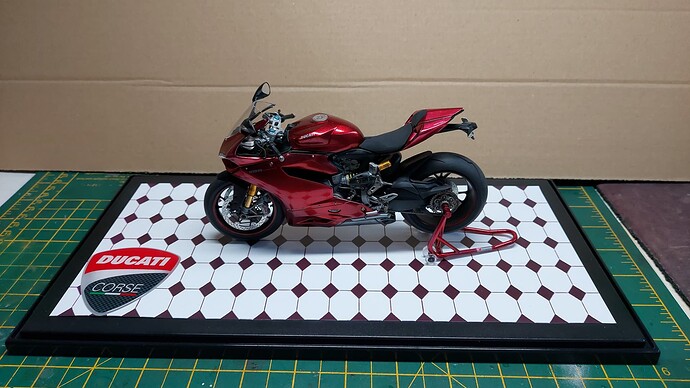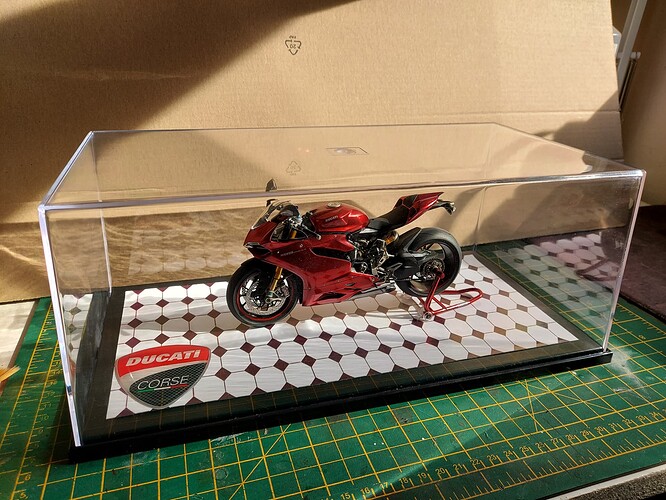 Thanks for the support and kind words.
My next build will be nautical themed. Haven't built anything nautical since my mid teens.
Really nice work with this. Colours look amazing and the show case sets it off perfectly …
Never been a huge Duke fan (after I creamed in on one lol), but looking at it makes me want to go and buy another Honda SP1 or 2 … ah, those were the days lol
Nice case Gavin . Looking forward to your next effort. I've been toying with the idea of a marine subject myself.