That looks phenomenal! Be interesting to see how the RAM material applies.
On that topic, I was very pleasantly surprised at how well they handled the raised detail. It's definitely not exaggerated at all.
Somehow their photography makes it look ridiculously obtrusive but it's not!
Hmm maybe I'll have to give this kit a second thought. I was turned off by tamiya photography which made the RAM look stupidly out of scale
I'll try to get a good picture tonight.
@Mead93 here are some basic smartphone pictures. Even with this camera, it exaggerates the shadows making them appear darker and bolder than they are. In reality they're less than paper height.
To better convey a sense of depth, I took a piece of regular copy paper from my printer for scale.
It's really hard to imagine how they could have made them even less pronounced and kept them visible. They definitely don't stand out like the 1/48 Hasegawa F-22 kit.
Hope that helps.
( @HGBARNES i hope you don't mind me posting these here. Don't want to hijack your thread. Happy to post as a separate thread if you'd like.).
Hmmm that does look quite nice actually. Under a coat of primer and paint I think they will look great. I might have to pick this up.
Only crappy part is I likely wouldn't be able to build it until 2027, I would want to do a Canadian one and Canada doesn't take delivery of their first one till 2026, I imagine decals won't be out for a year or so after
Easy. Build two.

Knock yourself out Sir. Food… I need food though HA HA.
Guess I could build an American one
… if I have too
Looking good. Is that primer on the outer surfaces?
Sorry, did you say "often"?


Higher for us, but "often" a deal for a US buyer. It's all relative I guess.
Ah, the good ole days when our dollar was on par with USD…
I'll second that - Sunward is an excellent store.
OMG… That instruction book looks daunting. (about a half million pages or two).
Kit detail looks great.
Even after conversion I find Canadian stores tend to have higher prices. Not to pick on Sunward but after conversion their kit is $89 multiple US outlets have it for $80, so while it's in the right ballpark it is more expensive.
I believe, due to the smaller market, regardless of the product, Canadian retailers try to make a bit more off each sale
You are right. I just prefer to live in my little bubble of denial.

In truth, I do not fault them. I'm just grateful the brick & mortar / family run shops still exist. I do my best to support them, but when some items are not available locally, or nationally… it's overseas I go. But more often than not, I find what I need at my local shop. All good!
I grabbed mine on pre-order from Squadron for $78
I did the same when I still lived in Canada. There are no good hobby shops I am aware of near me, so it's mostly sprue bros now
So now that I got a chance to really dig into the kit and work on it, it looks like tamiya will be coming out with a another version of the f-35 There are 3 parts on On tree ( A ) That Do not get used. one looks like it might be a throttle lever or something like that ( A37 ) and two of ( A56 )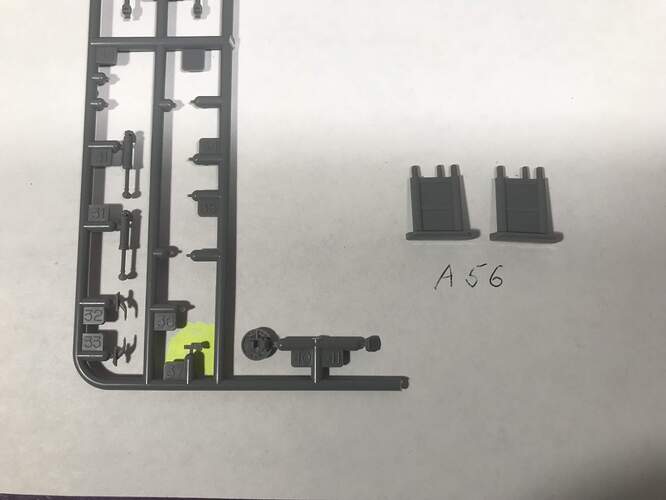 Which I'm not sure what they would be for. Any guesses ?