Would have been more akin to " Was zum Teufel ist DAS? " …
You can guarantee there would be that one guy trying to impress (and failing) the others, saying "Yeah, my dad's got of of those"

"They couldn't hit an elephant at this distance." Among the last words uttered by Major General John Sedgwick of the Union Army near the start of the Battle of Spotsylvania Court House (May 9, 1864). Unfortunately for him, the Confederate sharpshooters had British Whitworth rifles…


Cheers,
M
"My last words to you, my son and successor, are: Never trust the Russians."
Abdur Rahman Khan, Emir of Afghanistan (1 October 1901), to Habibullah Khan.
H.P.
"Artillery lends dignity to what would otherwise be a vulgar brawl."
Frederick The Great
"Hurry it up, you Hoosier bastard! I could kill a dozen men while you're screwing around!" Carl Panzram serial killer at his own execution.
Familiar with that one. 1/1 scale figure. Company B, 2nd Regt. New Hampshire Volunteer Infantry. The M1854 Sharps was no slouch either. At Gettysburg, B Company , with their Sharps, deployed near Sherfy's farm and rendered Woolfolk's Virginia Battery inoperative by sniping their water buckets. (Can't swab the barrel, cant reload…) from about 500 - 600 yards.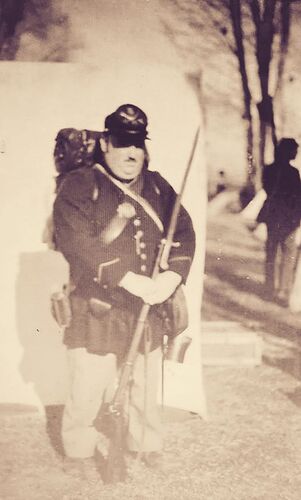 "Of course it's true, I read it on the Internet" Abe Lincoln.
"We only need to kick in the front door and the whole rotten structure will come crashing down."
A.Hitler before Operation Barbarossa
Too true, and you need someone to serve the vent while you do so… Are you familiar with the sad tale of Alan and Michael Perry, sculptors of miniature figures and formerly identical twins? They were identical until Michael was reloading a bombard-type artillery piece at the 1996 anniversary re-enactment of the Battle of Crécy… He later appeared as a mutilated soldier in "Saving Private Ryan" and "Band of Brothers", as well as one of the left-handed Rohan cavalry in "The Lord of the Rings".
Regards,
M
One has to wonder if a greeter at a restaurant ever asked Lincoln if he preferred a table or a booth… (Other than that, Mrs. Lincoln, how did you like the play?)
No. Did hear a close call story. Guy I "worked " with was rammer on a gun crew. Were reloading when he notice some grass smoldering below the muzzle (from previous shot). Quick solution he kicked the water bucket over on it. Gun Capt. came unglued! "Thats a safety issue!", "Why did you do that!"… Leroy said the grass was burning… "Well why didnt you tell somebody!" His reply, "You dont yell "FIRE" standing infront of a loaded cannon." …
He would have 'kicked the bucket' if he had yelled …
"What, me worry?" - Julius Ceasar on Forum steps, March 15, 44 BC, to Marcus Junius Brutus.

Geo. A Custer: "Where'd all those F*@king Indians come from? " Custer's Indian scout when Custer asked "What are we going to do?" : "What's this WE sh*t, Paleface?"
For the half-centenary of the battle, a group of august Americans resolved to have an epic depiction of scene painted and someone with cultural pretensions recommended a young artist called Salvador Dali. When the finished work was unveiled the patrons were aghast; under a sky full of fish with haloes there was a landscape consisting of nought but the intertwined bodies of Native Americans enjoying intimacy vigorously and in a great variety of ways. When confronted by those who had commissioned the painting, Dali explained he had been inspired by Custer's purported last words: "Holy Mackerel! Look at all those F###ing Injuns!!!"…
Cheers,
M

Even my wife laughed when I told her about this post