I think the glass dome does no credit to the model. At least in the picture. But you made a nice looking little model out it!
Thanks Erwin.
I think taking a photo with the dome will be tough no matter the setting and my poor placement didn't help matters.
Personally the best part of the model is Venko's cad work, the canvas if you will. The artist didn't execute to the same level of his design and print.
Well this adds a new wrinkle to equation and allows one to be more authentic to the photo.
Hi Ryan,
There were 2 Bulgarian Gruson Fahrpanzer models in 35th scale on Manta Model Show last weekend: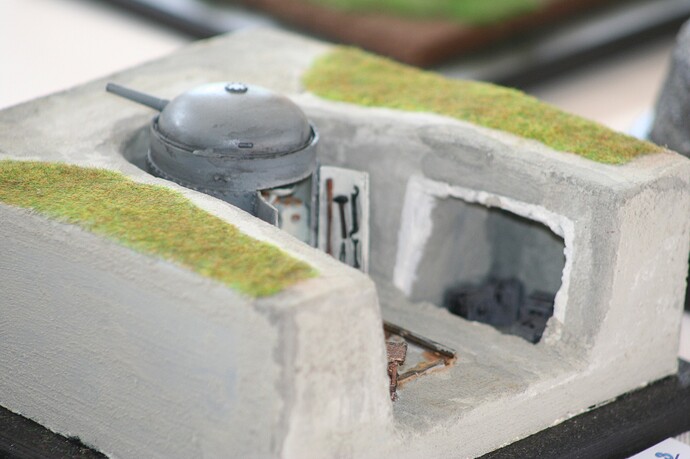 The first gun emplacement was modelled after contemporary picture.
The second one- after the museum piece in Yambol's Museum of Battle Glory(I think I have some pictures of this one too).
Needless to say, I have SCM Gruson on order and even found a figure I can adapt for a Bulgarian wagon driver.Intend to start building towards year's end.
Cheers,
Angel
Oh my gosh! This is why I enjoy Armorama so much–I regularly learn something new.
This is the Armored Fighting Vehicle equivalent of an Archaeopteryx fossil–a missing link in the evolutionary development from artillery piece to tank. My collection definitely requires one of these.
I wonder how much shipping costs from Latvia. How come a company from Ukraine is using Arizona as an emblem? Weird.
Copper State Model was original started and based in Arizona. It was sold to the current owners in Latvia.
Shipping from CSM is very reasonable and costs no more then sending anything else from Europe to North America.
Angel,
Thanks for the update. Good to see folks with similar ideas. Did you send me those pictures? I will have to look again but would be interested if not. I might have to order direct as I have not seen any CSM Fahrpanzers across the pond.
Thank you for that information!
eBay has the model for $42.99 US plus $9.90 US shipping from Latvia.
Edit: I now see Copper State Models offers free shipping on orders over $100 Euros.
I can personally recommend the Lanchester or Ehrhardt armored cars if you want that free shipping…
I ordered two guns plus other accessories. The German figures can make an interesting diorama on their own. Plus I have the Bulgarian theme diorama I want to do.
While looking for more devices like the Fahrpanzer, I came across an article in The Online Tank Museum featuring a very interesting magazine fantasy vehicle called the Mobile Pill-box Fortress.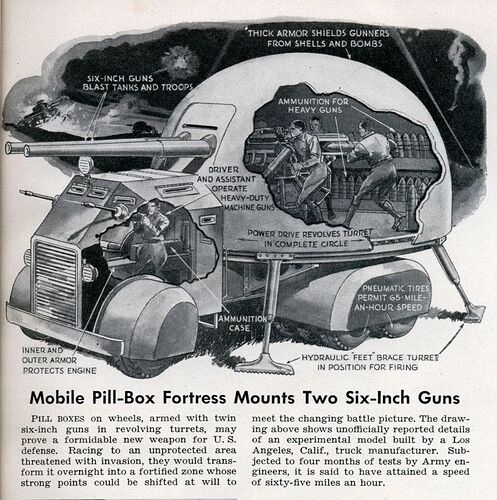 Unlike the Fahrpanzer, the gun does not dismount from the truck.
The World War II era Heuschreke IVb has a lot in common with the Fahrpanzer but I continue to look for earlier devices that lie somewhere between artillery and tank.
Lone Sentry feature an article on a World War II era device that works something like the Fahrpanzer, the German Mobile Steel Pillbox. This device does not rotate and mounts a machine gun, making it more primitive than the earlier device. However, the mode of conveyance is quite clever.
My kits have arrived.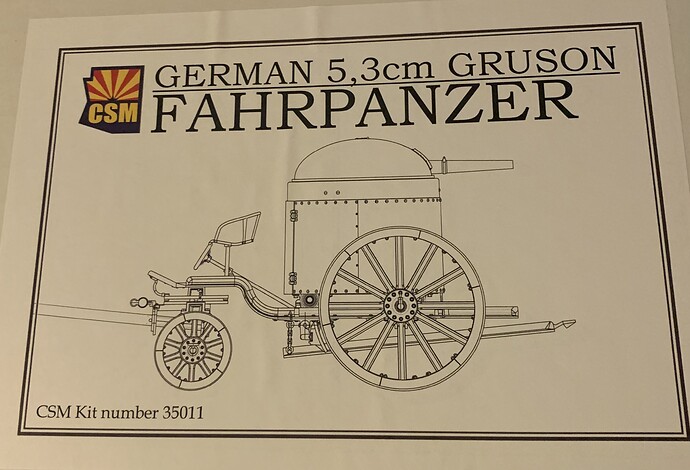 Have to finish some other projects before getting back original idea and these new kits.
Full product review with pics please !!!
Ryan these look so good! Take your time with them!
You said a mouthful here, Matt!

Angel
Here you go Glenn.
All the plastic.

Instructions layout

Painting schemes and extra bits you can purchase.

Appears you can build on and off carriage with the parts included. Instructions appear easy to use. The paint scheme lacks a 360 view. The only possible downside is the rounds are molded in the racks. So it would seem you couldn't have the gun in the carriage and the door open as I doubt they traveled with the rounds stored. Overall the kit looks good and happy with the purchase at this point. I will reassess after construction.
HTH
Very cool Ryan , now I'll get one or two .