I know you said OOB but does that include anti-skid too?
Coming along nicely Ezra, keep posting and don't worry !
Thanks for reminding me Ryan… I will be doing that with the help of @HeavyArty and his template he showed on another thread … Will be getting that rustoleum spray
nice kit, goes together as you would expect from the Big T, Here's a picture of one I took in 1990 during the build up when I served in the AFPU.

Hmm, good point John!
Question, are the landing gear bays light gray or white? Ive seen them both ways but I wonder which is right.
Thought I'd finally make a start on my entry.
I got the main gun assembled and want it to set up completely before adding it to the turret:

Not much else to show, so far.
Hello i will joining this campaign.
Desert Storm is what made me interested in model making, so I was excited to participate in this group build.
I've opted for a AV-8B with an interesting loadout: Zuni rockets, napalm canister and Sidewinder for self-defense.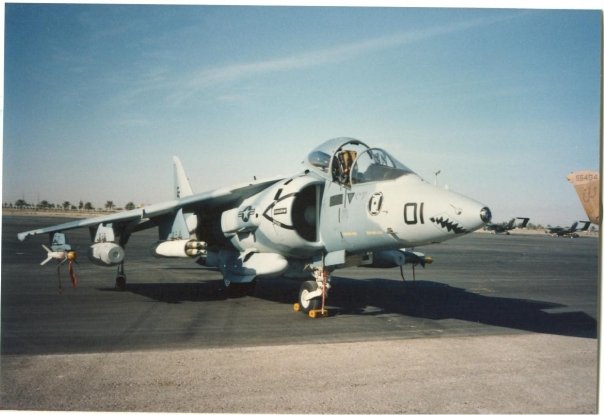 source: https://www.dstorm.eu
So let's get started: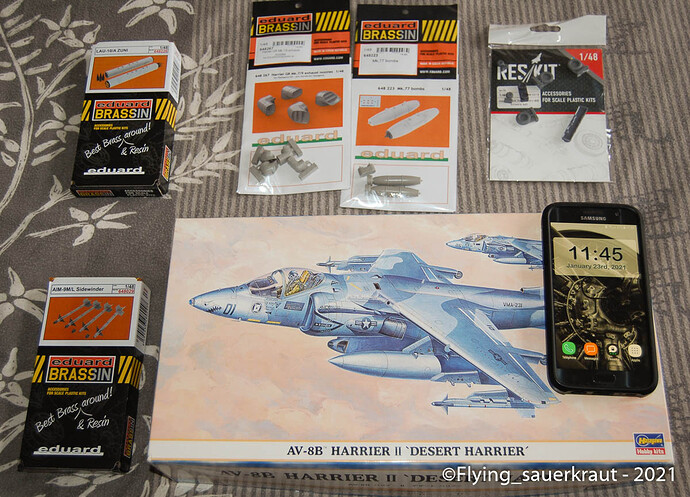 I have to admit to being drawn to this one. I have three options I'm looking at: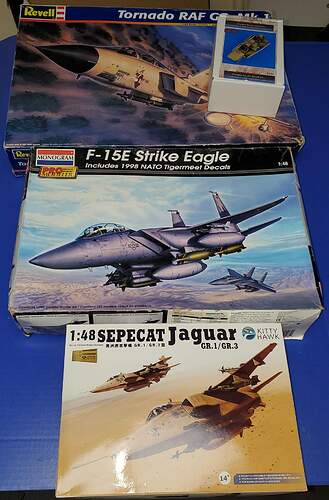 The Jag would be out of the box. The Strike Eagle has a Black Box cockpit and decals from the original kit (that I finished as an F-15I), which include a 4th FW option from Desert Storm, but this kit actually has GBU-10s, GBU-15s, and AMRAAMs which the original did not. The Tonka was purchased used and I discovered that whoever had it first had sanded off the instrument panels to replace with an Eduard set, but not included the Eduard set. Thus, the Aires cockpit (which obviously looks better anyway.)
Leaning towards the F-15 or the Tornado. We'll see how I feel when I finish what I'm working on.
Michael

So, I've been thinking about this (I think too much, especially for so little result) and another idea occurred to me. How about an Israeli F-15? I'm sure everyone remembers that, even though they weren't part of the coalition forces, Saddam saw fit to shoot at them with Scuds. They had F-15s up flying CAP and were ready to strike back, but held off to keep the alliance going. Does that sound legit?
Michael

This is more of a coalition/enemy build and can certainly build as USAF F15
Understood. Thanks David.
Michael

Oh damn, I didn't notice there was a Gulf War GB ongoing - I did the M60A1 last week and I posted WIP photos of it in the forum. I'm currently working on this Scimitar for OP Granby. Had her built up to 90% in a span of an evening. I hope she still counts?
I will be starting this soon with the M1A1 mine plough.
The first stage will be as follows.
I printed off the template Gino supplied in another thread, and will mask out the various non anti slip areas then give this textured Rust-oleum a try.
I think I have to add the 2 side bins to the turret, but that should be all I need to add on I think.
Nice! Yes John the non slip goes on the side bins as well.
That is correct, the bins appear the only other parts needing nonskid but I don't think you have to add them to spray nonskid.
Yeah I just thought it may be easier to attach them and do the texture spray all at once.
Gino @HeavyArty, as you have used it a fair bit, would you recommend priming the hull and turret first then masking and applying the Rust-oleum or masking, doing the texture spray then priming ?
I just applied the texture to the separate lids for the bins. I don't prime before nor after spraying the texture paint either. I never prime.