Very nice work. It is great to see a Ship/Model come to life with some Colour laid down…Cheers Mark

Deck is on and boy was it a tale of two halves. The stern section went on really well, no major issues at all. The bow section on the other hand. Lets just way it was a fight. I had to do some major trimming on the fly to get it to settle down and there are still some parts I am not 100% happy with. But with all things one has to know when to stop fighting it and just accept what's there.
Next will be the decals for the hull and stern deck area plus some pastels on the deck so it doesn't look so pristine.
Starting to take shape very nicely indeed. Sometime you have to live with little things like the Deck or it get you tied down…Cheers mark
Small update. Went ahead and dirtied up the deck with some pastels. No idea why I have never tried this before but I am a huge fan of this method as opposed to using the airbrush. Tons more control and do worry about overspray.

You can see the difference in color between the original wood piece and how it is now.
Nice work with the deck, Rory.
Looks like Musashi's crew had better get back on the job!


Hahahaha! That deck looks much grimier than mine. May have to do some adjustment
Just a PSA for anyone else who comes across this thread when they are doing their Musashi. In the 2013 boxing (which is what I am using) you get some linoleum strips which are placed on the aft flight area.
THESE ARE NOT DECALS! They are, in-fact, stickers. This is something I have never come across in a Tamiya kit. I only discovered this once I had gone through the whole dipping in water process and they refused to react. This made working with them a bit difficulty since the backing was now wet and soggy. You also have to cut them out exactly along the edges, again made harder by the backing paper being all mushy.
Still, I got them on in the end.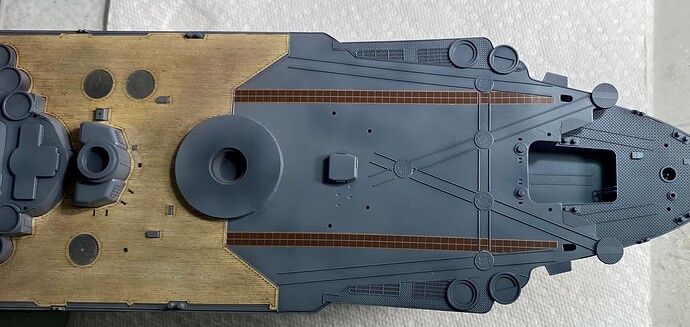 Well, came out ok, looks good, nice effort.
Mark
This is one impressive build Rory… Really enjoy watching these behemoth's get built up. Great work with the etch and that decking.
Very nice effect on the Deck really looks good…Cheers Mark
Hi Rory,
The dirtying effect on the deck looks very nice indeed, very effective.
Cheers
Si
Rory,
just catching up here - fantastic work! The wooden deck looks spot on. And what a beast that ship was…
Cheers
Jan