Sorry I couldn't find this on another site.
Regards,
M
Actually it looks like one of the turret reactive armor panels was detonated, and that is what probably ignited the fender fuel tank.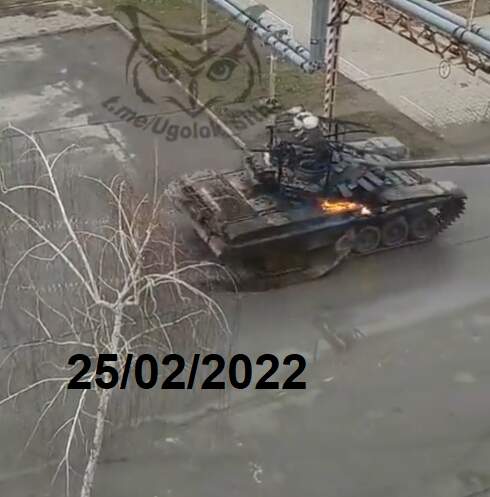 Great overhead rack to use with a poncho to make some shade or keep the rain off
Good idea. We are a northern people, and in Syria it is very hot in summer.
It seems that now they have been made taller, taking into account the characteristics of the Javelin. Now we also have Javelins, I think the parameters will be specified.
That luggage rack sure cuts into the arc of fire for the commanders AA MG.
They done made the T-72 a three story condo
They have become those SUVs with the extra luggage box on top, or the cars with skis, snowboards, surfboards, or kayaks on top.
Now there is a photoshop op waiting to happen…
Do we have more photos of this rack-type thing?
Yes that is quite strange but I guess the bigger threat was probably thought to be various AT weapons and that threat trumps the one from the air, hence the sort of DIY looking upgrades.
Not exactly looking like a last minute addition.
Where we planning something in advance Mr. Futin?
Also I thought some IDF designed AT weapons where built to arc up and go in through the roof of the turret?
Well I think the Javelin and some other AT weapons are designed to impact from above where the armour is traditionally thinner but systems like Trophy (which the Russians do have themselves) were designed to counter these threats. I guess tanks without APS would be issued these overhead shields.
The latest generation of TOWs don't even down dive into the tank. Sensors have it detonate overhead and an explosive formed penetrator goes down into the upper armor. That overhead rack will have minimal effect on such a warhead. The top rack only is an obstacle to a top dive attack contact fused warhead.
That depends on how high the rack is compared to how high the missile flies over the tank. If the missile comes in at the same height, it will hit the rack and be destroyed. If it comes in higher than the rack, it will have to penetrate the additional protection, just like a regular side impacting warhead would with the reactive armor.
Ken