I've been wanting to build this version of the M48 since about 2012, so today is as good as anytime to get started. I'll be bashing the Revell GA2 with the Dragon Magach 1/2 kit to get a better detailed end result. I've also been collecting some AM items as well, such as DEF tracks, Legend Production's detail set, Perfect Scale Modellbau L7 gum barrel with thermal jacket , Valkyrie Models West German Army Tank Crew Deutches Heer 1970-80 Era and Tankograd Publishing 'Cold War Warrior' - PANZER M 48 and The M 48 Main Battle Tank in German Army Service, just to name a few.
Anywho here is the startup pic as I'll begin construction today.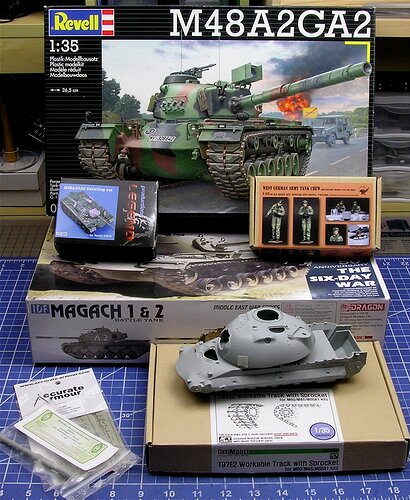 Thanks for stopping by and comment are always welcome.