What's the word on these two kits, IDF Rochev/Doher, and M3A3 Bradley?
They're entirely buildable and scale out accurately. Minor details are simplified, but the main thing the two kits have in common is that they do not have the recess behind the outer wheel portions. If you can live with that you'll be quite happy with either kit.
Plus they're less expensive for those on a budget, which was Raymond Chung's goal.
Yeah, the price is what attracted me to them. I have the AFV offering of the Paladin and Rochev and was curious as to how they compared. Thanks
I have just built (most) of the M3A3. Most, because I used it as an M3A2, so no extras and no kittracks.
Fit is outstanding, details are very good. Nice and crisp. Sometimes small parts feel overdesigned.
Plastic is of a good, workable grade. No fraying when sanded.
I can really recommend the M3A3 kit.
Also of note, the newer version released late last year (kit # 61016) has both the square pad "Bigfoot" tracks and the newer T161 tracks and sprockets, so you get a bonus set.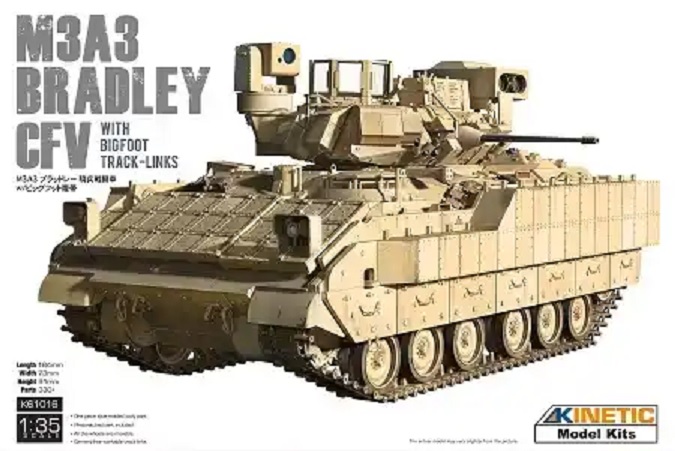 Another difference in the Kinetic kit worth mentioning - the cable steps along the side armor.
I remember someone complaining about that when the Orochi kit came out. Kinetic did not make these separate parts as did Meng and even Academy, yet no one finds it as offensive now. In fairness, it would have been a nice improvement yet not all is lost.
All of the Bradley builds I did back in the day (I can kind of date some of them going back to Iraq with the grey cutting matt) saw me simply slicing them away from the kit. I haven't noticed anyone do that with these kits, but it adds much to the look in my opinion.
As I said, some shortcuts were taken in the Kinetic kit in the interest of saving the modeler money. And it's a simple fix for that added realism.
I may have to post this trick in the Bradley References section as well to get more visibility for those building this kit.
Gino says it's a good kit, and that's good enough for me. Looking at the plastic, the only thing I'm not in love with is the molded on tools (maybe they are not but they look like it). The plastic looks real nice, and someone here said the fit was pretty good… I see this as a winner, and as if I need another kit or two; I will order in two of them.
gary
The tools are separate pieces, not molded on.
That was/is something I was struggling with, but could not come up with a viable solution.
You just cut them off and reglued them?
Thanks to all for their input and tips. May have to pick these kits up as I prefer buildable over complex despite the fact that I have dove several MiniArt T55s.
No, you just cut underneath the cable. Not the bolted portion.