Some info on the different Bradley kits available.
Tamiya came out with the original M2 IFV (Infantry Fighting Vehicle) and M3 CFV (Cavalry Fighting Vehicle) kits in 1985. The M2 has a partial interior for the driver's area and rear crew compartment along with interior placards and markings decals. The M2 and M3 were/are the same plastic, just different decals and the M3 does not include the partial interior. There are a couple different parts on the A sprues for the M3 (blanked off side firing ports).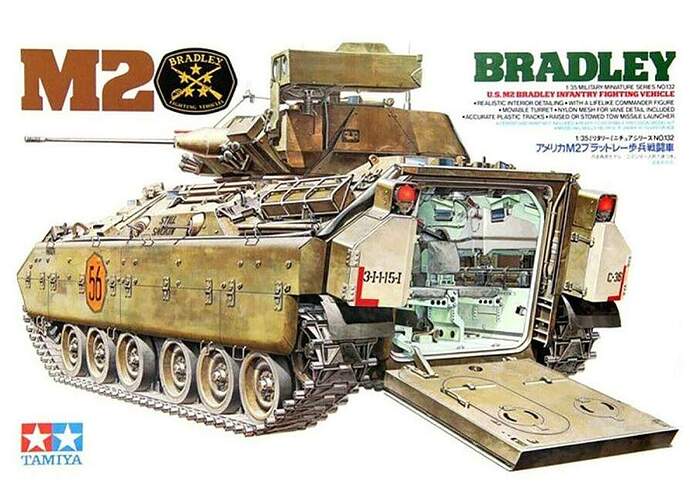 All of the early Bradley kits are based on Tamiya's original M2/M3 kits from the 1980s. The Academy M2 is a direct copy. The Lee model and a few others are really bad copies.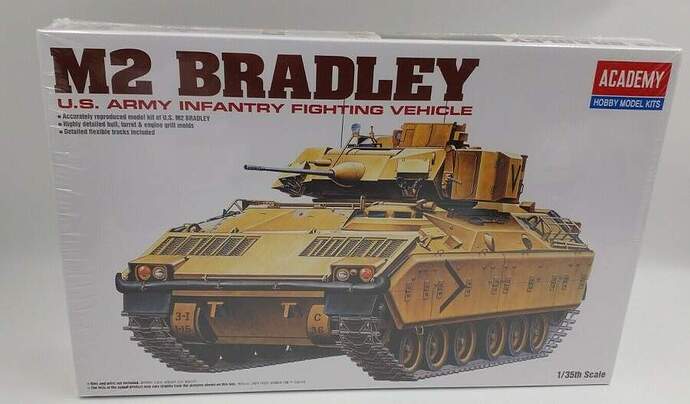 Tamiya's M2A2 kit came next, right after Operation Desert Shield/Storm in 1991. It is the same plastic as the M2/M3 kit with a modified upper hull and new sprue for the M2A2 specific parts. It also no longer included the interior sprue, even though the interior was still correct for this version.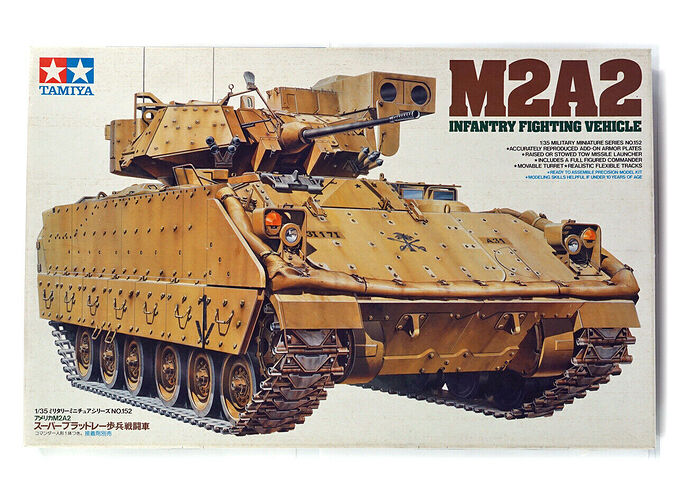 The M2A2 version and later kits deleted the interior that came in Tamiya's and Academy's M2 kits. For an interior, you can find either older M2 kit on eBay pretty cheaply and use the interior out of it for an older M2A2 or M2A2 ODS w/out interior seating mods (changed to long seats along the hull like an M113 with full mods), or use it as a base for a new interior. You can also use the Meng interiors as a base, more on them later.
Tamiya's M2A2 ODS (2003) and Academy's M2A2 "Iraq 2003" (2006) kits came next , in the early 2000s. Both are about the same in quality and represent M2A2 ODS Bradleys from about 2003-2005. The ODS Bradley does not represent a Bradley used in ODS, but one with modifications applied to it from lessons learned during ODS. These include added armor panels, new seating in the crew compartment (down both sides like an M113) with full mods, a new driver's hatch hinge, and a few other mods.
Tamiya's M2A2 ODS kit represents a rebuilt to latest standards M2A2 ODS version as used by 3 ID in the initial invasion of Iraq in March '03. It has most of the ODS mods that were seen at that time, but still shows parts that were removed or changed as well. It also has you adding obsolete parts such as the flotation system rods on the rear and left side of the hull.

Academy's M2A2 "Iraq 2003" kit represents a new-build M2A2 ODS from about the same time as Tamiya's. It has many newer features that Tamiya left off, like the new driver's hatch hinge, anti-foul bars in front of the driver's hatch, new lower front glacis plate, etc. It also has nicer side armor, sprockets with lightening holes, and better details in some areas. It has incorrect, old-style, triangle block track in the kit though. The triangle block track hasn't been used since the mid-'90s. Furthermore, Academy molded the track incorrectly as well, with the pads being molded 180 degrees from how they should be. AFV Club makes a nice set of rubber band, square block track for them though.

None of the previous (above) kits come with any PE. Eduard does a few good PE sets though, one being a full turret interior. Legends and Voyager also have PE sets for them.
Additionally, all the Tamiya/Academy Bradley's come with improper front sprockets with 10 teeth as opposed to the correct 11 teeth. It is believed that this was due to Tamiya originally making these motorized. Either way, no aftermarket indi-link tracks will fit these sprockets. If you are planning on AM tracks for them, you will have to update the front sprockets with ones from either one of the newer Bradley kits (Meng or Kinetic), or with Dragon or Tumpeter MLRS sprockets.
All the above will benefit from Pawel's (Vodnik) Bradley upgrade article as well. It has lots of upgrades and pointers in it. It is highly recommended.
Meng's new kits were the next big leap in Bradleys in 2014. The Meng kits are all new tooling and the first ones not based on Tamiya's original Bradley kits. They are great and light years ahead of Tamiya and Academy on details and accuracy. They also include PE and metal tubes for the shocks on the suspension. Both Meng kits represent Bradleys that were used in combat in Iraq around 2006-2010. They can represent newer or non-ERA versions by replacing the ERA on the side armor panels with plain side armor pieces from either a Tamiya, Academy, or Kinetic kit, removing the hull and turret ERA panels, and by adding the T161 tracks from the Kinetic Bradley.
The M2A3 IFV comes with a complete interior to include the turret and engine areas.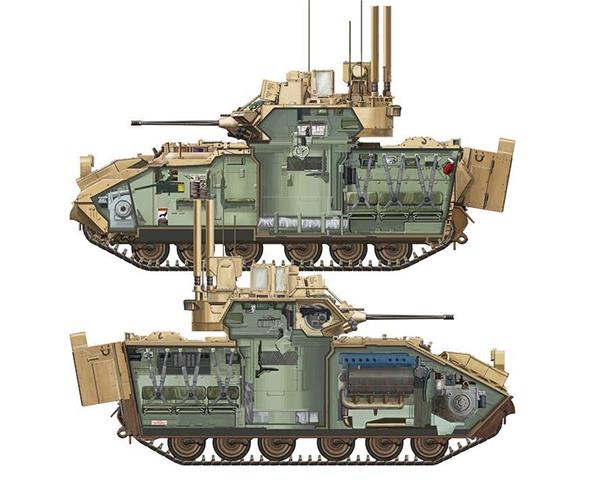 The M3A3 CFV kit does not have an interior, but a separate M3A3 Interior kit is available for it.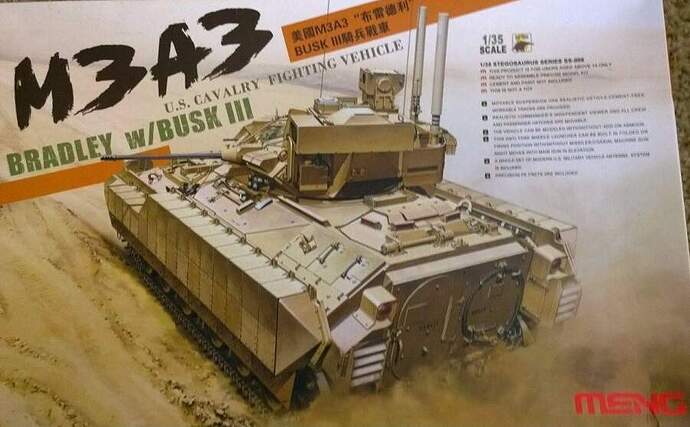 A note on the Meng interiors, they fit into the Tamiya, Academy and Orochi/Kinetic hulls pretty easily. I used parts of the M3A3 interior to update/add the turret to the original Tamiya M2 here.
Orochi came out with their own M3A3 kit about the same time as Meng's kits came out, (2014). Orochi offered their M3A3 kit in two versions; a Deluxe Edition w/metal tracks and some resin bags and an out of place EOD soldier in a blast suit (EOD doesn't use Bradleys), and a Standard Edition with all plastic parts. Their kits also come with PE, but still have some issues with details. You can see them at my build review of it here.
Kinetic bought the Orochi molds when they went out of business and updated them, fixing most of the issues with it. They introduced their updated/reworked M3A3 kit in 2018. Kinetic fixed Orochi's issues by adding a new sprue with parts for the TOW launcher, rear door handle, new headlights and tail lights, stowage basket wall and center support. They also reworked some of the parts on the original sprues to improve/correct them. Also included is a set of T161 tracks and new sprockets for them. However, the T161 tracks are too new to be on a Bradley w/ERA mounted. They do mention what to leave off for a non-ERA vehicle, but don't talk about the tracks. With these fixes, it builds into a really nice kit. Kinetic did a pretty good job of fixing it.

New Kinetic H sprue.

Unfortunately, the Kinetic kit is now out of production. Hopefully it comes back onto the market as the T161 tracks were a nice option.
OCT 2022
Kinetic has reissued their M3A3 Bradley CFV with more appropriate T157I "Big Foot" (single square pad) tracks. It also still contains the parts for the T161 tracks and sprockets on the above H sprue. So you get two sets of tracks in this kit.
Their earlier M3A3 CFV w/T161 tracks (above) is also available again.
2 June 23
Magic Factory has announced a 3-in-1 Bradley M2A3 IFV / M2A4 IFV / M-SHORAD ADA Bradley. It looks to be a great kit w/T161 tracks and all the latest mods. It has both flat side skirts and parts to make the ERA blocks and other BUSK parts.
More here:
Magic Factory 3 in 1 Bradley | Armorama™
One point to note. The Bradley M-SHORAD has not been accepted by the US Army. It is only a test/experimental platform being offered by BAE. So far, the accepted M-SHORAD system is the Stryker M-SHORAD vehicle. It uses most of the same equipment as the Bradley system but is not exactly the same.
4 DEC 23
Magic Factory has announced a Ukraine M2A2 ODS-SA version as well. It looks really nice and appears to have 3D printed parts to backdate it to an M2A2 ODS-SA.

With the Bradley kits available on the market now, by combining parts from different kits and a little bit of scratch work, you can build any Bradley variant that has been fielded.