Many thanks, John!
Howdy folks

Nice progress here and there, @B-17-peter - RC135 looks superb!
The PZL-23 is now practically raedy for painting. I must admit it's very good kit with … very crappy instructions.
I struggled and cursed like old sailor when assemblying hull parts and wings together. If I only knew that IBG changed assembly steps in next re-relaases of this same kit! It would save me a lot sedative pills . So if you want to avoid any problems - find instructions for newer versions (e.g. on scalemates), especially 2 elements:
Cockpit elements pilot part and navigator/rear gunner seats. They should be separated and glued to hull side separately, not joined together first - it's extremely hard to align them that way.
Hull parts should be glued first before joining with wings. Original instructions call for joining hull parts with wings separately with also glueing interior parts in meantime. This was a heck of the fight to get them all aligned correctly
Hull/Wings alignent is pretty good after initial struggle and the looking of this huge cockpit area is quite… panoramic.
The only thing I had a problem with was that when the hull finally was aligned and glued I found that one panel line on top of plane is misaligned… even though all other parts were quite in line. It might be I did some error and … sanded it down.
Nevertheless hull is now glued together and there was and it now stands on it's own wheels. Dang, I really like this silhouette, quite iconic to me
.
So I'm off to paint booth
Today I added the clamps to the generator frame and ran a chain with locks through the fuel cans. Red was for MOGAS and yellow was for Diesel.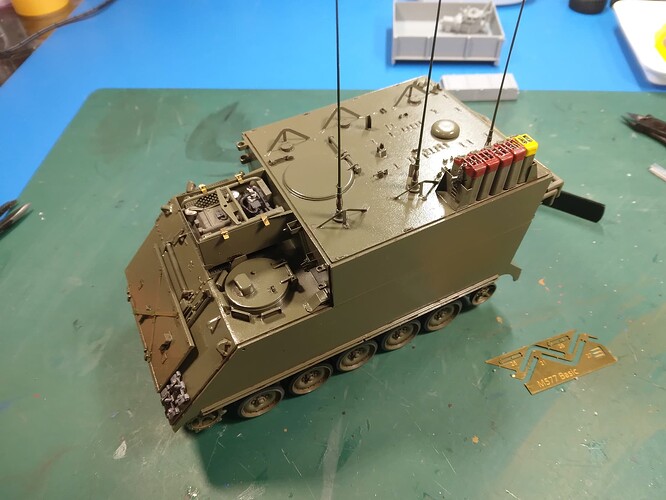 The little bit of PE fret at the bottom right is for the clamps for "hootch" supports. That'll get done later today or tomorrow if I'm up to it. That's the last of the PE (other than add the headlights. I've also realized the metal of the spare tracks is too light, so I'll redo those with some "dark iron." Hmmm, 6 weeks until the end? Oh boy…
I have a whole lot of compressed discs in my lumbar region and now a pinched nerve that brings FIRE down my right leg. Unfortunately, good pain killers don't touch the leg bit at all. Getting old and broken…I have to use a cane now until, maybe, an epidural helps.
Mike
I do like those "big nosed" birds with fixed landing gear. It's looking nice!
Mike
Thanks Radek, your kit is coming along nicely, too!
Peter
The M577 looks great. Nice job so far.
Alright, Progress. Got the pilots painted and the office is almost ready.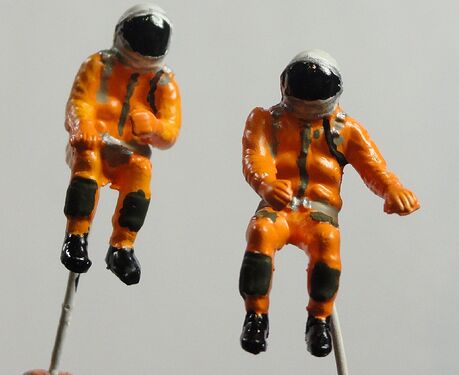 Well at full size, the pilots are among the best I've ever done, the zoom tells a different story. Tried to custom mix the yellow orange flight suits, looks a bit more like orange yellow.

I stole the office idea from someone on the web. They undercoated with white, covered everything in the gray, masked off the gray and shot the flat black. When that was all done, they lightly sanded the panels to knock off the black and gray, leaving all the raised details in white. Looks fairly good with minimal brushwork. Should be able get the Black Bird buttoned up by this weekend.
A little more progress on my C&C IDF Zelda. Still some details to fix. Then weathering can begin

More to follow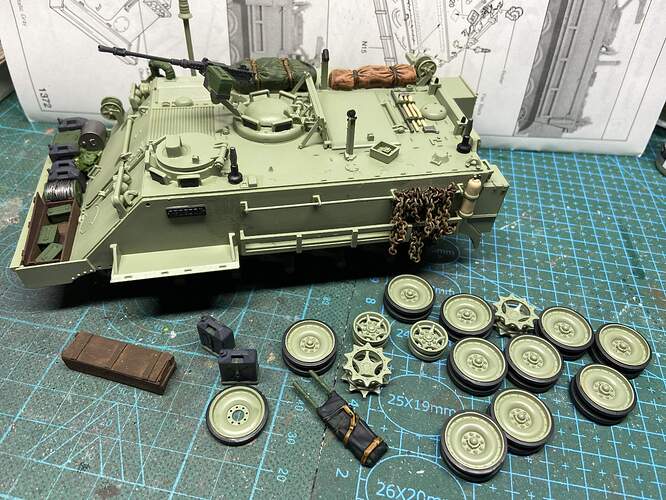 Looks great Jesper. A really busy feel to it, just like the real deal.
The upper decks painted

The planes painted. I added 2 from a Pit Road accessories kit
The upper decks attached to their support structure. The structure looks light as it should not bulky and overscale
The mast structure. which also supports the deck structure added
The upper decks added. They are a little tricky to get alligned so the support struts reach the main deck and not hang up on the ship's bulwarks
I am at about round 10 of trying to get a smooth finish between casemate and hull. It is a fight to a knockout…made all the harder as I have assembled everything and applied primer and first layer of paint. I should have just left the incorrect weld bead there…