Does anyone have the DS tracks and sprocket from Dragon 6793? (Preferably in the UK)
Are you looking for CDP (Canadian Dry pin) tracks or American tracks?
If its CDP you need Ive been looking around and the only ones Ive been able to find are the Friulmodel tracks. They will put you out around $45 or £32. They are way better then the DS but I can keep looking for the rubber band tracks if you would prefer.
6793 is the version with CDP.
Panda Models also do/did CDP track, but a UK import price similar to the UK price of Fruils.
I am aware of aftermarket track sets.
I'm have this kit and I'm eager to replace the tracks as Dragon DS is utterly garbage. Had too many parts made with this stuff rot. You'll find plenty of horror stories concerning this stuff if you look around.
I'm looking to replace them with regular T74 steel chevron tracks. Have seen some indy link sets by Bronco, but I can't stand indy link tracks. Life's too short to get bogged down messing around with them. Would much prefer band type, but AFV club and Asuka tracks seem to be hard to find.
If I can find a set, and more importantly, if the tracks haven't rotted in the box, I could part way them.
I'm not making a promise here, it's dependant on finding my own replacements first and importantly the condition of the DS tracks. It's been a while since I've had the box open and they could already be on their way out.
Stephen
It looks like T48s would be the only belt tracks I have spare.
They would work.
At least two in this photo have T48's.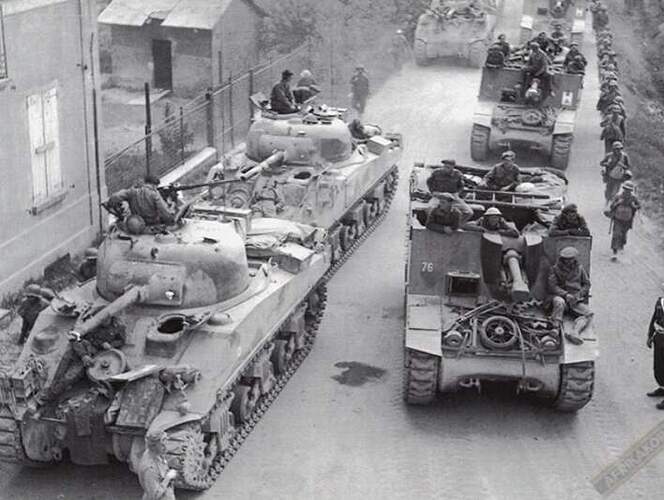 What brand of tracks are they?
Will have to dig my Sexton out and check the tracks.
Cool that's the reboxed Asuka Sherman, good tracks in those.
The good news is that the tracks in the Sexton are ok. Still nice and pliable and haven't degraded.
Will get some pics up for you in a little while for you.
Photos as promised.
You are going to need part V27. I only have one for each side one in the kit and I'll need it to attach the regular drive sprockets to.
I can provide the D parts for the sprocket.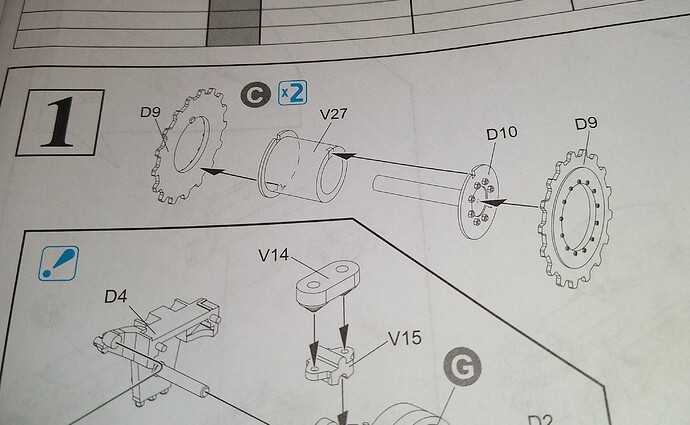 If you're happy to do a swap let me know.
Do you still need these tracks?
I need to think about it.