@McRunty - will be following along
David
Is this live? Maybe you could get a mod to move it out of the staging area if so.
Is a ship that ends its career sunk as a target acceptable?
As far as I know. Started 1 March 2022.
I am calling my build complete
ICM 1/350 SMS Konig (1918)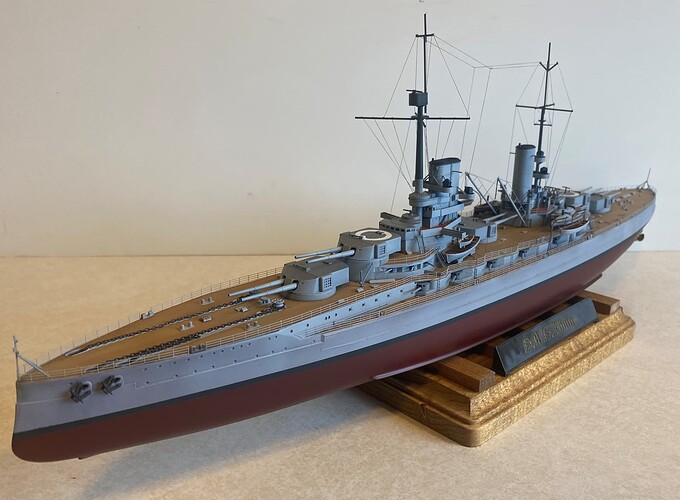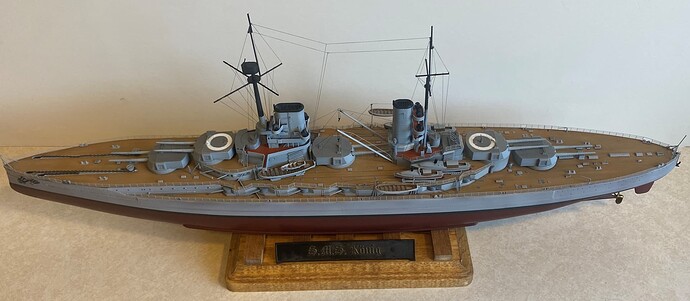 More pics in the blog.
Thank you for the campaign. Was a great motivator to get out and build this kit.
Wow! That was quick!
Beautiful build, Rory! Looking very nice.

@phil2015 - yes sir this event is live. I have requested the even be moved out from the Staging area but have not received a response. Will submit again.
As far as your question - yes sir - a ship that ended as a target ship is acceptable for this campaign.
David
@McRunty - congratulations on being the first finisher to this campaign. Your finished build looks amazing. Very much enjoyed watching as you built him. On a side note - wish I could build that fast.
OK everyone - the bar has been set!!
Let see those builds.
David
Hi Everyone!
Wow Rory, that was a fast build, and it looks great!
The Casablanca was the first class to be designed from keel up as an escort carrier. It had a larger and more useful hangar deck than previous conversions. It also had a larger flight deck than the Bogue class. Protection was limited to splinter plating. Something that would come back to haunt the Gambier Bay.
Gambier Bay sported paint measure 32/15a at the time of her demise, so I prepared things for paint job. After getting the paints, I began with the underside of the hull first. The Hasegawa kit has a lot of overscale detail to highlight the plate detail, and it includes the outlines for the boot line (something that at this point I really like). I proceeded by painting the underside with Mr. Surfacer 1500 black from the boot line down covering the whole underside. following a wipe with a cotton cloth to remove the roughness from the primer, the boot line was taped off with Tamiya tape. The Underside of the hull was painted with Tamiya Hull Red, I started trying to do a black basing paintjob, but this didn't look as good as I'd hoped, yet the overall result was to my satisfaction. Next came the task of the Measure 32/15a.
I made up my go to paint dilution of 1:4 with Mr Lever Thinner (MLT) of Mr Color (MC) 338 Light Grey or pale grey, and then painted the areas that would be this color.
Hasegawa was kind enough to include mask outlines with the kit, so I pulled out my stash of frisket paper and used them to make the masks, which would allow me to deal with the curve contours of the hull. I cut out the appropriate masks for the pale grey and applied them over the hull.
Next up was a mix of light grey MC 308 Light Grey, and applied it to the areas that would require it.
A little hard to see in the photo, but it's there!
Next color was Ocean Grey, Tamiya XF-82.
At this point the frisket paper was loosing it's umph, so I tacked it down with Tamiya tape so that painting could continue. Which was the final color for the hull. Measure 32/15a calls for black, but I felt it was just a bit too black for the project so I opted to go with NATO black Tamiya XF69. After it dried, I removed the rolls of tape!
Only a couple of places needed some touch ups, and after all was I done I was pretty content. Even my niece thought it looked pretty cool when done!
Next up will be the sponsons, and lower deck stuff, though I'm already moving forward with the flight deck. Till next time!
Thanks Rory! I took my time, and did one color per day, so 6 days. Though now that I'm playing with the PE, things won't be going as fast.
is anyone going to be brave enough to attempt a sunken ship or shot down plane but encased in clear resin …?? 1/700 would have to be the scale for ships ?? but it would look cool
Sounds like you just volunteered
Brave soul!
Not even in your wildest dreams lol
John - great star and great job on the camo - looking forward to seeing more of her come together.
David
I did actually consider it - I am building the FW-190 that crushed in the ocean in Norwegian waters due to malfunction. So no battle damage. Probably within my skill level to build on the ocean floor. Resin would be a brand new experience, but something I wanted to try for a long time. Biggest challenge is to find/build the mold. I will consider it.
Okay guys I JUST saw this so I moved it from the Staging Area and made it an active Campaign. All official now.
Matt