I would've thought something like MiniArt's German Railroad staff (38012) would be more relevant


I don't know. Seems like the smoking GI would be the right pose for guarding a POW. The second group have the look of looking down the rail line as if they heard a train.
If you go with the smoking GI, I think I still the LZ coal man shoveling of yours. If that works better for you?
My OCD is kicking in, have you glued the timber's or just placed them. The spacing seems inconsistent.
Personally I like version 2 sliced off track, but I like that clean look.
Thank's Tim, but I'm not too keen on the MiniArt set, as those actors seem more suited to coaling an operational engine.

The scenario I present takes place on an abandoned watering spur. The soldiers were ordered there on guard duty with nothing better to do. The sauntering youth also has nothing better to do. … Why not go mess with some GI's? Teehee!

—mike
Thank's Ryan, I kinda' perceive the second group as giving the youth the stink-eye, one of them saying… "What's That Little Runt Up To Now?"
Calm your OCD. Nothing is glued yet.

Upon receiving the track kit, I immediately cleared the deck and slapped-down a few parts for a quick brainstorming session. BTW: One MiniArt track length worked perfectly at the angle shown on top of the cube.
—mike
Alrighty how about a couple of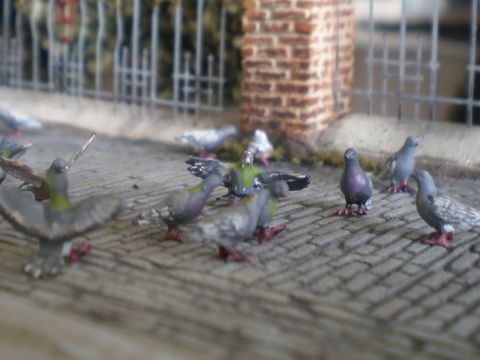 they're going real che……rrrrpupup rrrrpupup
OMG! How did you know?

That's the last thing I need! My home has become surrounded by invading fowl (foul). And not to mention, my Northside neighbors have become full-fledged chicken farmers. They must have hundreds of "clucking" chirping birds by now. … Chickens should be eaten and not heard!


…

Hi guys, Hope not to disappoint but I pulled the trigger and placed an order with Alpine Miniatures just now… and besides, they're from Jersey!
Thank's again,
—mike
Alpine makes some great looking figures. I have about a dozen or so figures.
That's great news, as this is my first recon mission to Alpine!

Hello all, This morning, I satisfied my glue jones and put-together this MiniArt rail section (1 of 2 provided) — went together quite nicely. Note: I haven't added the inboard tie-plate spikes just yet in case there's a need to rip rail and redo something later.
——————————————————————————————————————-
Gotta' love der Schienenwolf!
Happy modeling!
—mike
The spacing looks good.

Thank's Ryan! Can't miss by hooking into the outer plates with good location pins in-between parts. MiniArt had us OCD guys in mind! 😵‍💫 haha!
Good to know as I have one of those rail sets for a future project.
Hi guys, Not much to show, just dawdling along…
The left-hand rail ends are practically flush with the sleeper, so I need to add a little more. Need to cut-off the right-hand rail joining tabs as well.
Approx. 0.5mm cuts made with the bone-saw. 🪚
I also added the twenty inner spike fasteners. These went much faster than anticipated due to the nice alignment tabs. I'll go back and clean-up gaps on the left-end rail additions after the glue cures.
Thank's for having a look!
—mike
And a little more busy work…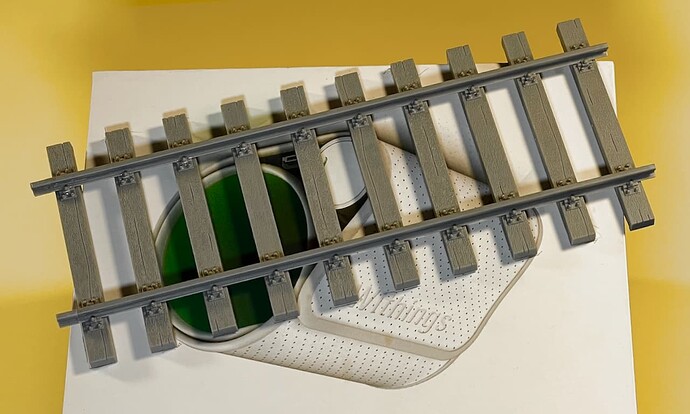 Why bother? Because I'll know it's under there.

… and for the pure joy of using Evergreen!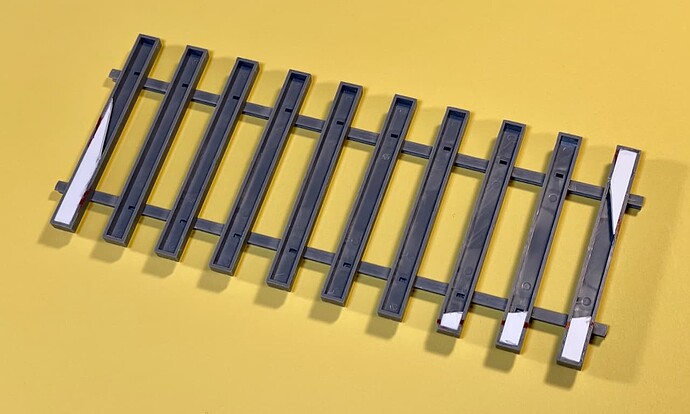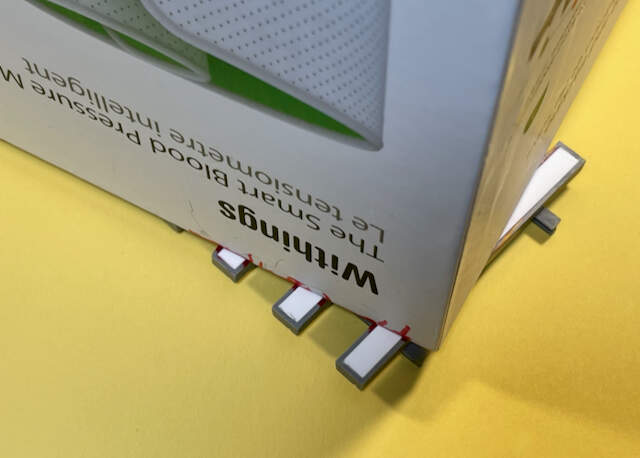 .
Evergreen Plain Sheet: 0.030" (0.75mm)
Cheers!


—mike
Hi guys, Still chug-chug-chugging along.

….
Gaps in rails have been filled-in with Mr. Surfacer 1000. Sharp moulded corners have been sanded-off of the visible sleeper underside ends. Wood grain was scribed-in using the "bone saw" and the tip of a No. 11 X-Acto knife. Assembly was primed with Vallejo Black Primer (73.602).
Before…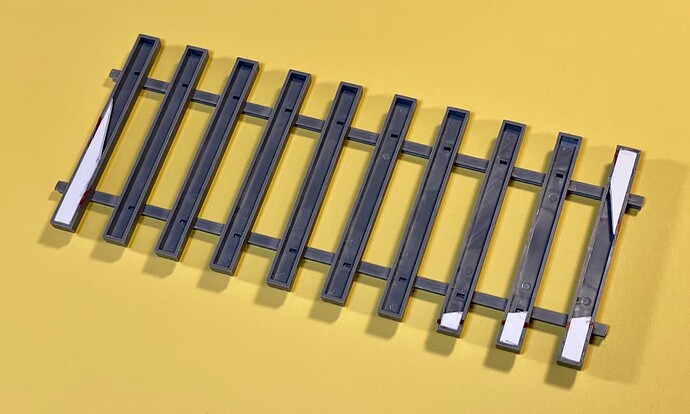 …and after.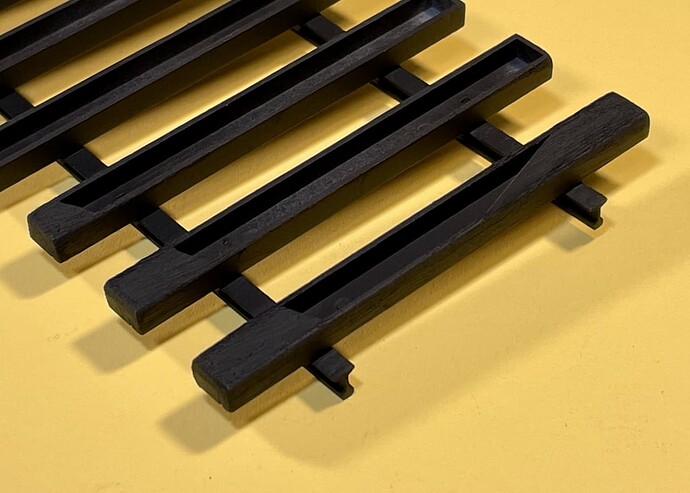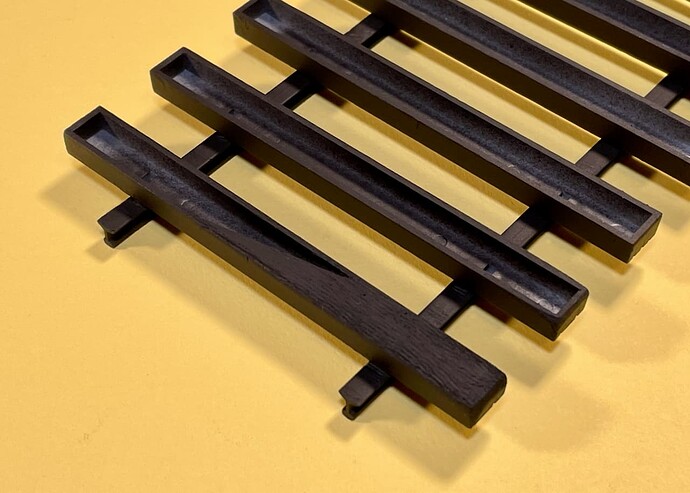 End of the line, pal…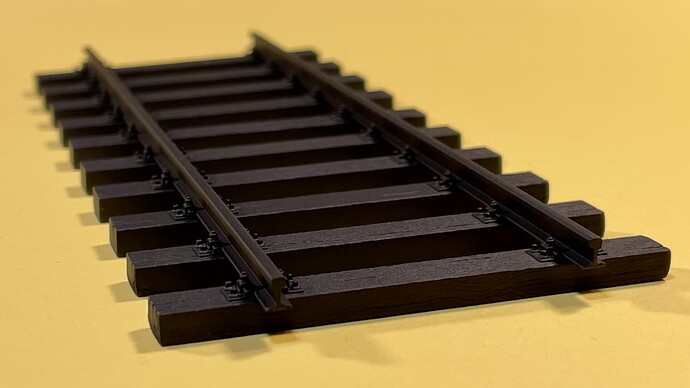 Wassat, then? … an Aussie bendin' me rail?!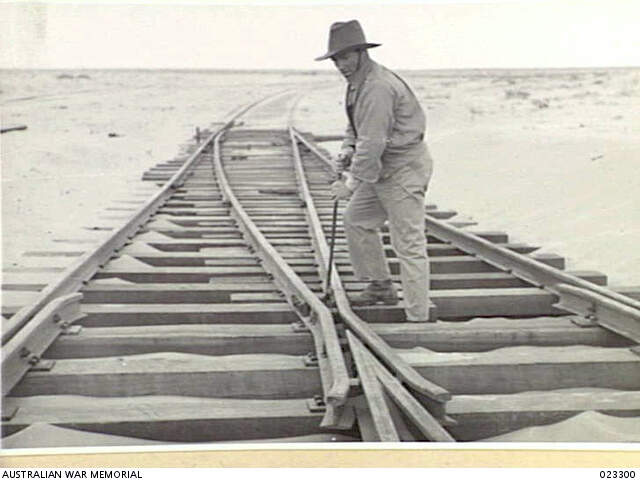 Cheers!


—mike
Looks good.
Thank's Ryan! Glad you like it so far!
—mike
@ golikell, Wow! That's amazing! I get the impression something BIG is on the way.


Is there a build log or feature somewhere? I'd love to check it out.
Guess you could say I'm on a different track.

Did a little rail demolition.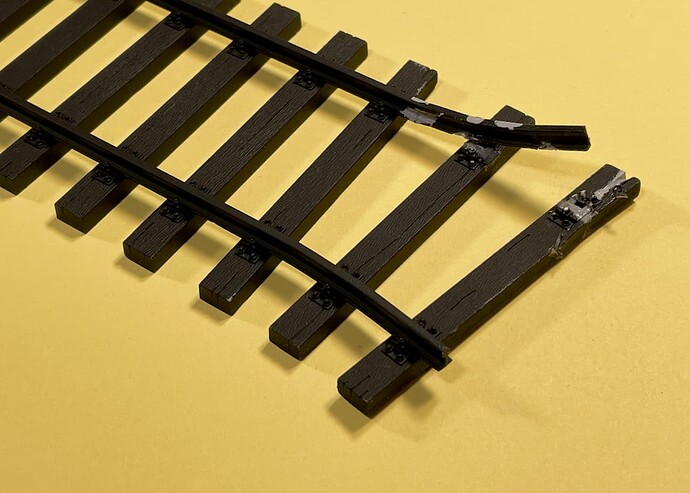 I tossed in a couple of damaged and twisted rails for effect. Everything is primed again.
Not quite the work of a "Schienenwolf" but I just couldn't resist!

Happy modeling!
—mike