Good spot Mike. I didn't even realise I had done it like that. Easy fix though
Success

…
I eventually got round to using the Eduard vehicle star stencil for the large engine hood one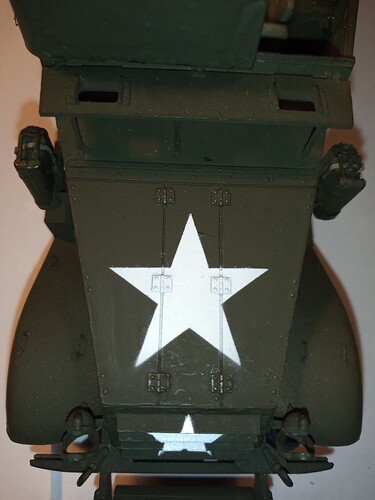 Really happy how it turned out… Very simple and pretty effective


Woo Hoo! Icing on the cake!
Was fiddling around with the rear stowage racks. I added an extra strap on the right hand one going across as I've seen a few images like that
Have decided to have the LH one empty, so bent the PE straps or positioned them to try and show that.
Also still working on getting the tracks to sit right, or at least not as bad as they are now lol
Plodding along with a bit more
Threw the guns on, and some more internal stowage.
Have also done the rear right stowage rack.
Will start with some washes tomorrow and the AK dust and dirt wash.
Great looking halftrack there John, I like the clean lines you've kept. I can't understand the trend to build an expensive kit to perfection, then cover every inch of every surface with gobs of stowage. I like to see the vehicle itself when possible. You are all set for an excellent finish!
Cheers Matt. I too like the lines on these wagons and sometimes less is more. I also thought it better to leave one rack empty on the back and the straps just draped so you could see the detail better. I think the few bits of added stowage inside make up for it and dont hide any real standout detailing.
Put the first wash on.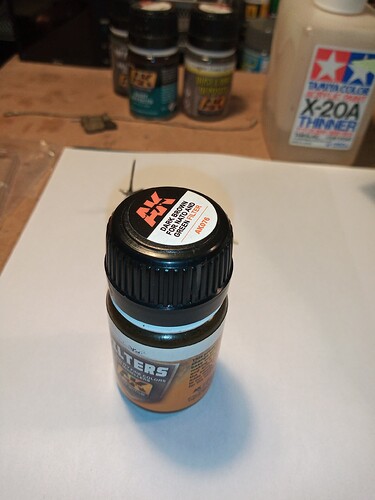 I thought as only 5 ? were produced I would just go for a dirty and dusty look like it's been put under evaluation on a test track.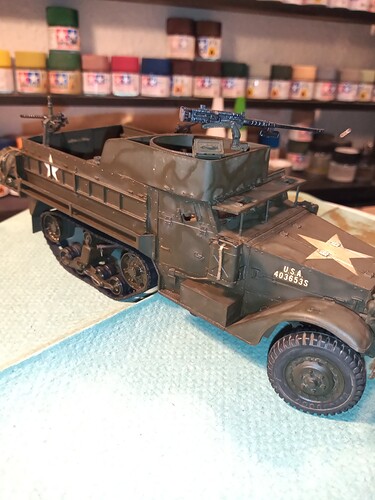 It's looks patchy as it's still wet but I think it's the sort of look I want.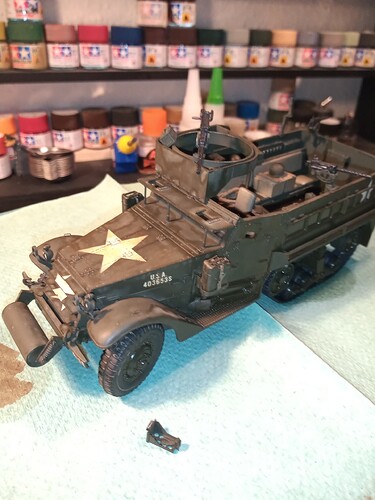 And of course as I was doing that, I knocked off the .50 ammo box mount which needs to be put back on.
Will let these fully dry then apply the AK dust and dirt wash for lighter build up.
I'm going to say this is done now, or as far as I'm going to take it.
It's not a bad kit to be fair to it, just dated. With a bit more reworking by Tamiya they could make it into a really good kit. Some of the Eduard PE set helps it but I still had a lot left over.
I just ended up giving a going over with the AK dirt and dust wash and left it at that.

It really needs to have the correct looking track running gear, with the open sprockets etc, and probably better tracks as well.
It could also do with resin from wheels as each rubber tyre has a big central seam running round it.
It was a fun easy little build after having it for so many years. Thanks for all the suggestions, help, guidance and of course support…
You sure turned this old kit into a beauty!
Outstanding results John, you really made this old kit shine!
Thanks Bert and Matt. I did as much as I could do I think from out the box. Its a decent kit for what its meant to be. Was good building it. I may re-use it in the future as a base for an IDF conversion into something.
Nicely done John! It was a real joy watching the evolution of your M3. And once again, I gained more M3 half-track reference knowledge. Thank's for posting. … Now I'll need to find something else worthy of lurking. Lol!
Cheers!

—mike
lol, no probs Mike, thanks for lurking and supporting along the way… if you need another area to lurk in, I will be starting a 1/48 F16C for the IDF/IAF group build in a few days … I'm still deciding on which T72 to get so I can cut it in half

You made a dated kit look great. Excellent finish
I agree. If T retooled some of the parts that you've mentioned. I'd buy and build it again