Thanks Ken, I've got a scale version of this and 6-7 others coming.
Relevance to a T/C?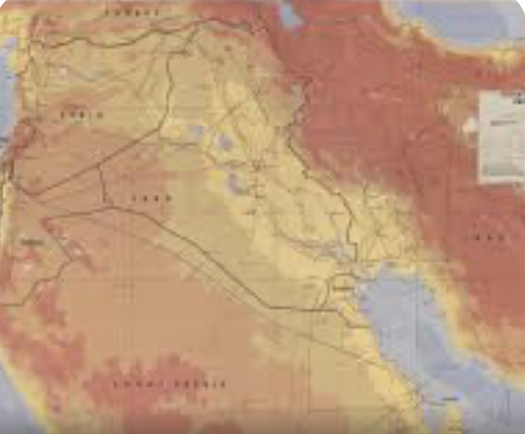 None! A map at that large of a scale would only be useful to a pilot or a General giving a briefing of the overall situation. A vehicle commander needs a map at a small enough scale to show individual roads, hills, terrain features, and man made objects (buildings, bridges, etc.) in order to plan attacks, defenses, arty. and air strikes. The maps I posted would not even show up as a dot on that map.
I know a lot of model makers, toys, action figures, etc. use large scale maps so that people can see what they are, but that is not realistic for troops on the ground. On the maps I posted, each grid line represents a distance of 1 kilometer, at a scale of 1/50,000. This is a standard tactical map for the US and NATO.
Ken
Thanks Ken, stupid me! I ordered the set in Canada, so it's no biggie.
I'll try a sketch "approximate" to a folded version of yours.
Thanks again.
Den
My plan is to just print a copy of the photo reduced to a size that looks "good enough" and print that, cut it out, and put it on the model, assuming I ever get around to finishing the model!
Ken
Lord, I'm slow tonight! Copy of both saved for tomorrow.
Cheers Ken
Sounds like it is coming along nicely. As to the "maps" rolled on mine, they actually were not maps. They were reproductions of BDE graphics. Back in the dark ages (early-mid '90s), the BDE HQ would make large copies of the BDE graphics on paper using a huge mimeograph machine. These would be sent out to lower units to copy onto clear acetate for map overlays. It was a cumbersome process, but worked in the days before computer graphics.
Yep, I spent lots of time copying map overlays onto acetate.
Ken
Also, for 1/35 maps, I copied and reduced a "Tenino" mapsheet a long time ago. I cut smaller pieces of it and color it in with colored pencils. They look just like full-size maps to me and are easy to do.
my favorite tough on this build is that crappy-ass chair. Spent lots of time monitoring radio traffic in one of those.
Got it Gino. I'll take a look tomorrow.
Thanks
I'll be adding some detail to the map once a red Sharpie arrives. Will be posting final pics on WE or Monday.
Duplicata makes some nice stuff.
The one in the middle is the country of Kuwait. I don't know what the green maps are, but they show too much vegetation for the Gulf war area. The others can be used, they just show different towns and cities in Iraq, like Kirkut.
Ken
Thanks for that Ken. I've used one as you mentioned. A few final pics showing (I think) all of the suggestions made by the kind folks on this site - you know who you are…
Ramp pulley cable redone. Map from Duplicata, binos, M16A1 and CVC helmet in place. Cooler etc moved to side, trash bags (made from a real one in the case of the one in use). Btn numbers removed, bumper codes redone. Straps used to secure shelter floor sections. Pair of hollowed out size 11 boots in the back. Everything else reasonably tied down and secure.
Looks really good. You have an M16A2 up top, but that works too. M16A1 has a smooth, triangular front handguard (and a few other small differences).
M16A1 top, M16A2 bottom.

The map and all the other little details look good. The bumper numbers came out nice as well.
One last correction. The antennas and their bases should be green, not sand. The US doesn't usually paint the antennas. You can easily see the green color here.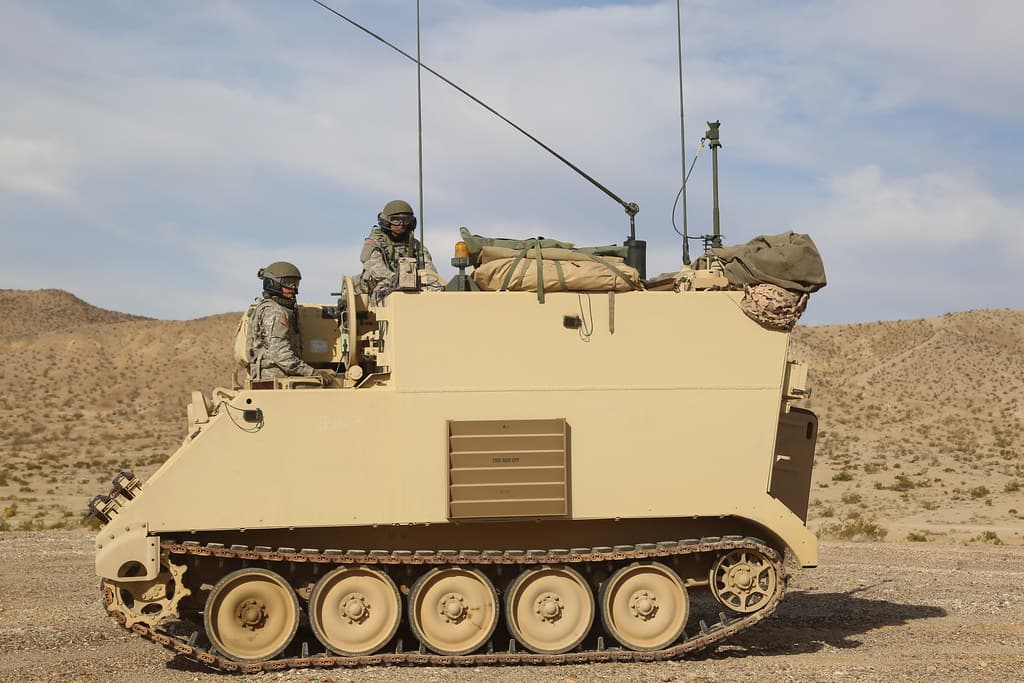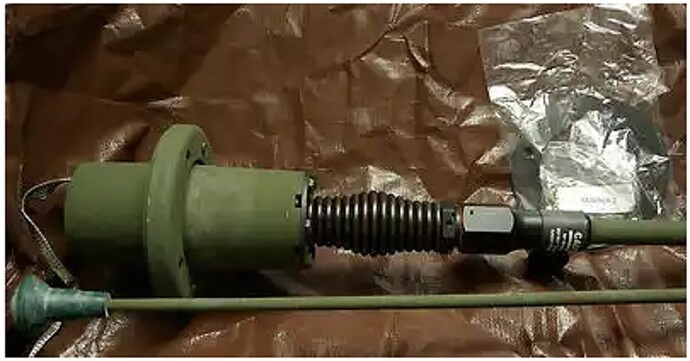 Thanks Gino, I forgot to mention the bumper codes but I've corrected the antenna issue. Also the Btn number removal was a sanding job as I'd sealed them. Darned if I can find an M16A1 in the spares box, but I'll swap it out when one turns up.
Looks good all the way around! Only add would be dust on the garbage bags. They stayed outside as much as possible. May be hard to get it to stay on that plastic tho.
Thanks Bret, including the one in use? Maybe not………
Great job
Thanks James, I appreciate your input on this project. Apart from ball$ing- up the roof, which would have allowed me to go beyond the basic level I achieved; i.e furnishing the inside in detail, I am generally happy with this build. I really learned alot from you guys on the M577.